Creamy Southern Homemade Banana Pudding – egg-free / dairy-free / gluten-free / vegan / no sugar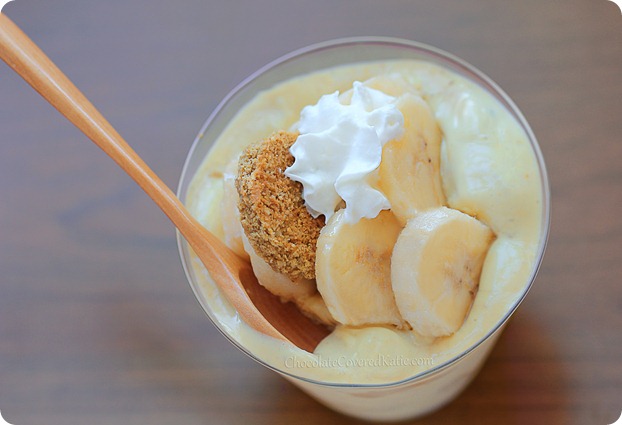 Did you know that I once competed in a Banana Pudding Eating Contest?
Yes, really… Can't you picture it? 🙂
It was at Six Flags, and I was with a group of friends. Hungry teenagers, lured by the thought of free banana pudding and Nilla wafers, we all decided to enter. About 3 seconds into the contest, we knew we were way out of our league. I'd eaten a bite and a half of banana pudding, while the guy next to me was halfway finished and the lady next to him was already onto her second bowl!
Needless to say, I didn't come close to winning the contest, but the banana pudding was delicious and I didn't end up with a stomachache like I'm sure the winner must have gotten… He ate almost 2 pounds of banana pudding in under 5 minutes!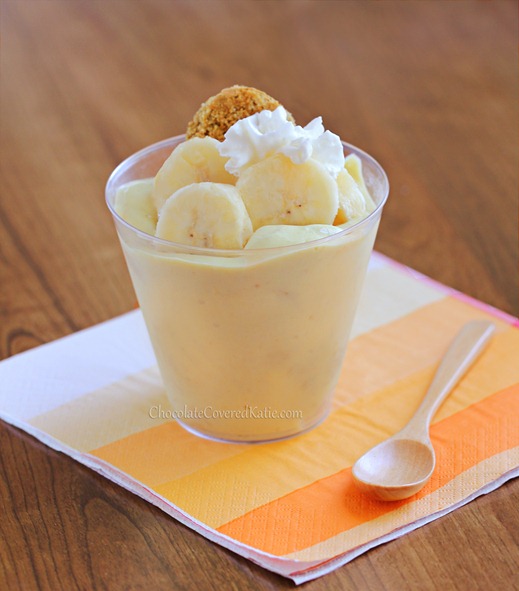 So can you guess the secret ingredient that makes this healthy banana pudding recipe super thick and creamy without the use of cornstarch or heavy cream? Don't worry, it's not garbanzo beans, and it's not cauliflower. Not this time.
Above, topped with sliced banana and Homemade Healthy Graham Crackers.
Creamy Homemade Banana Pudding
Banana Pudding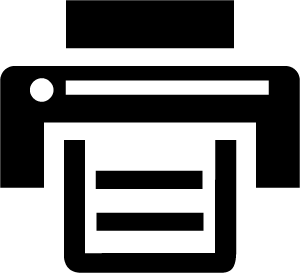 Print This Recipe
[mrp_rating_result show_count="false" show_rich_snippets="false"]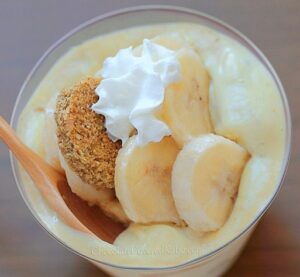 Ingredients
2/3 cup over-ripe banana, mashed (measure after mashing) (160g)
1/4 tsp salt
1 tsp pure vanilla extract
3-4 tbsp coconut butter (45-60g)
1 package MoriNu tofu (Soy-free version: see recipe instructions below)
pinch stevia extract, or 2-4 tbsp sugar of choice (depending on your tastebuds and the banana ripeness)
optional: 1/8 tsp turmeric for a deeper-yellow hue
Instructions
Banana Pudding Recipe: Make sure the coconut butter is melted before you begin. (For tips on the easiest ways to melt coconut butter, see Coconut Butter FAQ Page.) Combine all ingredients in a blender or food processor, and blend until completely smooth. Makes about 2 cups. (Soy-free version: Omit the tofu, and decrease the coconut butter to 2 tbsp. Decrease the salt to 1/8 tsp.  Add 1 cup cashews that have been soaked in water 4-6 hours and drained fully. Vanilla stays the same, and sweeten as desired. Add milk of choice if a thinner pudding is desired.)
Click for: Banana Pudding Nutrition Facts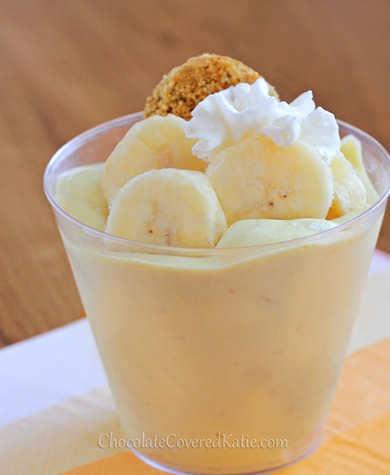 Question of the Day:
Would you ever consider entering a food eating contest?
Do you think you could ever win?
Link Of The Day: