You look like you could use a slice of coconut cake…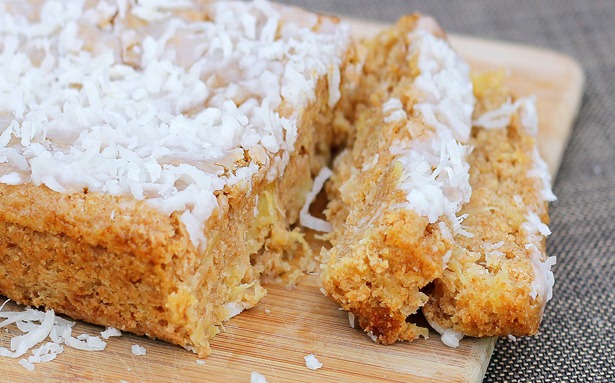 A big slice of soft coconut cake… for breakfast!
Yes, coconut cake for breakfast.
Cake so soft and crumbly and sweet, bursting with juicy pineapple and luxurious vanilla… You'll feel as if you went to bed and woke up in paradise, and then you won't want breakfast to end!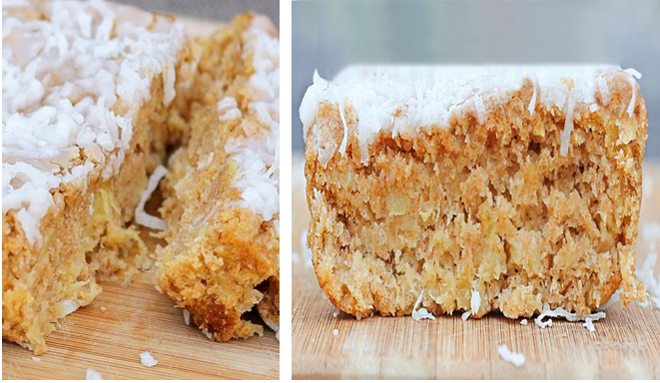 Above, glazed with coconut milk and Sugar-Free Powdered Sugar.
Brunch time!
This year, I celebrated Easter twice. Emily's parents drove up on Saturday morning, and she and I hosted a fancy Easter brunch. (Emily is my friend with whom I share a house. I call her my roommate, but luckily we have our own rooms!)
And Emily made mimosas, as well as some non-vegan foods. It was quite a big mess to clean up afterwards. So many dishes…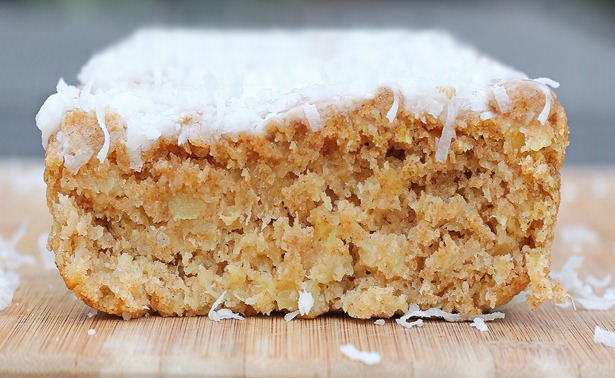 Her parents loved the coconut cake and had two slices each, even though there was a ton of other food!
I was originally calling it coconut bread because it's cooked in a loaf pan, but they said the recipe was so soft and cakey that it was more like a breakfast cake than a bread.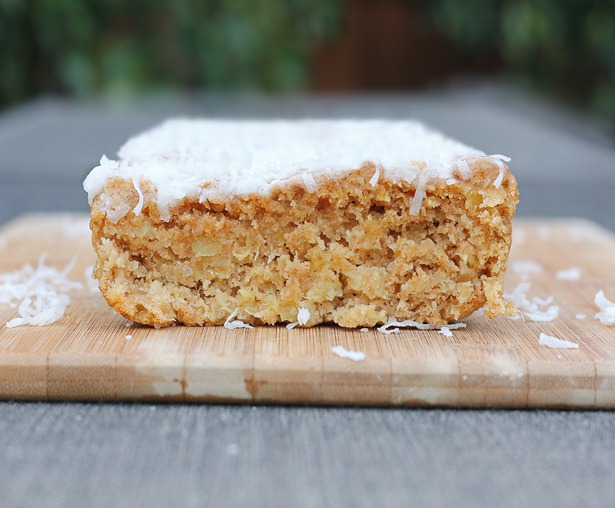 Coconut Breakfast Cake
(makes 1 large loaf)
1 cup spelt or white flour (or this: gluten-free version)
1/4 tsp cinnamon
1 tsp baking powder
1/2 tsp salt
1/2 tsp baking soda
2 tsp Ener-g or 2 tbsp ground flax (If you must, you can omit. The loaf just won't rise as much)
1/4 cup + 2 tbsp sugar, unrefined if desired, or xylitol
1/8 tsp uncut stevia OR 1/4 cup more sugar
2 1/4 tsp pure vanilla extract
1 cup (240g) crushed pineapple, drained (You can sub ripe banana)
1/2 cup full-fat canned coconut milk (see nutrition link below, for a lower-fat option)
optional ingredients: chopped macadamia nuts or walnuts, shredded coconut, rum extract
Preheat oven to 350 F. Combine all wet ingredients. In a separate bowl, combine dry and stir well. Mix dry into wet, but don't overmix. Pour into a greased or sprayed loaf pan, and cook for 35-38 minutes. Let cool at least ten minutes before going around the sides with a knife and removing from loaf pan. As mentioned above, I used a simple glaze of the sugar-free powdered sugar mixed with a little leftover coconut milk. But my absolute favorite way to eat this recipe is spread with coconut butter! Store very loosely covered overnight, or cover with saran wrap and fridge for a few days. This cake/loaf tastes even better the longer it sits, because it keeps getting sweeter! This recipe freezes well.
Have you ever been to Hawaii?
Or any tropical location? We visited Hawaii a lot when I was little, because it was a good connecting point between Japan (where we lived) and the US. My other favorite tropical location is Thailand… one of the best things about these tropical locations is the plethora of tropical fruits, especially coconut! Side note: I also have a tab just for coconut recipes:
Link Of The Day: