Normally, the main subjects of my posts are the recipes.
I'm actually somewhat shy and don't like a lot of attention on myself.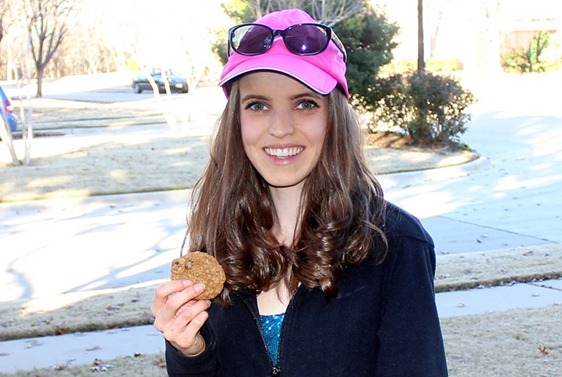 But many people have asked what I do as a full-time blogger.
I do not just sit around and eat cookies all day. (Too bad, 'cause that would be fun.) I work really hard! So today's post is going to be a little different from the normal recipe posts.
A Day in the Life:
I wake up naturally around 5am, amble downstairs, and start replying to a massive amount of emails, comments, facebook messages, and tweets. If it's a running day, I'll eat pre-run snack, then and answer more questions while waiting for the food to digest. [Insert run here: a little over an hour]
Upon returning, I quickly check the computer again, then eat a real breakfast.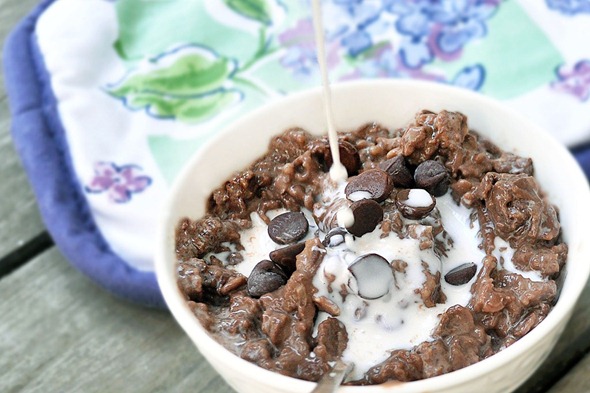 Yesterday's breakfast was this: 5-Minute Chocolate Oatmeal.
With breakfast done, I go back over to the computer, this time to ensure the day's post published as scheduled. I work on writing new posts for about an hour and a half, taking mini breaks to measure dry ingredients, get one or two things started on the stove or oven, and cook something else in the microwave. (I've become a master at multitasking.) Then I run upstairs for a quick shower, after which I do maybe 20-30 more minutes of blogwork (writing posts, editing photos, answering questions) whilst also making lunch.
After lunch, I take Henry and Batman for a walk (unless they're at my parents' house, in which case I go by myself). I come back and do a photoshoot or two, since it'll usually be nice and light out by this time. I also do some taste-testing of whatever recipe experiments were cooked that morning. Yesterday, I tested chocolate peanut butter pie and peach cinnamon coffee cake.
About two hours after lunch I'm usually hungry again, so I'll have a snack. Sometimes the day's experiments have turned out so well that I'll just eat them for snack.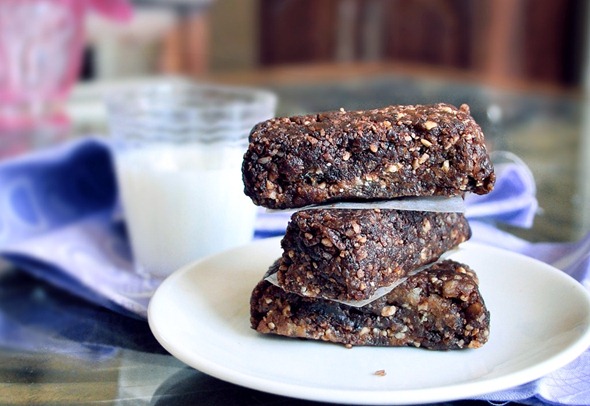 Yesterday's snack was one of my favorites: Fudge Brownie Energy Bars.
Yes, more chocolate.
Then it's back to the kitchen for more recipe experiments (and washing dishes!). I also continue to check the computer intermittently, answering questions and emails. Y'all ask a lot of questions, which I love because it means people are reading and making the recipes. I do try to answer as many as I possibly can!
Some days I run errands, often with a friend (or my roommate, if she's off from work) to keep me company. And then it's dinnertime, which is often followed by hanging out with whatever friends (if any) have found their way over. Our house is quickly becoming the "hang out after work" place, and I take advantage of this by giving out samples of the day's experiments, asking for honest opinions.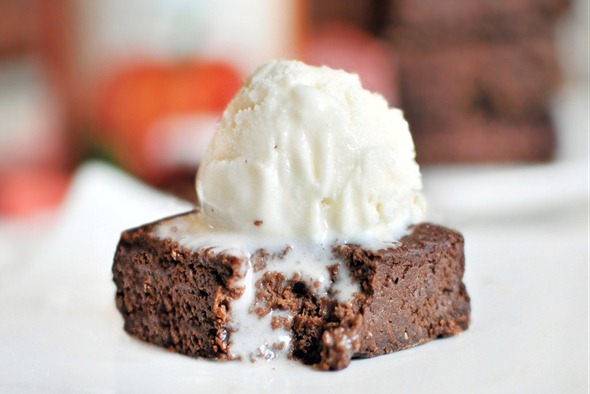 Not all my experiments turn out; it sometimes takes two or three trials before I arrive at a recipe worthy of publishing… or ten in the case of my Chocolate Pumpkin Brownies!
Sometimes we'll watch tv (Gossip Girl, Friends, whatever sports are on), but I always have a notebook in hand to multitask—brainstorming recipe combinations, writing out new posts, making a to-do list, etc. After people leave (or even sometimes when they're still over), I'll schedule the next day's post, continue to tackle the never-ending inbox, eat a nighttime snack—usually more chocolate!—and finally turn off the computer. I don't take days off, and even if there's no post for the day I'm still working on all the other components of the site. When it's time for bed, I rarely have a problem falling asleep.
I know some people (a lot of people?) think blogging isn't a "real" job, but truthfully it's no different from saying my job is: photographer, photo-editor, recipe developer, writer, and often–too often!–web technician. It's definitely never boring!
What do you do as your job?
Do you enjoy what you do? I love almost every minute of this (except when the site crashes or an experiment fails… those times are no fun), and I really hope to continue running this website for as long as people continue to read.
EDIT: By popular demand:
Part Two: Questions and Answers