You only get one birthday every year.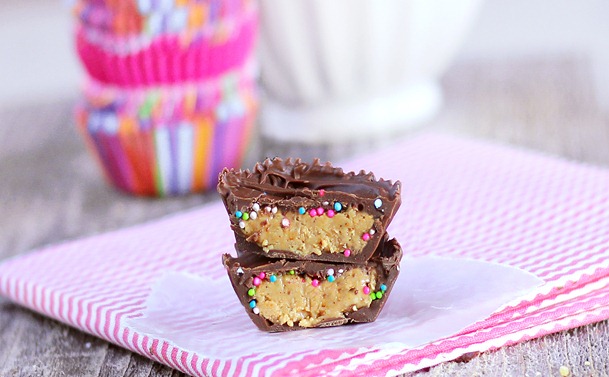 That's why unbirthdays were invented!
364 days to celebrate the days on which you weren't born: with presents and balloons, with parties and candles, and of course with chocolate.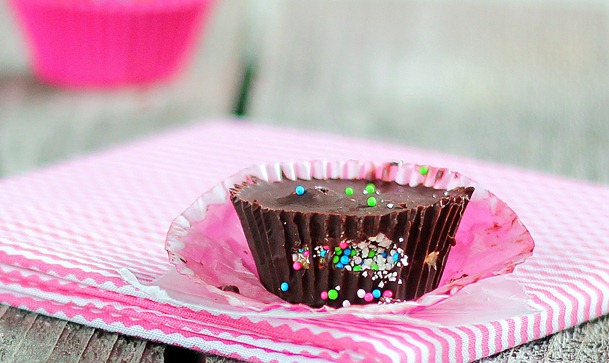 March Hare: A very merry unbirthday.
Alice: To me?
Mad Hatter: To you!
March Hare: A very merry unbirthday.
Alice: For me?
Mad Hatter: For you! Now blow the candle out, my dear and make your wish come true!
March Hare & Mad hatter: A very merry unbirthday to you!
Birthday Cake Batter Reeses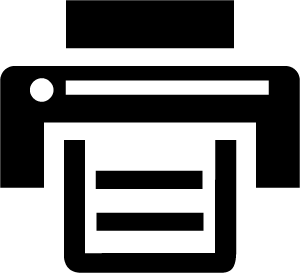 Print This Recipe
[mrp_rating_result show_count="false" show_rich_snippets="false"]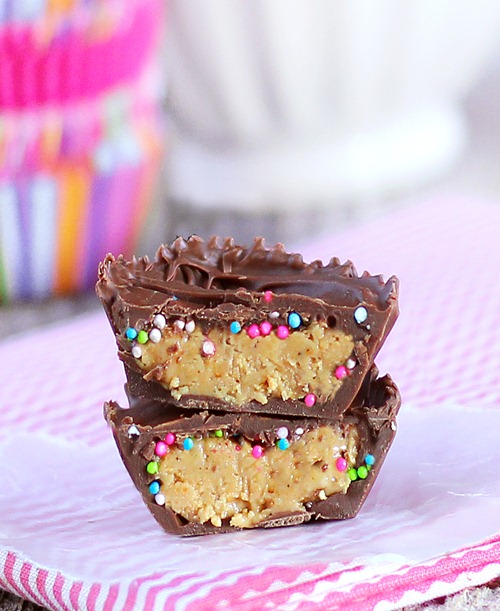 Ingredients
For the cake layer:
2 tbsp coconut flour (or another flour) (19g)
pinch salt (1/16 tsp)
1/8 tsp baking powder
4 tbsp water (use much less if using a flour other than coconut flour)
For the filling:
1/4 tsp pure vanilla extract
2 tbsp cashew butter (or nut butter of choice)
2 tbsp milk of choice
1/2 packet stevia or 2 tsp powdered sugar (omit for a less-sweet result)
optional: sprinkles
For the chocolate coating:
1/4 cup plus 1 tbsp cocoa powder (25g)
20-30 nunaturals vanilla drops or 2-3 tbsp pure maple syrup or agave
1/4 cup liquid virgin coconut oil (Or omit these first three ingredients and simply melt 1/2 cup chocolate chips instead.) (58g)
Instructions
Make the chocolate coating by stirring ingredients together. Spoon just a little of the chocolate into the bottoms of cupcake liners, mini cupcake liners, or candy molds. Then freeze 8-10 minutes. Meanwhile, combine all cake ingredients in a small bowl and microwave 2 minutes (or more or less, depending on your microwave's wattage). With a fork, break cake into tiny crumbs. In a separate bowl, combine filling ingredients and stir well. If your nut butter is from the fridge, you may have to microwave a little so it'll stir more easily. Take liners out of the freezer and top each with filling, then sprinkle on some cake crumbs. (You won't use anywhere near all the cake crumbs, but I thought this was easier than giving ingredient amounts of 1/64 tsp!) Cover with the rest of the chocolate, and freeze until solid.

Who's your favorite Alice in Wonderland character?
Everyone seems to love the Cheshire Cat, but my favorite was always the White Rabbit. I also liked the singing flowers and the horn that looked like a platypus. Actually, I don't remember much else about the movie; it's been years since I last saw Alice in Wonderland. Now that the Olympics are over, I might have to force my roommate to watch it with me…
LINK OF THE DAY: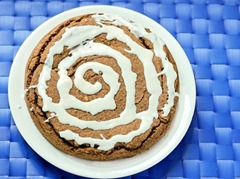 Deep Dish Cinnamon Roll Pie   (flourless, gf, vegan options)