Breakfast: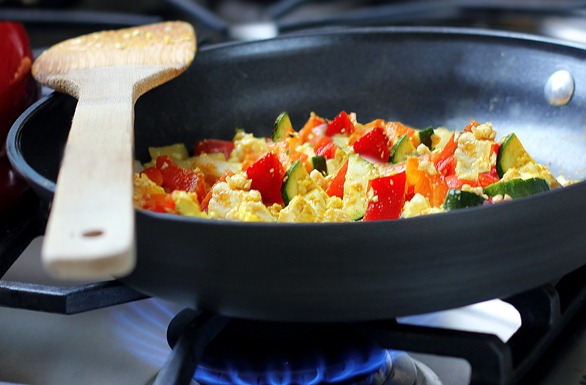 Today's breakfast was this recipe: Eggless Breakfast Scramble.
See? Proof that I don't just eat chocolate! It's an older recipe, with terribly old photos, but I still love it. There are actually quite a few old recipes on the site that I missed when archiving the recipe page, and I'm trying to go back to find them all. It's like a Where's Waldo…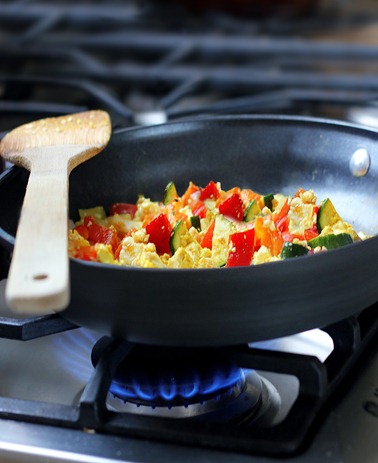 Tomorrow I'll get back to the chocolate recipes.
Promise.
Today's post, though, is a follow-up to Thursday's Day In The Life post, since so many people had the same questions. I figured it'd be best to answer them all in the same place.
I also wanted to apologize.
In my last post, I stressed the fact that I work hard at my job; that running the website takes up a majority of the day—nights and weekends, too. But re-reading my post, I'm cringing at how it almost sounds like I'm complaining about the amount of work.
Perhaps I chose the wrong words; it was definitely not my intent to compare my job to those of people who do manual labor or spend long hours at tedious jobs they hate. I can see now how my post could've sounded privileged and insensitive. If you took offense, please accept my embarrassed apology, as well as my gratitude for enabling me to have this job that I love.
To answer the questions…
How can I become a full-time blogger?
To be really honest (and blunt), I think that if your goal in starting a blog is to turn it into a career, you're going to fail. You should blog because you love it, not because you want to make money. I didn't set out to make this my job, and I happily blogged for years without getting much (or any) pay. My goal in blogging has never been to earn tons of money; it's just to make enough money that I can continue doing what I love. I'd still run this website if it made absolutely nothing; I'd just be forced to devote less time to it.
If it turns out—without your trying—that you can blog for a living, that's a happy coincidence. But I think if you specifically tailor your content to become a full-time blogger, people will see through you and see that your heart really isn't in it.
So… how many visitors does your blog get?
At first I wasn't going to answer this question. But the truth is, I'm curious too, and I'd love it if more bloggers shared.
My website received almost 8 million visits for February and March. If you've ever told your friends or family about Chocolate-Covered Katie, or shared my website on facebook, I am forever grateful to you… I'd bake you a giant batch of "thank you" cookies, but it wouldn't be anywhere near enough!
(Seriously, it wouldn't.)
Are you going to blog forever?
I don't know what the future holds, but I'd love to continue running this website for as long as anyone cares to read. There is something else I'm working on, and many of you already know about it because I'm lousy at keeping secrets. I'm planning to finally announce it officially on the blog next month!
How does a person make money from a blog?
I have a sponsor, Foodbuzz. Their ads are on the side of my blog, and in return they pay me. This amounted to a few dollars a month when I first started out. But if a blog gets popular enough, you can actually make a living from it. I'm sure there are more lucrative ways to make money from a blog, but I haven't looked into it. As I said earlier, I'm not interested in making a huge amount of money—just enough to pay the bills, cover the expense of my baking supplies (I go through a lot when doing recipe experiments!), and pay the server costs for website hosting.
Can I make a donation to your blog?
I actually don't have a donation page… I know many other bloggers do, but I'd feel weird asking for donations when there are so many charities out there more in need than my need for money for baking supplies. But if you made a donation to your favorite charity in my honor, that would absolutely make me so happy!!
Do your parents financially support you at all? Does your husband?
My parents don't, and my husband definitely does not support me. Unless you mean my imaginary husband. In that case, yeah he gives me tons of money. 😉
How do you make friends when you work alone?
I've kept in touch with some of my college friends and high school friends, and I've made more friends through their friends; plus many of my roommate's friends and coworkers have also become my friends. Then I also have you all! Reading your comments makes me feel like I'm getting to know you and like we're friends. I love being part of this online community and can't understand how a blogger could take comments for granted and ignore his or her readers. You all teach me so much, and I wish there were more time in the day to respond to every comment and to try all the recipe ideas people send me.
(2015 edit: It's so fantastic how many real-life friends I've made from people who have recognized me on the street from my blog! If you see me, please do feel free to say something!! Meeting new people is one of my favorite things, and it's one of the top reasons I enjoy living in DC.)