Rich and creamy cheesecake bars – just 7 ingredients, and they are a huge crowd favorite!

These easy-to-make cheesecake bars are one of my "go to" recipes for any sort of gathering or party.
People go crazy for the soft and ultra creamy cheesecake bars, and the recipe honestly could not be easier to make – I just mix everything together, layer it into a pan, and let the oven do all of the hard work.
With just 7 ingredients, there's not even much of a mess to clean up! The most difficult part is trying not to eat them all before they reach their destination…
I've written before about my obsession with all things cheesecake. For my favorite cheesecake recipe of all time, see the linked post below:
Healthy Cheesecake Recipe Of Dreams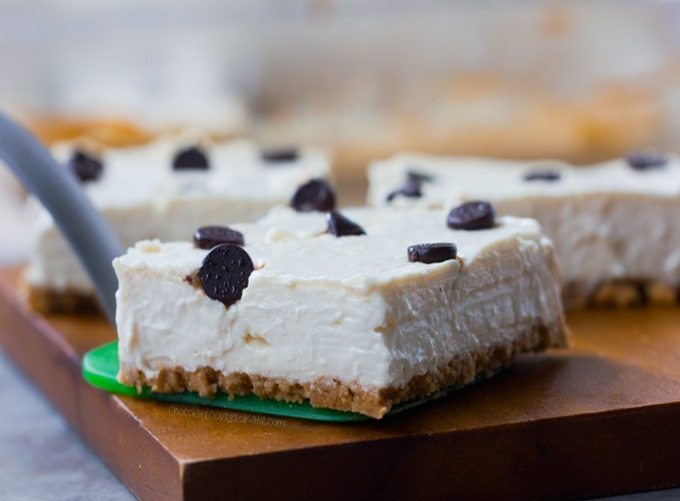 These ridiculously delicious cheesecake bars can be:

Homemade cheesecake is one of my favorite desserts, and I've tried all sorts of different cheesecake recipes over the years, from my grandmother's traditional recipe, to cheesecake recipes I found in magazines, to my own healthier and vegan baking experiments.
I've picked up quite a few tricks in my years of baking cheesecake.
One of my favorite tricks is to add a pan of water below the cheesecake as it bakes, which adds moisture to the oven and helps to prevent the cheesecake from cracking. Taking the cheesecake out and letting it cool before refrigerating also helps to prevent cracking.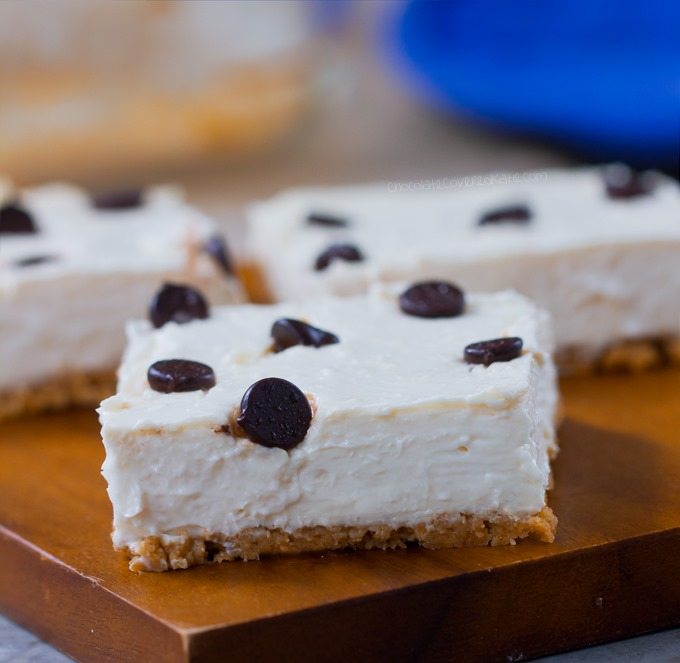 I used a simple graham cracker crust for these particular bars, but you can use any crust you wish, such as my Healthy Chocolate Pie Crust or the following almond flour crust: 1 cup almond flour, 1/8 tsp salt, 1 tbsp melted coconut oil, 1 tbsp water (plus 1 tsp if needed).
Combine all ingredients. Line an 8-inch pan with parchment paper. Put crust inside, then put another sheet of parchment over top and smooth the crust down.
There is enough to cover the bottom if you keep smoothing until it finally spreads evenly into the bottom of the pan. Remove the second sheet of parchment. Bake in preheated oven at 350F for 10 minutes.
Then take out and put cheesecake filling on top.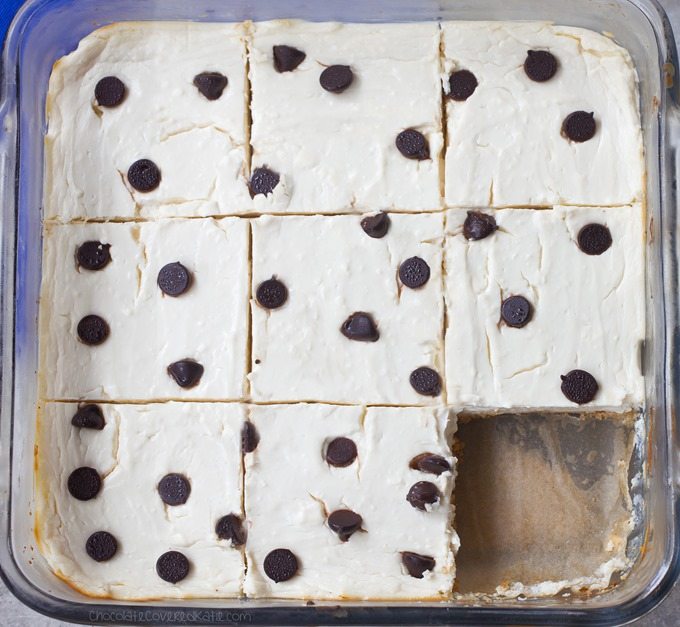 If you are a cheesecake lover, this recipe is absolutely for you.
What's not to love about creamy New-York-Style cheesecake firm enough to hold in your hand and stuff right it into your face without even stopping to find a fork?
At the moment, I can't think of anything that sounds better!


Chocolate Chip Cheesecake Bars
Adapted from Pumpkin Cheesecake Bars
Skinny Chocolate Chip Cheesecake Bars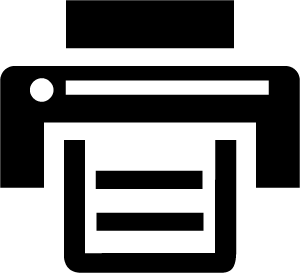 Print This Recipe
[mrp_rating_result show_count="false" show_rich_snippets="false"]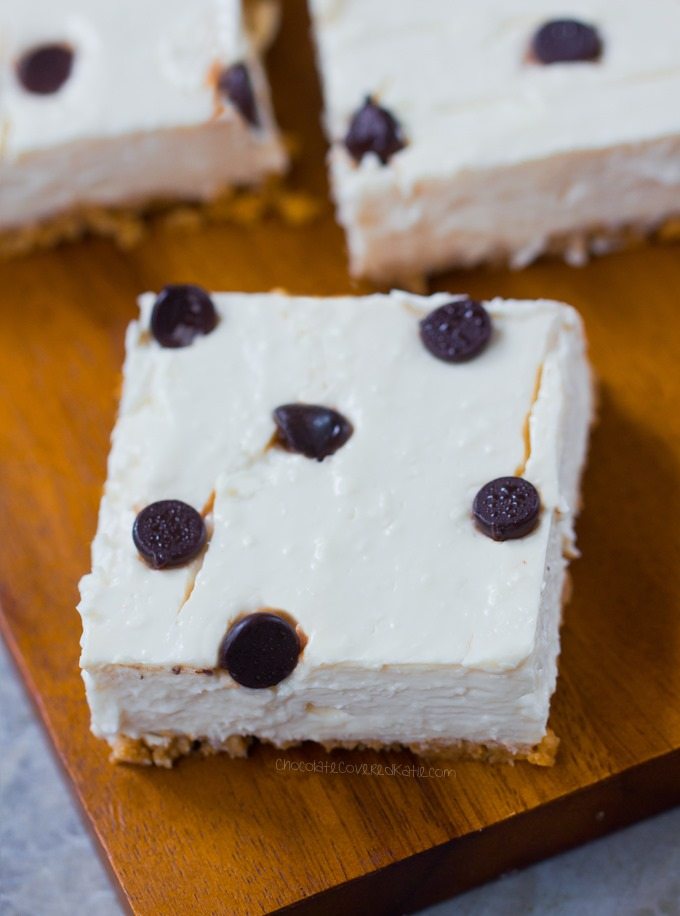 Ingredients
12 oz cream cheese such as tj nondairy OR coconut butter
1 cup yogurt of choice, such as almondmilk yogurt
1 tsp pure vanilla
1/2 tbsp lemon juice
1/4 cup sugar or maple syrup, honey, or xylitol for sugar-free
pinch uncut stevia OR 1 additional tbsp sugar
for cream cheese version, add 2 tsp cornstarch or arrowroot
chocolate chips as desired
Instructions
*If using coconut butter instead of cream cheese, just skip the baking instructions and instead refrigerate or freeze until firm, because that version is no-bake!
Preheat the oven to 350 F. Fill any large baking pan about halfway with water and place it on the oven's lower rack. Line an 8-inch baking pan with parchment. Bring cream cheese to room temperature (or gently melt coconut butter). Beat all ingredients except chips in a blender or with a hand blender just until smooth – Don't overbeat, which would introduce air bubbles that could burst in the oven and thus cause cracking. You can stir in chocolate chips now or press some into the top after baking. (For a crust, I processed 5 graham cracker sheets with about 2 tbsp coconut oil, then spread that into the lined pan. Or you can use any of the crust recipes mentioned earlier in this post.) Smooth batter into the pan, and place on the oven's middle rack (the rack above the one with the water pan). Bake 25 minutes, then don't open the oven but turn the heat off and let sit in the closed oven an additional 8 minutes – this helps the cheesecake bars cool down slowly so they're less likely to crack. Take out the still-undercooked bars and let cool at room temp 1 hour (this step also helps the bars cool gradually), then cover and refrigerate overnight, during which time they will firm up considerably. Slice into bars, wiping the knife between cuts. Store leftovers in the fridge, or they can even be frozen.
More Healthy Dessert Recipes: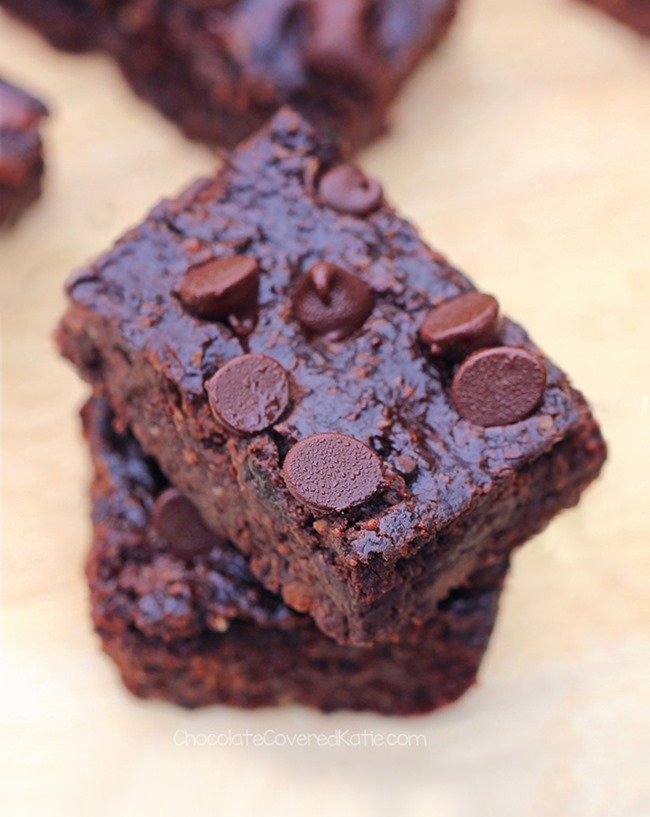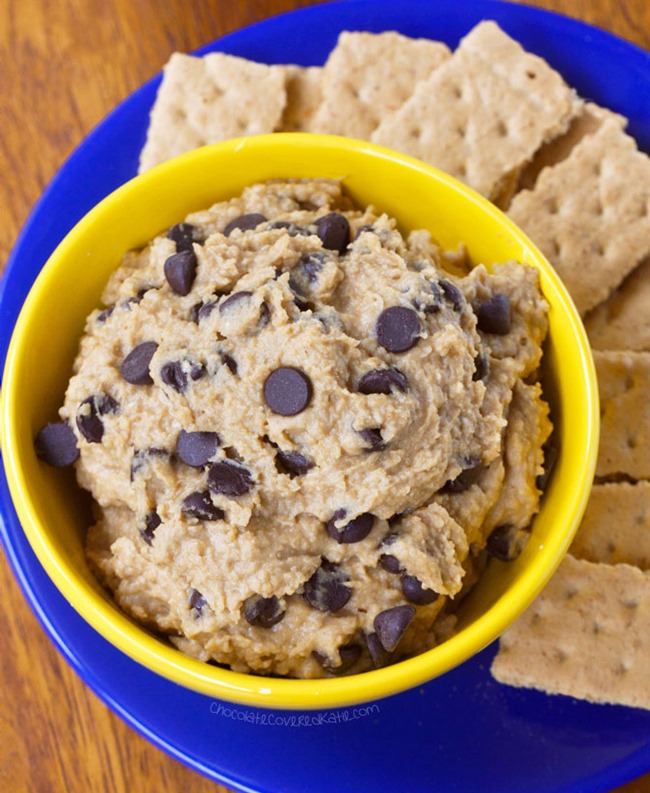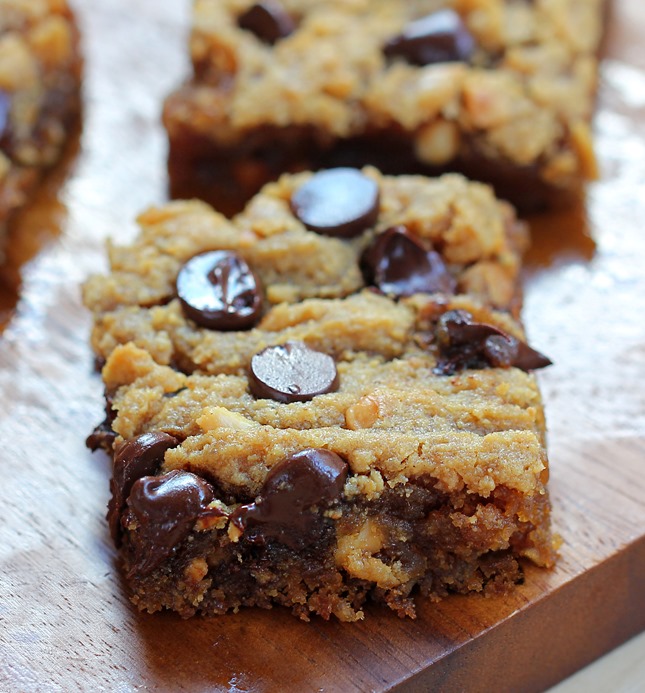 Chocolate Chip Peanut Butter Bars