Two-ingredient maple caramel sauce…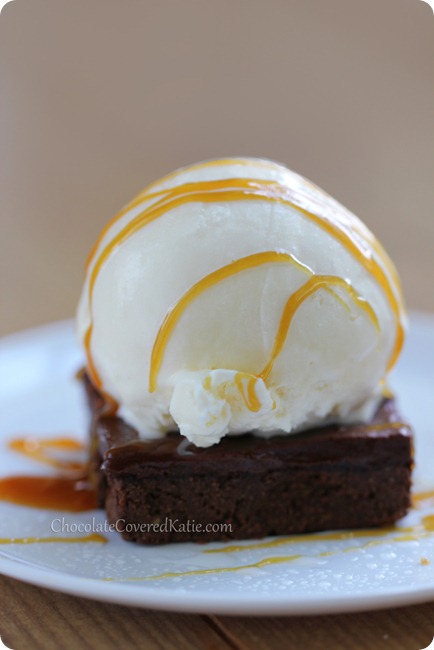 Yesterday was the birthday of a close friend, and when she asked me to make my Chocolate Zucchini Brownies, I came over with the works: frosted brownies, ice cream, and caramel sauce for a small gathering of friends.
Maybe "gathering of friends" is the wrong phrase. It sounds so formal… like we were there for tea or something. A caramel brownie sundae is obviously NOT tea! We sat on the floor, stuffing out faces with brownies and licking the plates completely clean. Our sundaes looked just as beautiful as the ones in the photos… for about 2 seconds before we demolished them!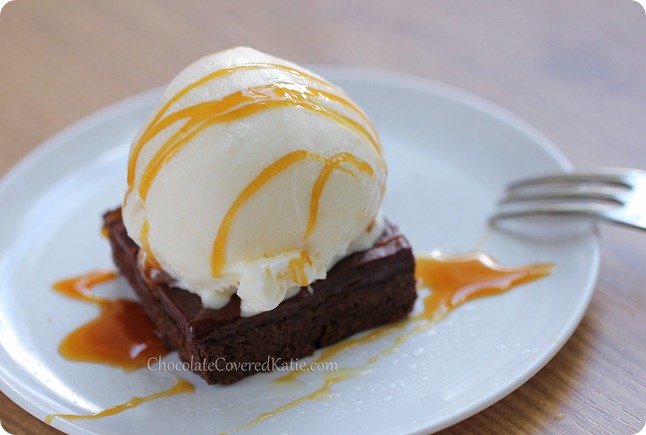 To go with the brownies, I made up a funny new version of my favorite egg-free healthy ice cream recipe… the flavor can be best described as "Pancake Batter Ice Cream."
It seriously will remind you of eating pancake batter!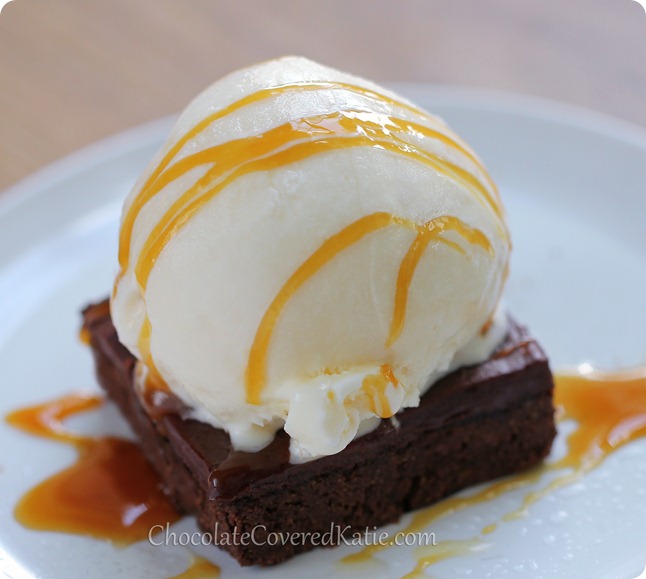 2 Ingredient Maple Caramel
1/4 cup pure maple syrup (agave also works)
1 tbsp arrowroot (cornstarch also works)
Combine ingredients in a small pot and whisk together. Turn stove to medium and bring to a boil. As soon as it starts to bubble, stir constantly for 3-4 minutes, then remove from heat. Fridge 1 hour to set. This gets thicker as it cools, and if you let it sit long enough it will get completely hard. (Technically you can make this maple caramel in the microwave; but watch it carefully, as it bubbles up quickly.) I'm not listing a nutrition link, as the nutrition facts will just be pretty similar to the numbers on your jar of maple syrup.
Pancake Batter Ice Cream
1 cup raw cashews or macadamia halves (120g)
1 1/3 cup milk of choice (320g)
scant 1/4 tsp salt
10 drops maple extract
3 tbsp sugar of choice or xylitol (30g)
1/16 tsp pure stevia, or 2 extra tbsp sugar of choice
1 1/2 tsp pure vanilla extract
Cover the nuts with water in a cereal bowl. Let soak 4-8 hours, then drain and pat dry very well with a paper towel. Now combine all of the ingredients in a blender, and blend until the mixture is completely smooth. If you have a Vita-Mix: Pour the blended mixture into 2 ice-cube trays, and freeze until solid. When frozen, pop ice cubes into the Vita-Mix by pushing a knife down one side of each piece. Blend on high, using the tamper, until a smooth soft-serve texture is achieved. Quickly scoop into individual bowls, using an ice cream scoop for authentic presentation. Eat immediately or freeze each bowl up to an hour for a perfect ice-cream texture and consistency. Although the best texture is achieved with a Vita-Mix, you can still get good results with an ice cream maker. (If you don't have an ice cream maker or Vitamix, you can either turn the blended mixture into really delicious popsicles, or: a few readers say they've had success with a food processor by thawing the ice cubes a little more for a soft-serve treat.) Ice cream maker ice cream: Pour the blended mixture into one large container, and freeze 30 minutes or refrigerate 4 hours or more. Pour the chilled mixture into an ice cream maker, and follow the manufacturer's instructions. Once a smooth texture is reached, scoop into individual bowls, using an ice-cream scoop for authentic presentation. Eat immediately, or freeze up to an hour for a firmer texture.
Any of the following milks works well in the ice cream recipe: Silk Almondmilk, canned full-fat coconut milk, homemade cashew cream (the milk version), Alpro soy cream, Earth Balance soymilk… many other milks will surely work; I just haven't tried them. (It is probably best to use a milk with some fat.) Due to the lack of stabilizers and preservatives, as well as the lower sugar content in this all-natural ice cream, it tastes best the day you make it. However you definitely can freeze for up to a month: portion out the ice cream into individual bowls before freezing, then remove a bowl from the freezer 20 or so minutes before eating. The hard ice cream will thaw back into a smooth treat.
View Pancake Ice Cream Nutrition Facts