Hors d'oeuvres will never be the same.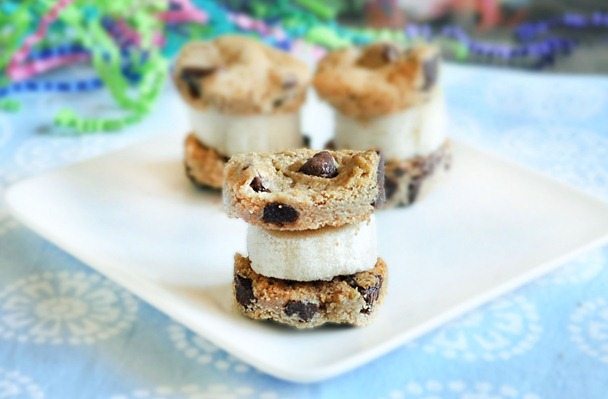 Imagine you're invited to a "desserts only" party.
A party where everything—from the drinks, to the appetizers, to the main course—is a dessert.
Dare to dream.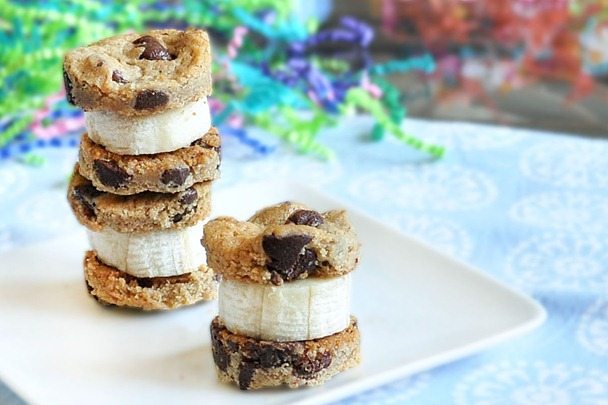 Impress all your friends with these gourmet-looking cookie bites that are secretly healthy and so simple to make!
Chocolate-Chip Banana Bites
1/3 cup plus 1/4 cup flour (I used 70g oat flour. You can use all-purpose, spelt, or gf all-purpose.)
1/8 tsp salt
1/4 tsp baking soda (not baking powder)
3 tbsp to 1/3 cup chocolate chips, depending on your preference
2 tbsp brown sugar or coconut brown sugar or sucanat (do not omit or sub with white) (20g)
1tbsp plus 2tsp white sugar or evaporated cane juice (If you have no sweet tooth, like me, you can omit) (21g)
1/2 tsp pure vanilla extract
1tbsp vegetable oil or coconut oil (or pre-melted margarine) (12g)
2-3 tbsp milk of choice, or more if needed (feel free to switch proportions of milk and oil) (30-45g)
Preheat the oven to 375 degrees. Mix your dry ingredients, then add in wet. Form baby-sized cookies OR big cookies and bake 6-8 minutes. Take out when still underdone–they'll continue to cook while cooling, and so you don't want them to get hard. (If you made big cookies, you can use a circle-shaped cookie cutter to achieve baby cookies.) To serve: sandwich a banana slice between two cookies. If possible, do this at the last minute so the bananas stay fresh. For a variation, replace banana with sliced strawberries!
If you'd prefer, here's a Sugar Free Variation.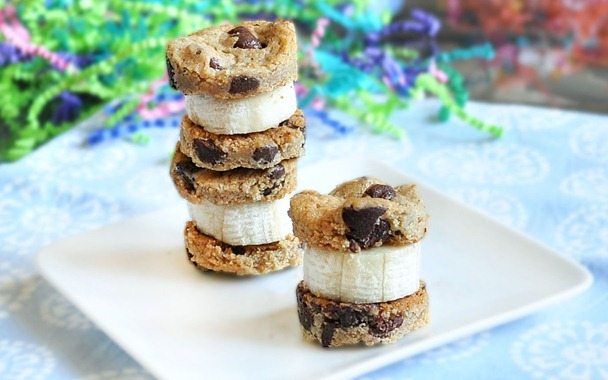 If you're in the mood for a naughtier version…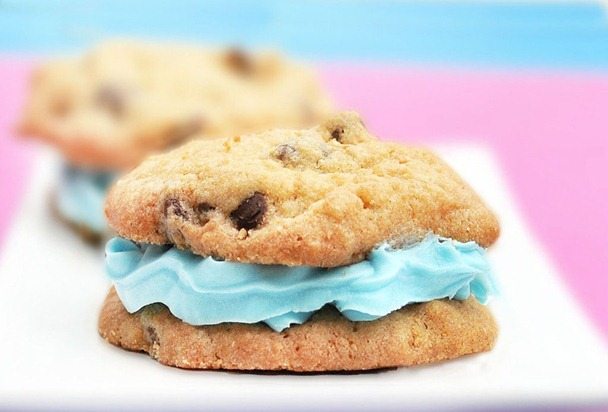 Forget the bananas and make Cookie Sandwiches.
Changing subjects…
What would you prefer?
I'm going to be in NYC this next week, so I was wondering: would y'all be interested in seeing trip-recap posts, with restaurant reviews and point-n-shoot photos? (I'm not bringing my DSLR camera on vacation.) Or would you rather I stick to my signature dessert posts? I don't care either way, so I wanted to ask your opinions. (Even if you do vote for NYC-recap posts, I'll still mix in some recipe posts as well.)
Also, a huge thank you to whomever put this post on stumbleupon. I don't really understand stumbleupon, but I was amazed by how many people viewed the post. Usually (read: never), my blog doesn't get 5,000 unique visitors from of 2-3am!