I decided to make up my own holiday: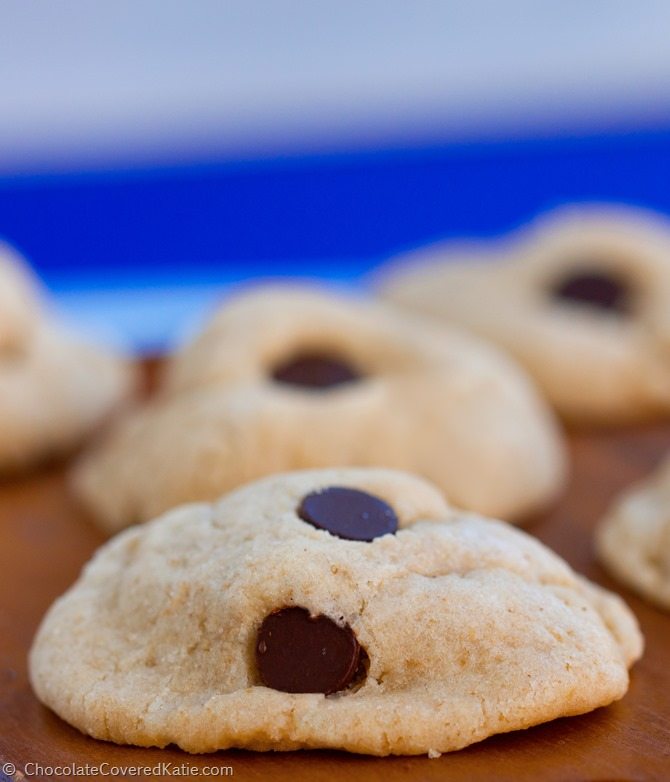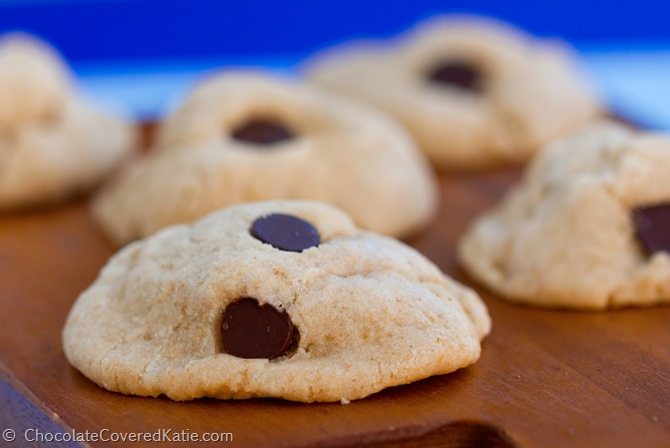 Eat A Cookie Tuesday.
A holiday disguised as an excuse to eat more cookies is never a bad thing, right? And these absolutely irresistible cream cheese cookies are some of the softest, chewiest, lightest, and most delicious cookies ever to come out of my kitchen…
Yet they have just 40 calories… and less than 2 grams of fat each!
Try and stop at just one.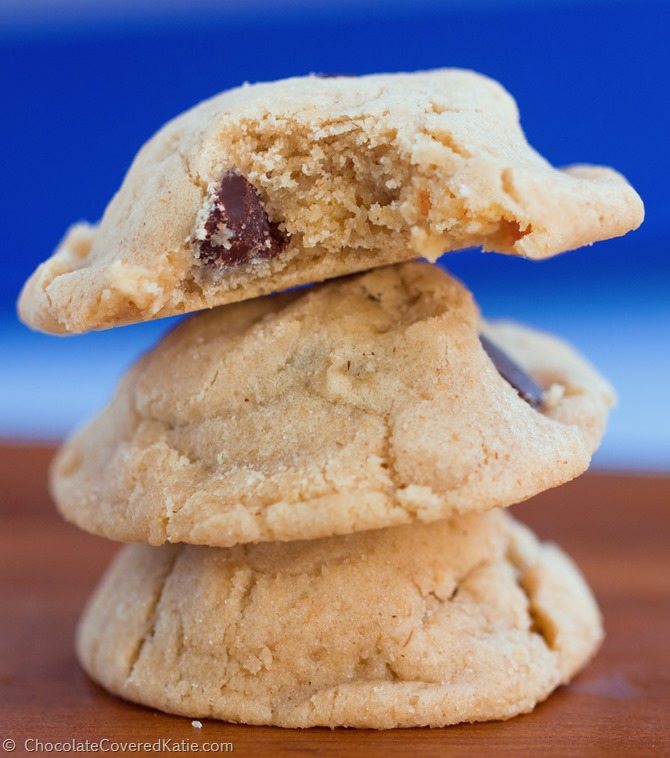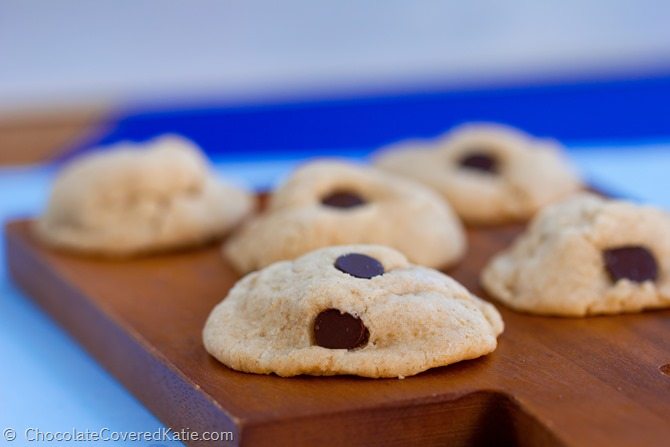 No seriously; try to stop at just one.
It isn't possible.
A few weeks after first making the cookies, I got a text from a friend to whom I'd given the recipe. Apparently she'd brought a double batch into work, and one of her coworkers ate nine!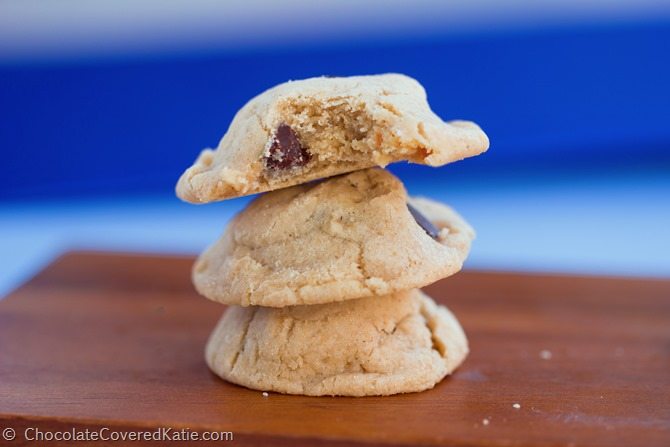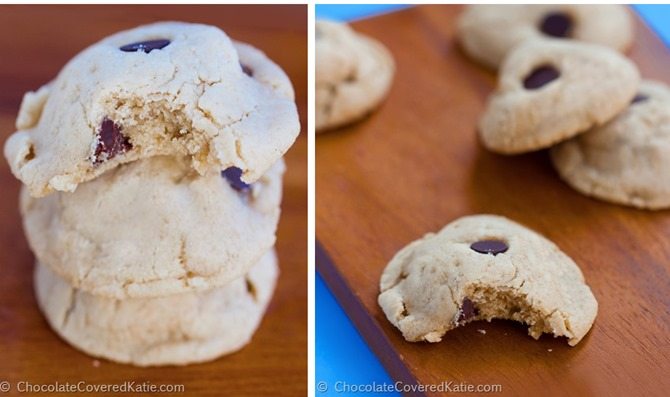 So this is what happens one day in February when when you find yourself with a container of cream cheese in the fridge, a bag of chocolate chips in the pantry, and a view through the window of weather so cold and rainy the thought of leaving your heated apartment—and your oversized flannel pajamas—never even crosses your mind.
Finally, a silver lining to miserable weather.
For more recipes: Over 50 Wholesomely Healthy Cookies Recipes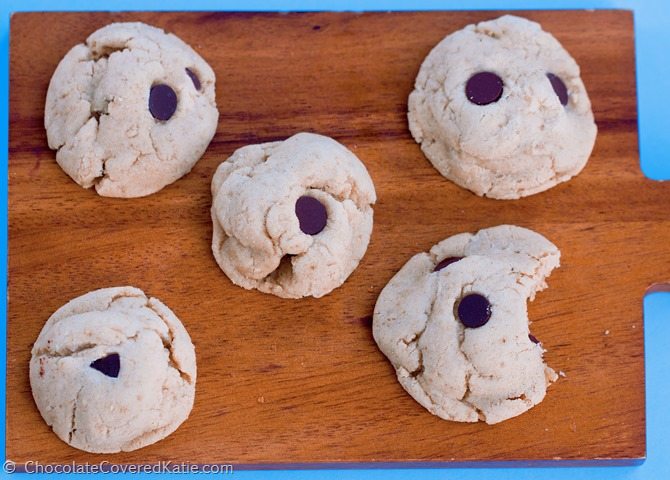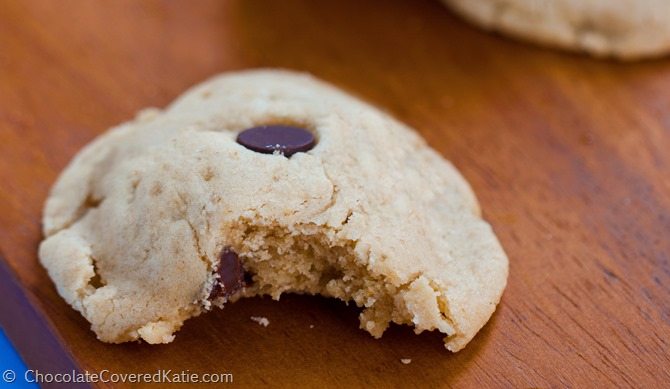 If you try them, be sure to post your pictures and tag me on facebook or instagram so I'll be sure to see!


Chocolate Chip Cream Cheese Cookies
(makes 10-12)
Adapted from: Healthy Chocolate Chip Cookies
1/3 cup plus 1/4 cup oat flour OR just process rolled oats in a blender until you get a fine flour (70g)
1/8 tsp salt
1/4 tsp baking soda
2-5 tbsp chocolate chips, as desired
1/4 cup granulated sugar or xylitol (46g)
3 tbsp full-fat cream cheese, such as Tofutti (45g)
1/2 tsp pure vanilla extract
1 tbsp vegetable or melted coconut oil (12g)
Combine the first 5 ingredients in a deep bowl. In a cup, stir together the remaining 3 ingredients, gently heating if the cream cheese is too firm to stir. Pour wet into dry, then stir together and do not add extra liquid. It will look a bit dry, but keep stirring and scraping off the spoon as you stir. After a few minutes, it will moisten into a cookie dough batter. Form a big ball, then roll into cookie dough balls. Place balls on a plate and freeze at least 30 minutes (or up to a month). When ready to bake, preheat oven to 325 F and grease a cookie tray. Place balls on the tray, press down if desired, and bake 8 minutes—they will look quite underdone when they first come out, so do not even touch them for at least 10 minutes, during which time they will firm up.
Link Of The Day: