Deep, rich, decadent, gooey dark chocolate coconut banana bread.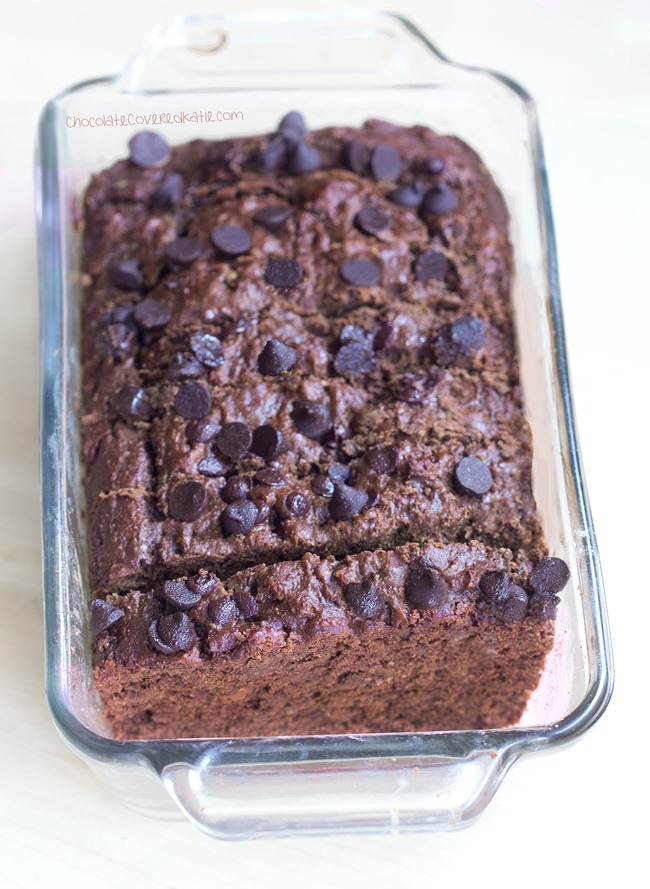 Dear people who keep leaving comments on my blog, accusing me of photoshopping myself to look thinner (Seriously?),
If I wanted you to think I was super skinny, I wouldn't have specifically pointed it out that I've gained weight. Sometimes lines are not straight in photos; sometimes the camera flash causes weird shadows; sometimes I stand at an awkward angle or an iphone pic will look distorted. But I am very happy with my body the way it is, and I wanted to make that clear because promoting positive body image is really important to me. I hear so many girls walking around calling themselves fat or saying they feel guilty for eating dessert, and magazines proclaim "New Year, New You" as if there's something wrong with the old you and only girls who are a size 0 or have supermodel proportions deserve to be loved.
(To clarify: I believe that the message real women have curves is well-meaning but misguided. Your body size–small, large, or in between–should have absolutely nothing to do with your worth as a person. A girl who is very thin, whether naturally or not, is still very much a real girl.)
In my previous post, three separate people accused me of photoshopping the pictures of myself… but those photos are actually just screenshots from the online clip, and anyone can take the exact same screenshot for themselves. I found this kind of funny, so I had to point it out.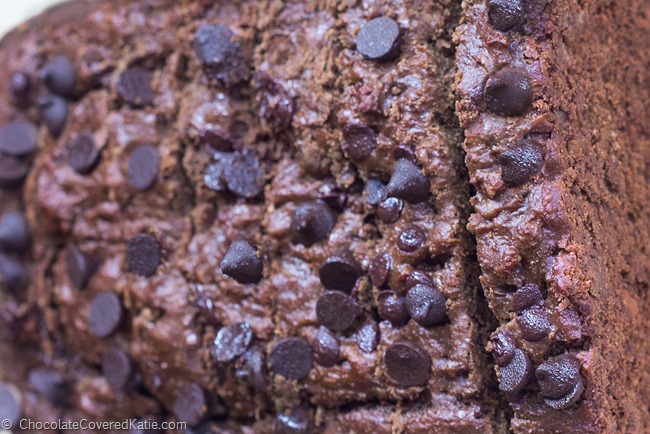 Speaking of photos, writing this post was really difficult. Every time I looked at that first picture of the banana bread—chocolate chips staring back at me through the computer screen—I wanted to quit writing and go eat banana bread instead. Did not help that my apartment smelled like chocolate.
(Not that this is anything new… my apartment always smells like chocolate, which is exactly the way I like it.)

For this particular recipe, I used the recipe for my favorite Chocolate Banana Bread and added THREE kinds of coconut. So really, I could technically call this Triple Coconut Banana Bread. And three coconuts are much better than one.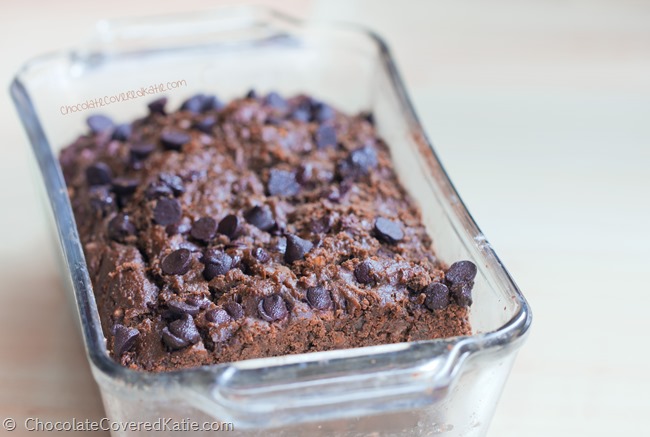 If you don't have one of the three forms of coconut, feel free to leave any of them out. Obviously it will be more and more coconutty, the more types of coconut you add; but the original recipe without coconut is delicious too.
Basically, with chocolate chips and banana bread, it is hard to go wrong!

Chocolate Coconut Banana Bread
Adapted from Chocolate Peanut Butter Banana Bread
Gooey Chocolate Coconut Banana Bread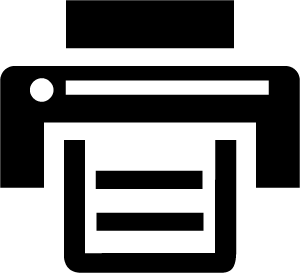 Print This Recipe
[mrp_rating_result show_count="false" show_rich_snippets="false"]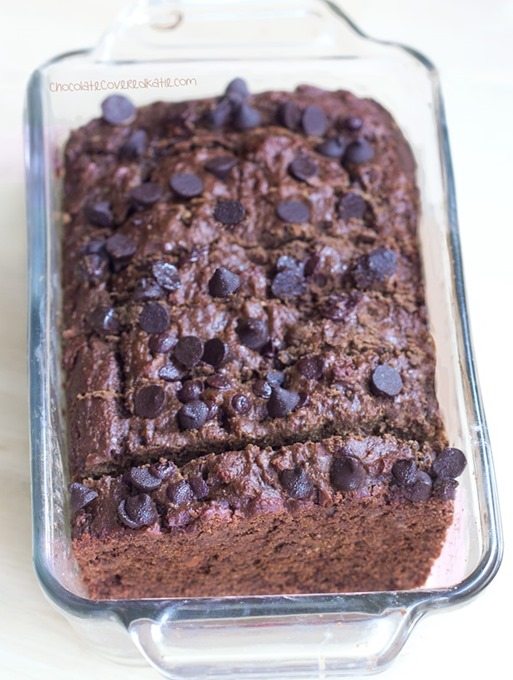 Ingredients
1 2/3 cup overripe mashed banana (400g)
2 1/2 tsp pure vanilla extract
1/2 tsp coconut extract (omit if desired)
1 tbsp white or apple cider vinegar
1/2 cup canned coconut milk (not coconutmilk beverage - coconut free version here)
3 1/2 tbsp coconut butter OR 2 tbsp milk of choice
2/3 cup pure maple syrup or honey or agave
1/8 tsp uncut stevia OR 1/4 cup sugar
1 3/4 cup spelt, white, or bob's gf flour, loosely packed (210g)
1/2 cup shredded coconut, optional
1 tsp baking soda
3/4 tsp salt
3/4 tsp baking powder
1/2 cup plus 2 tbsp cocoa powder
1/2 cup mini chocolate chips in the batter, plus regular chips for decoration, optional
Instructions
Measure banana after mashing, not before. Preheat oven to 350 F and grease a 9×5 loaf pan very well, going up the sides. In a large mixing bowl, whisk together the ingredients from banana to the sugar/stevia (the first 8 ingredients). In a separate bowl, combine all remaining ingredients and stir very well. Pour dry into wet ingredients, and stir until just evenly combined. Transfer the batter to the loaf pan and spread out evenly. If desired, sprinkle chocolate chips over the top of the banana bread and press down. Bake 35 minutes. Then turn off the oven but DON'T open the door! Let sit 10 additional minutes in the closed oven before removing and slicing. (Some readers have said their bread needed additional baking time. This can sometimes happen, depending on climate where you live and differing oven calibrations. If this happens to yours, just turn the oven back on after the 10 minutes are up and continue baking until a toothpick inserted into the center of the banana bread comes out clean.) This banana bread tastes even sweeter the next day, and it freezes well after slicing.
Link Of The Day: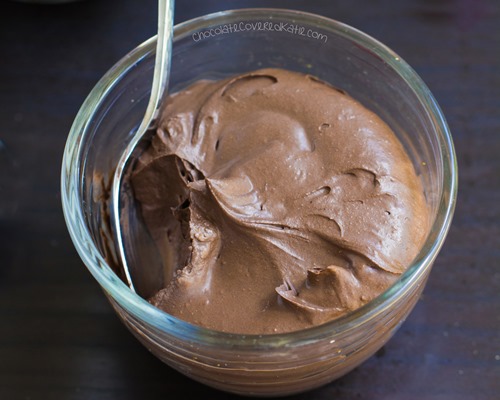 Healthy Chocolate Pudding  –  6 ingredients, NO tofu, NO avocado