Chocolate Covered Cherries: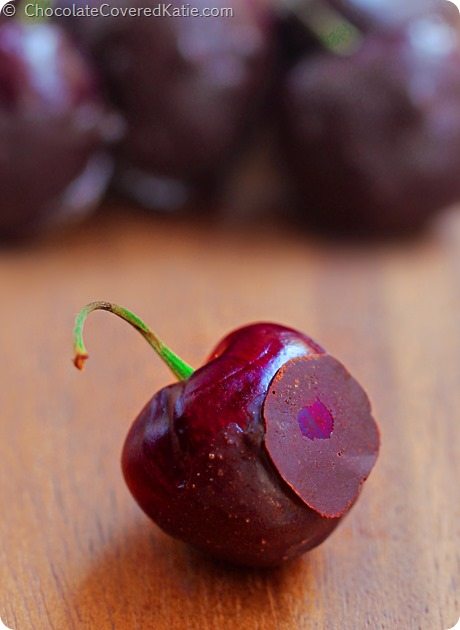 This chocolate covered cherries recipe is so easy I seriously considered not even posting it…
However, I receive requests from readers every day who ask if I can post more easy recipes—recipes that can be made without an oven, without a blender or food processor, recipes that don't take all day to prepare and that don't require a trip to the health food store for some obscure ingredient.
This is one of those easy recipes!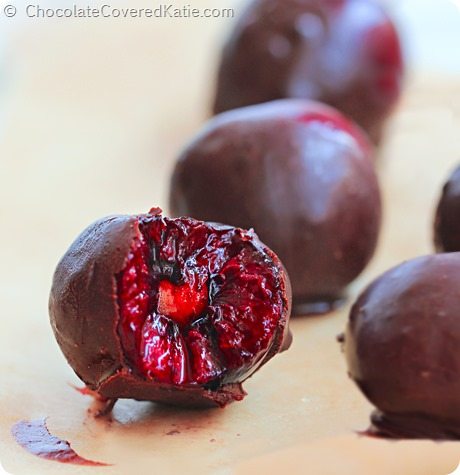 The recipe is perfect if you have just five minutes and need to come up with a fancy dessert… or if you're looking for a recipe that takes advantage of cherry season!
The sweet and vibrant cherries make for a stunning final presentation sure to impress your guests—I took about a million photos and had an incredibly difficult time cutting it down to my five favorites. And then I had an equally difficult time stopping myself from eating all the cherries before I could bring them to their destination.
Luckily, the recipe makes  a big batch.
An excuse to eat more chocolate covered cherries!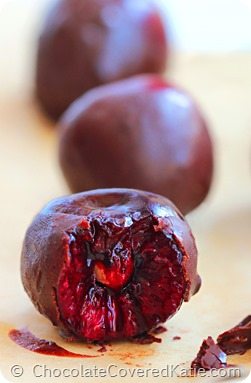 Chocolate Covered Cherries
1/4 cup cocoa or cacao powder (20g)
1 tbsp liquid sweetener, such as pure maple syrup (15g)
1/4 cup melted coconut oil (For a coconut-free version, see directions below) (38g)
fresh cherries, with stems if possible
Chocolate Covered Cherries Recipe: Line a large plate with parchment paper, and set aside. Combine the liquid coconut oil and sweetener, then stir in the cocoa until a thin sauce forms. (If the sauce turns thick, gently heat it for a few seconds until it becomes thin.) Holding the cherries by the stems or with a spoon, swirl each cherry around in the chocolate. Place on the parchment-lined plate, and immediately refrigerate to set the chocolate shell. Due to the melty nature of the coconut oil, these chocolate covered cherries should be refrigerated until ready to serve. (Chocolate sauce makes enough to coat about 110 cherries.) COCONUT-FREE VERSION: Carefully melt 8 oz chocolate chips with 1 tbsp shortening. (Spectrum brand is non-hydrogenated.) Proceed with the directions above, using this chocolate sauce in place of the coconut-based sauce. This version can stay out at room temperature for a longer period of time, but it's still a good idea to refrigerate since the fruit is perishable.
Click for: Chocolate Covered Cherries Calories and Nutrition Facts
I'd love your feedback!
Do you prefer when I post quick and easy recipes with just a few ingredients? Or do you like the more-complicated recipes, such as the muffins, pies, and cakes? I will continue to publish a balance of easier and more-involved recipes but will take your feedback into account when deciding how many of each to post!
Link of the Day: Chia Pudding Recipe