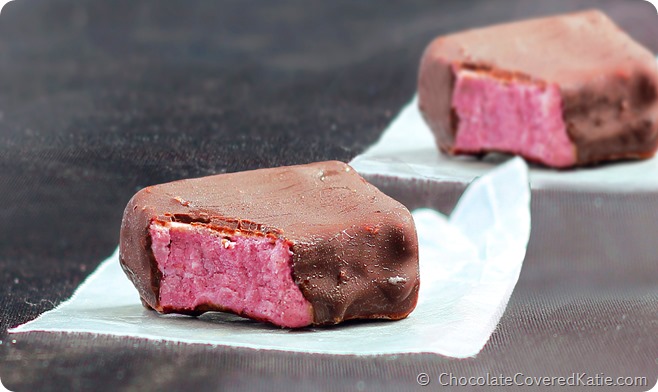 I love easy recipes.
This shouldn't come as a surprise to anyone familiar with the blog. There's an entire page devoted to this type of recipe: Over 100 healthy dessert recipes that can be made in 5 minutes or less.
So these chocolate strawberry bars are perfect for me: Just a few ingredients, and the recipe can be made in—you guessed it!—under 5 minutes.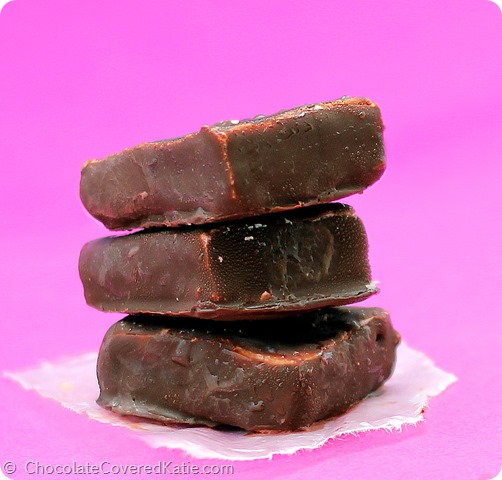 They kind of remind me of Strawberry Klondike Bars… just more like fudge in the middle than ice cream.
(This also points out to me the fact that I currently have no Klondike recipe on my website. How can this be?! Must change soon! But I digress…)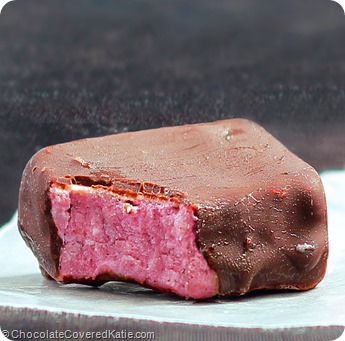 Chocolate Covered Strawberry Fudge Bars
1/2 cup melted coconut butter
1 1/4 cup sliced strawberries (160g)
just under 1/8 tsp salt
1/4 tsp cinnamon, optional
1 tbsp agave or pure maple syrup
chocolate coating (see recipe instructions)
First blend just the berries in a blender or food processor until smooth. Add the salt, cinnamon, coconut butter, and sweetener, and blend again until smooth.  Smooth into a plastic container, and freeze until firm. Cut into bars or bites, and return to the freezer. (You can even insert popsicle sticks if desired.) You can either eat these bars plain OR cover them in melted chocolate chips or the following chocolate coating: Mix together equal parts cocoa powder, virgin coconut oil, and pure maple syrup until a thin sauce forms. Dip in the strawberry fudge, then immediately set back in the freezer to harden. Leftovers should be stored in the freezer for up to two weeks.
Click for: Chocolate Strawberry Fudge Bars Nutrition Facts
Side Note:
I'm working on a personal post I've been thinking about publishing for a while now… some of you can probably already guess the topic.
Hopefully it will be up next! If you're only interested in reading recipes, please rest assured they aren't going anywhere. I'm also starting to plan the recipe theme weeks! So if you have any particular theme weeks you'd like to see, feel free to leave requests in the comments.
Link of the Day:  Mexican Chocolate No-Bake Cookies