Chocolate or Vanilla?
The subject of today's post is once again chocolate. You didn't think I'd ignore it two days in a row, did you?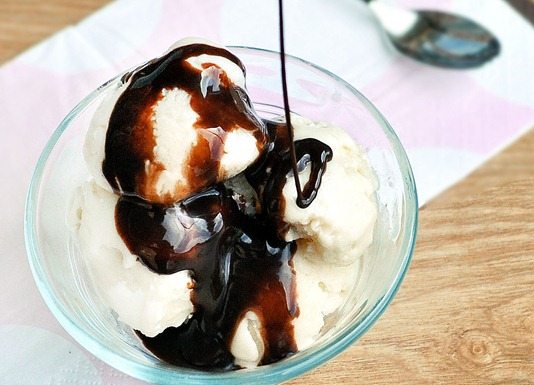 Above, on top of my Voluminous Ice Cream.
The sauce is actually not my recipe; it's Barleans Essential Woman chocolate-raspberry swirl. I discovered this healthy chocolate sauce while shopping at my local health food store. Don't ask me why, but they were giving out free samples. Yes, on a spoon. Weird, right?
Or maybe not so weird… I certainly never would've bought it on my own. But as soon as I read it was vegan, I was all over those free samples.

Barleans Essential Woman Chocolate-Raspberry Swirl
Oh my chocolate cream pie, this stuff is good. And—bonus—it's rich in Omega-3s, 6s and 9s! I'm a big believer in only eating foods that taste good, regardless of their health benefits. If it doesn't taste good, I'm not eating it. (So keep that wheatgrass away from me, thanks.)
This healthy chocolate syrup, while packing a nutritional punch, manages to taste like real chocolate syrup. It's also sugar free. (Side note: The info on their website is outdated; this sauce is, in fact, vegan.)
Question of the Day:
Chocolate or Vanilla?
You know where my loyalties lie! Just in case, here's a clue.