The Five Foods you Meet in Heaven
Can anyone guess mine? I'll give you a hint. One starts with a Ch and ends in –ocolate. But another one is oatmeal. I even have a separate recipe tab: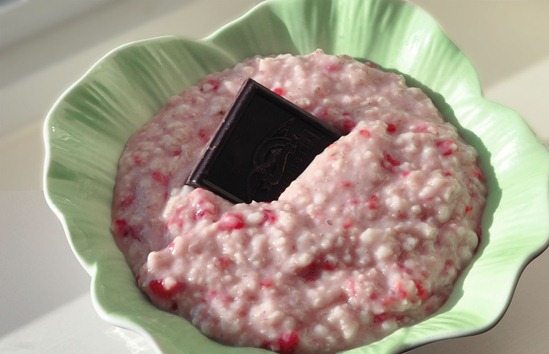 Under that tab are recipes for the likes of Snickerdoodle Oatmeal, Cookie Dough Oatmeal, and even Boston Cream Pie Oatmeal. I even have Christmas oats and Halloween oats. The problem is none of those are good for Valentine's Day! 😕
Chocolate-Raspberry Truffle Oatmeal (Or "Raspberry Cream Oats" if no chocolate)
1/3c uncooked rolled oats (40g)
1 cup frozen raspberries (100g)
salt (I used very scant 1/4 tsp)
a little over 1 cup water or milk of choice (260g)
1-2 tbsp creamer (I used 15g Silk)
optional: chocolate (We'll get to that later)
sweetener I didn't use any, but many people will want some.*
*In place of sugar, you can use the Melted Banana Trick.
Procedure: The night before, I microwave the oats, salt, and water in a large pyrex measuring cup for 3 minutes (2 minutes if using quick oats). Then I leave it in the microwave for 5 more minutes before transferring—uncovered—to the fridge. Next day, after running, I add the other ingredients (as well as 1 1/2 tbsp more water), stir, and microwave again until the raspberries melt into the oats.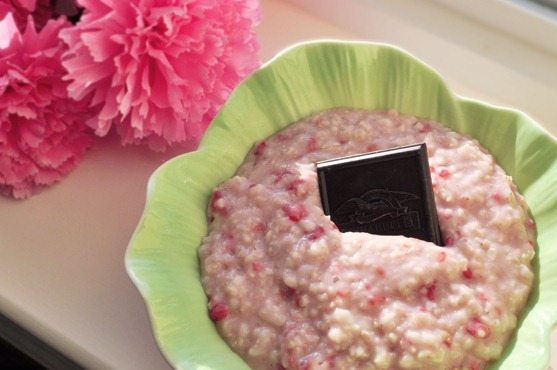 Delicious without chocolate, but… This time, for fun, I stuck a square of 100% Ghirardelli (my favorite chocolate) in the hot oats. However, I didn't take a photo of the ensuing chocolate melted mess… I was too busy devouring it! Godiva in a bowl.
What are your top 5 favorite foods?
Mine: kabocha, broccoli, coconut, especially (Vegan Coconut Fudge) and oatmeal and chocolate. Of course, chocolate!