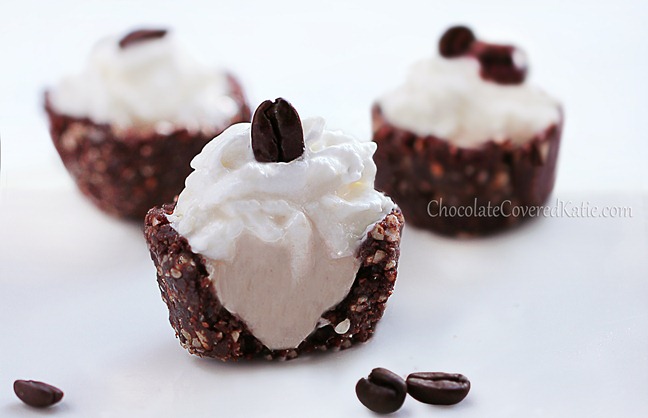 Engagement announcements, marriage announcements, and pregnancy announcements are taking over my facebook newsfeed. Every time I blink, another of my friends gets married. This past Saturday I attended my third bridal shower in the past eight months, which is nothing compared to one of my friends who has gone to two bridal showers and five weddings since January! She says she's beginning to feel like the main character in 27 Dresses.
For Saturday's shower, I wanted to make something simple yet elegant, which is how these bite-sized coffee cream brownie cups came into existence: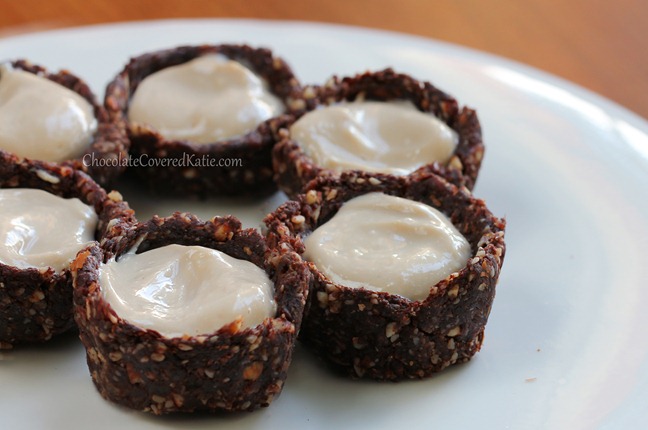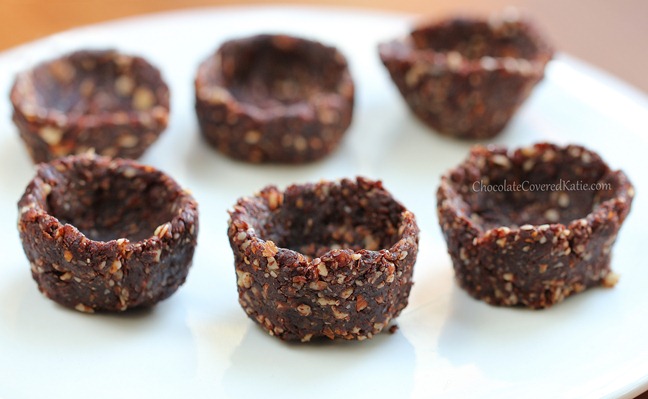 Alternate filling ideas: chocolate mousse, frosting shots, cashew cream, my ice cream recipe or my banana pudding recipe (or any ice cream or pudding recipe).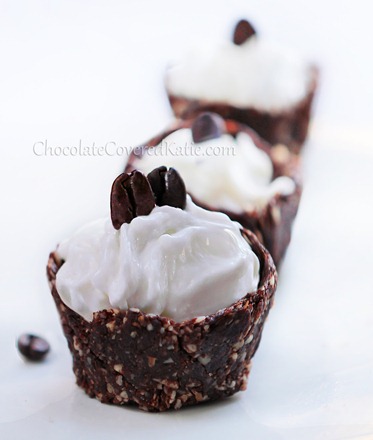 Coffee Cream Brownie Bites
Mousse:
1 cup raw cashews or macadamia nuts(120g)
1.5 cups (360g) over-ripe banana (Banana-Free Version: Omit banana. Add milk of choice until a mousse-like texture is achieved. Add extra sweetener to taste.)
1/8 tsp salt
1 1/2 tsp pure vanilla extract
2 tsp instant coffee granules (regular or decaf – I used Mt. Hagen)
pinch pure stevia extract, or 3 tbsp sugar of choice (dry or liquid)
1 1/2 tbsp water or milk of choice (omit if using liquid sweetener)
Brownie Cups:
1 cup raw almonds (120g)
1 cup pitted dates (115g – about 15 small dates)
1/3 cup raw walnuts (30g)
1/3 cup cocoa or cacao powder (28g)
1/8 tsp salt
1 tbsp water
For the mousse: Put the nuts in a cereal bowl with enough water to cover them. Let soak 4-6 hours. Drain completely and pat dry. Mash the banana (if using), and measure out the 1.5 cups after mashing, then combine all ingredients in a high-quality food processor or Vita-Mix, and blend on high, scraping down the sides occasionally, until a completely-smooth consistency is reached. (It can take up to 10 minutes in a food processor; much less in a Vita.)
Make the brownie cups: Combine the almonds, walnuts, dates, cocoa, and salt in a high-quality food processor. (Using a blender or vita-mix will yield sticky results and will have trouble processing.) Process until mixture turns to small crumbles. Add no more than 2 tbsp water to achieve a slightly-sticky dough, then process again until it sticks together in one big ball. Break off pieces with your hands and mold along the edges of mini muffin cups, pressing down in the middle so that a cup shape is formed. Freeze 20 minutes, then fill with the mousse. Refrigerate until ready to serve. Top each mini tart with Vegan Cool Whip if desired. Makes around 20-21 brownie tarts, and you'll only use about half the filling but it's best to make a bigger serving for smoother blending. With the extra filling you can either eat it as mousse or make another batch of the brownie tart shells.
Link of the Day: