Yes, kale brownies…
I promise I'm not crazy.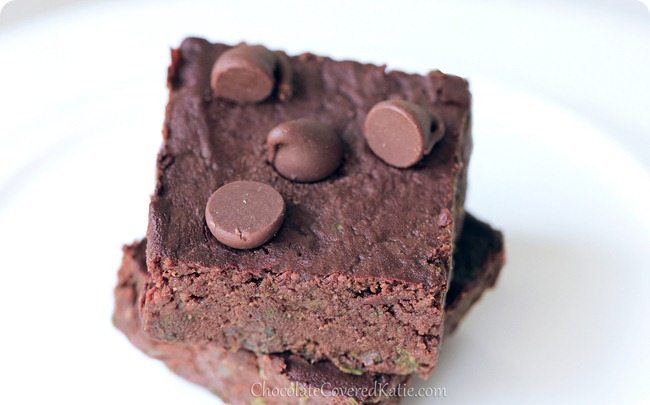 Well maybe just a little bit.
When I first started blogging, I loved to see what google searches were leading people to the site. A few of my favorites:
Chocolate covered bumblebees
Chocolate covered grasshoppers
How to turn your boyfriend into a pig
Ugliest banana ever
Sarah Palin is a pumpkin
Eat cheese or die
Toes taste like tator tots
(Really I have no idea about the last one… it's quite perplexing disturbing. And my apologies to whomever found the blog while searching for "eat cheese or die." Most likely my site was a big disappointment.)
And then there were the two people who found my blog by typing "kale brownies" into the search bar. Although I didn't actually have such a recipe posted at the time, the idea intrigued me. I've done cauliflower cake, spinach ice cream, zucchini coconut cream pie, chickpea blondies, zucchini muffins (maybe that last one isn't so out-of-the-ordinary)… In other words, I'm open-minded about trying odd-sounding foods. Maybe it's because I grew up in Japan, where they often put beans in desserts and where green tea ice cream is a staple. Or maybe it's just because I'm overly curious.
In any case, this is one of the rare recipes on my site that I probably wouldn't serve to someone who isn't open-minded or into healthy eating. It's not that the kale brownies aren't rich and delicious (they are!), but you can see flecks of green in them, which is an instant giveaway to their healthfulness. Still, if you consider yourself an adventurous person, do give these brownies a try. They might just surprise you!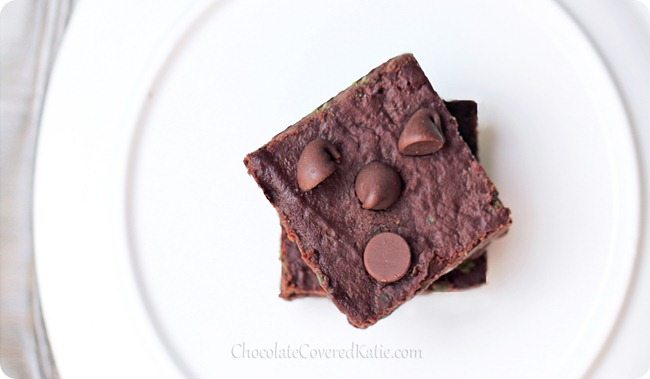 Kale Brownies
Adapted from Zucchini Brownies
loosely-packed 3 cups kale or spinach leaves (80g)
1/2 cup applesauce (120g)
2 1/2 tsp pure vanilla extract
1 1/2 cups water (360g)
3 tbsp ground flax (18g)
3/4 cup vegetable or melted coconut oil (115g)
1 cup coconut flour (135g) (Coconut-free recipes are linked at the very bottom of this post.)
3/4 cup cacao or cocoa powder (65g)
1/2 tsp salt
1/2 tsp baking soda
3/4 cup xylitol or sugar of choice (150g)
1/16 tsp pure stevia, or 2 extra tbsp sugar of choice
1/2 cup mini chocolate chips, optional
Preheat oven to 350F. Line a 9×13 pan with parchment paper, or grease well. Blend together the first 6 ingredients (if using coconut oil, make sure applesauce and water are not cold).
In a large mixing bowl, stir together all remaining ingredients. Pour wet into dry and stir until just evenly combined, pour into the prepared pan, then use a full sheet of parchment or wax paper to press down firmly until the batter evenly covers the pan. Bake 19-20 minutes. Pat down hard with a pancake spatula or another sheet of parchment paper. Let brownies sit 15 minutes before cutting into squares. (As a general rule, cutting brownies with a plastic knife prevents crumbling.) They taste 10 times better the next day, so make them in advance if possible. Makes 20-24 squares. (Frosting recipe is below the next photos.)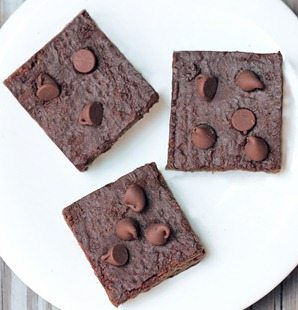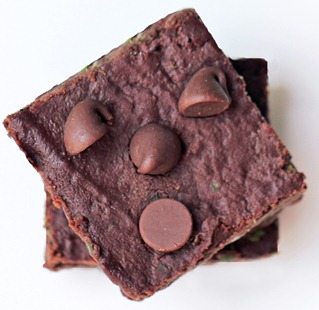 Frost the coconut flour brownies with either my Healthy Chocolate Frosting or with the following:
1/2 cup cacao or cocoa powder (40g)
2 tbsp pure maple syrup or agave (30g)
1/2 cup virgin coconut oil, melted (75g)
chocolate chips for the tops, optional
Mix the frosting ingredients to form a sauce. Spread over the kale brownies, top with chocolate chips if desired, then refrigerate or freeze 10-20 minutes; the sauce magically transforms into chocolate frosting! Due to the melty nature of the coconut oil, the frosted brownies are best stored in the refrigerator or freezer (they thaw well). The healthy brownies are high in fiber and Vitamins A, C, and K, cholesterol-free, gluten-free, vegan, low in sugar or sugar-free, and they also offer Omega 3s! (If you prefer coconut-free brownies, try my Black Bean Brownies or Pumpkin Brownies.)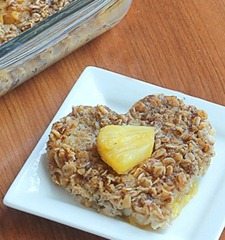 Link of the Day: Baked Oatmeal