Growing up, my sister and I went through a phase where we decided it would be completely fantastic to own a pickup truck.
We hatched this brilliant (or so we thought) idea on an uncomfortably-humid Philadelphia summer's day, and our logic was that the back of the truck could be filled with water, turning it into our very own portable swimming pool. Summer heat would no longer be a problem.
(Not to mention… how fun would road trips be?!)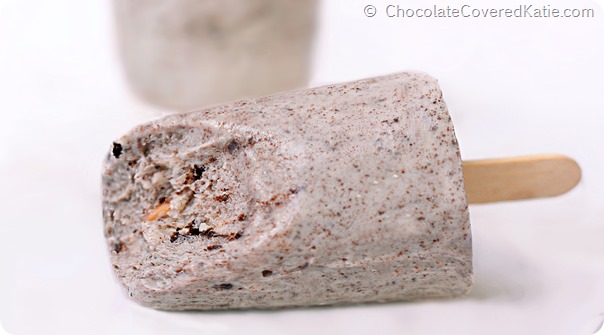 Unfortunately, our mother did not buy into this ingenious plan. Each day when we begged to get rid of the minivan in favor of a truck, we were denied. And so, still hot and still without a pool, we were finally forced to come up with other ways to beat the heat.
We ran through the sprinklers like it was an Olympic sport, adopting the bathing suit as our summer uniform. We invited our friends over for water balloon fights, and we experimented with ingredients to concoct different flavors of frozen homemade pudding pops. These pudding pops became a staple in our diets, and they were almost enough to make us entirely forget about our truck-pool.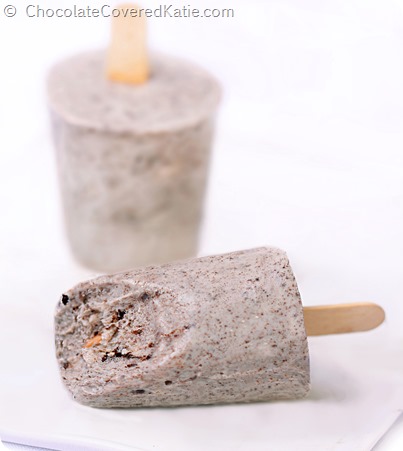 Almost.
Cookies and Cream Pudding Pops
1/2 cup raw cashew or macadamia nuts (60g)
2/3 cup milk of choice (160g)
scant 1/8 tsp salt
2 tbsp sugar of choice or xylitol (24g)
pinch pure stevia, or 1 extra tbsp sugar of choice
1 tsp pure vanilla extract
4-5 oreo cookies or Homemade Healthy Oreos
In a bowl, cover the nuts with water and let sit 6-8 hours. Drain and be sure to pat dry completely. Combine the drained nuts with the salt, vanilla, sweetener, and the milk of choice, and blend until smooth. (If you have a Vita-Mix, blend a full minute. This can technically be done in a non-high-power blender if you blend a very long time, but I don't know that it will be as smooth.) Add the Oreos and blend again, just enough to crush the cookies. Pour into popsicle molds or dixie cups. (If using dixie cups, freeze until slushy, then remember to add a popsicle stick to the middle of each popsicle.)
Click for: Cookies and Cream Pudding Pops Nutrition Facts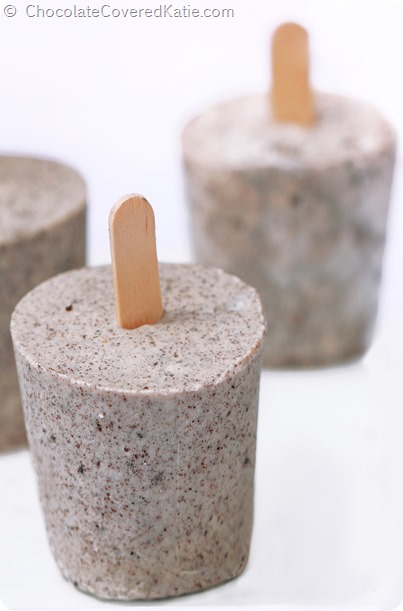 Question of the Day:
Growing up, was there ever something you really wanted, but your parents said NO? 
Such as contact lenses, a later bedtime, or a puppy? Aside from the truck, I also went through a phase where I really wanted a pet monkey. Actually… I still kind of really want a pet monkey. 😕
Link of the Day: Copycat Ben & Jerry's Chocolate Chip Cherry Garcia Frozen Yogurt