Healthy Hostess Cupcakes!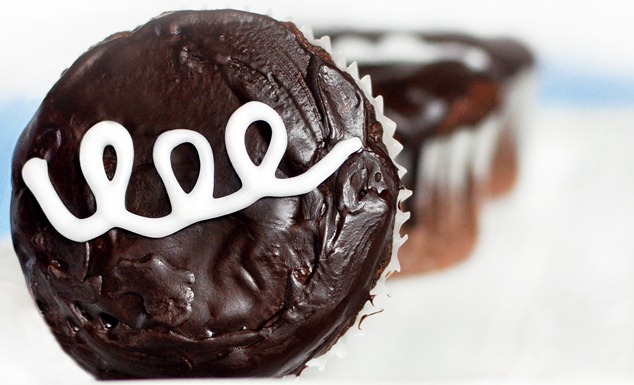 Hostess cupcakes iced with Hot Chocolate Butter.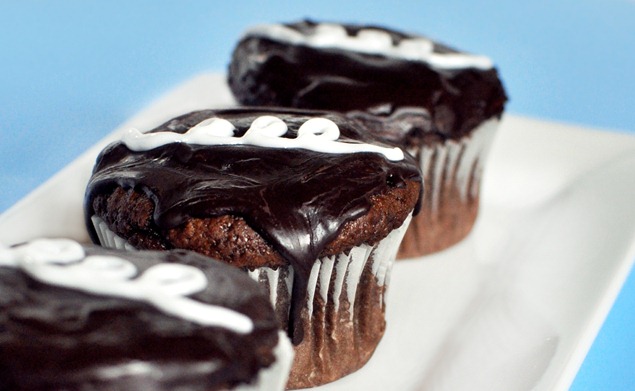 Along with yesterday's Healthy Cookie Dough Dip, I brought these cupcakes to Sunday's pirate party.
For a while now, I'd been looking for an excuse to try making a healthier version of the popular creme-filled cupcakes. So when I discovered I could stretch the "yo ho/ ho ho" pun and pass these off as pirate-themed, I knew they had to be made. Unlike Hostess' cupcakes, mine are whole-grain, low in fat and calories, and free of high fructose corn syrup and trans fats.
But seriously, people will eat them up!!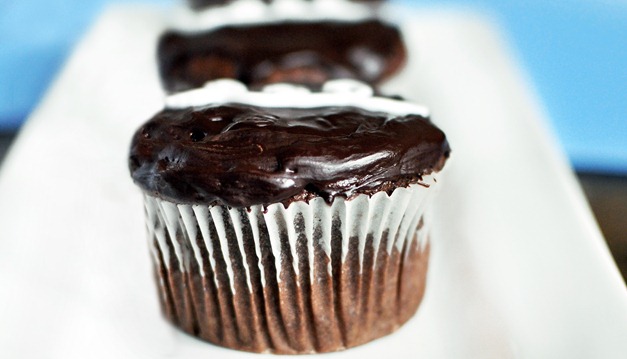 Healthy Hostess Cupcakes
Inspired by My Favorite Chocolate Cupcakes
1 cup spelt, white, or Bob's gf flour
3/4 tsp baking powder
1/2 tsp baking soda
1/2 tsp plus 1/8 tsp salt
3/4 cup granulated sugar or xylitol
1/4 cup cocoa powder
1 and 1/2 tbsp cornstarch
1 and 1/2 tsp pure vanilla extract
1/2 cup vanilla yogurt of choice, such as SoDelicious
1/4 cup applesauce
3 tbsp oil
1/2 cup milk of choice
marshmallow fluff – I use my Vegan Marshmallow Fluff
Directions: Preheat oven to 350 degrees. Mix dry ingredients, then add wet – excluding marshmallow fluff. Don't overmix. Pour into cupcake tins, and bake for 15-20 minutes. Allow cupcakes to cool, then cut or poke holes in the tops and scoop in the cream. Re-cover the tops. (Recipe continues below.)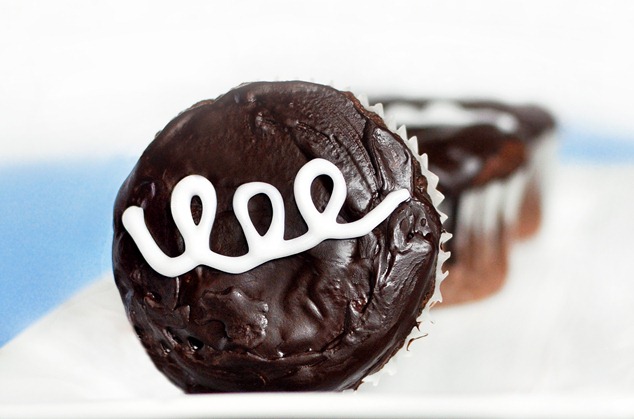 Frost cupcakes with warmed Hot Chocolate Butter or with melted chocolate chips. Then put the cakes in the fridge for the frosting to harden. Once hard, you can use an icing writer for the tiny squiggles if you wish. Yes, I know the icing isn't healthy. But it's only like a 1/8 tsp, so I still feel justified in calling these cupcakes healthy.
An alternative to the creme:
Try stuffing them with Healthy Cookie Dough Dip.
Or, you could imitate some of the people at the party and dunk these cupcakes into the cookie dough dip. Sugar on top of sugar. So much for this being a healthy dessert blog!