Happy Pancake Day!
I'm excited so many people are up for the Dessert Pancake-Making Bonanza!
Pancakes are like blank canvases, screaming to be decorated.  In case you missed the last post and therefore have no clue what this Pancake Challenge is all about, I thought I'd do a quick review. But first…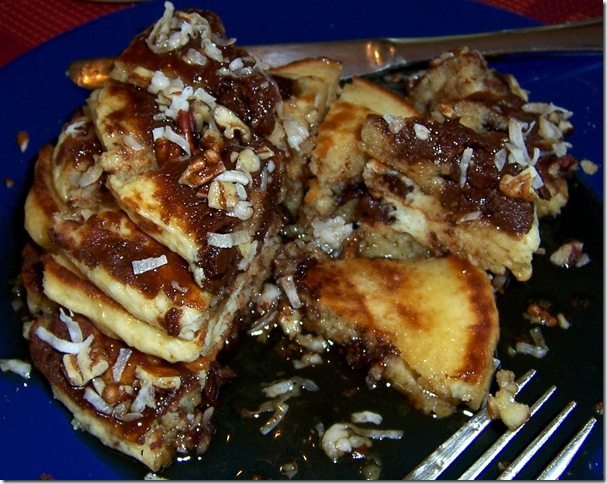 Sorry, I couldn't resist putting that German Chocolate Pancake photo up one more time.
Dessert Pancake-Making Bonanza:
To participate, all you have to do is create a fantabulous pancake recipe and blog about it, linking back to the challenge. (If you're stumped for ideas, just think of your favorite dessert and then Pancake-ify it!) Let's talk Prizes: As I said in my last post, the real prize is all the fun we can have admiring each others' pancake artwork. But, one random participant will also win something else of his or her choosing, from: Artisana, PB&Co, or a CCK-Photoshopped Creation, such as a personalized magazine cover (you on your favorite magazine), cereal box cover, or whatever else you can dream up. Below, an example (obviously, I'd use the winner's picture, details, and choice-of-magazine in place of mine)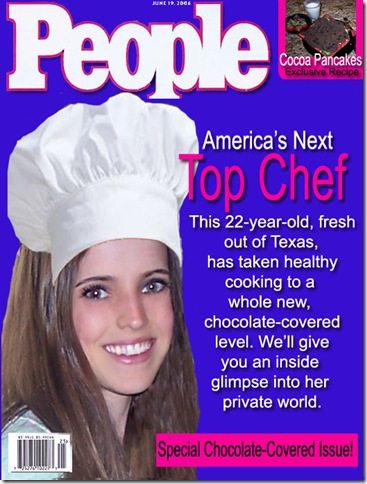 Now go put on your chef hats and let the pancake-making commence! (Baking Bonanza ends July 18th.)