Something must have been in the breakfast wind last week.
When I first posted about the amazing Breakfast Pizzerts, a lot of people made them. But by and by, the trend died down, as all trends do. (Hello Beanie Babies.) Yet suddenly, in one week, I got no fewer than fifteen comments, pingbacks, tweets, or emails from a fresh batch of pizzert-makers! All this pie-eating action made me jealous; I wanted in on the party.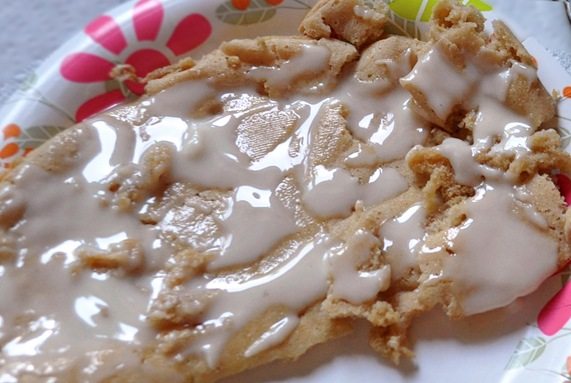 Nuthin left to do but bake my own Breakfast Pizzert. This particular time, I opted for coconut butter icing. Always a good choice. And now I remember why I loved these things in the first place. But I won't bore you with my customary "amazing" "delicious" "delectable" descriptions (Seriously, there are only so many ways one can describe yummy food!). Instead, I'll turn the blog over to my friend, Carrie, who seems to have a much better way with words.
Carrie's words:
You guys, I seriously think I have reached Heaven…  I have experienced not just a party in my mouth but a rave, a massive, full-on, blow-out RAVE. But here's the thing… the whole thing is the size of a family-style pie (VOLUME!) It tastes just like a pancake, but when you undercook it like I did its more gooey and dense, which is just pure deliciousness…
and the whole batch (without toppings) is only about 220 calories (when you use the ingredients I did)… and then you top it with SO MUCH good stuff and its like a healthier version of a cake, pancake batter, brownie, cookie dough THING. SUCH A SCORE! I also just had this again for lunch today and plan on having it after dinner too.. and then again tomorrow at some time…I am sure of it.
(Katie's note: see original post for more-specific info: Pizzert Calories.)
Haha Carrie sounds like an infomercial. But she convinced me to pull the recipe back up, after neglecting it for so long.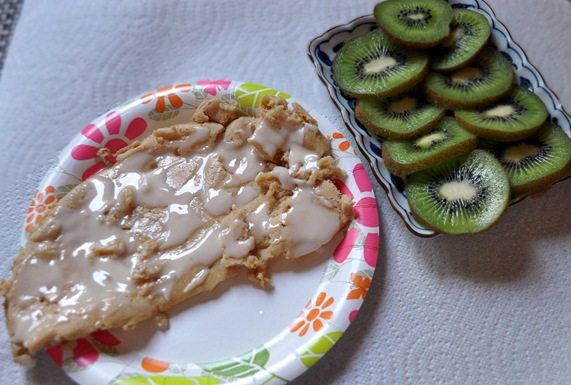 Along with a fat kiwi, I ate half of the Breakfast Pizzert.
The other half went to a friend. By the way, please excuse the ugly paper plates. I made this at my friend's apartment, and that's her choice of dishware. She's just classy like that. Another reason she's classy?
She opted to spread her pizzert half with homemade Hot Chocolate Butter. 🙂 Yup, I know how to pick good friends. We had a picnic on the floor, eating pizzerts and looking through magazines. Have you ever had an indoor picnic? They're perfect for winter. Plus, there's no need to worry about greedy ants or seagulls!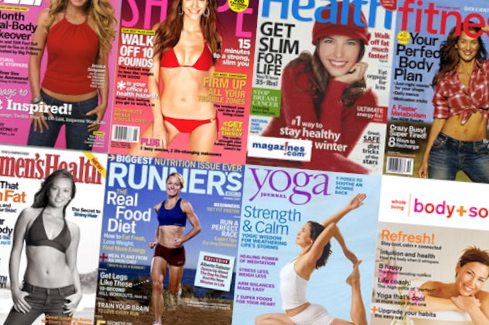 Question of the Day:
What are your favorite magazines?
I'm not ashamed to admit to reading People. After all, I was on the cover. 😉
Ok ok, not really haha. I also love Time, Clean Eating, and Creating Keepsakes. And my wonderful mom just gave me a subscription to Runner's World for my birthday. Oh yeah, and I could never forget VegNews!