One of my friends is a first-year kindergarten teacher. She wanted to bring in a treat for the kids, to celebrate the end of their school year.
So she looked through my list of Chocolate Covered Katie 500+ Healthy Dessert Recipes.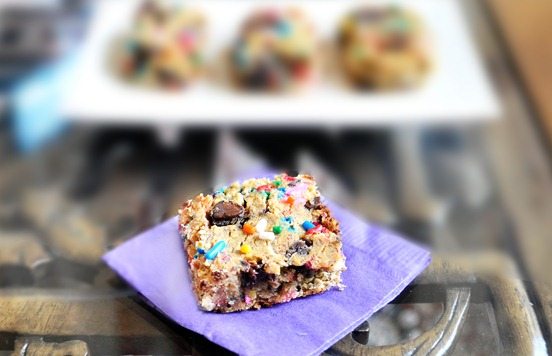 After much deliberation, she finally decided on blondies. We spent the afternoon in the kitchen, making blondies for her lucky students.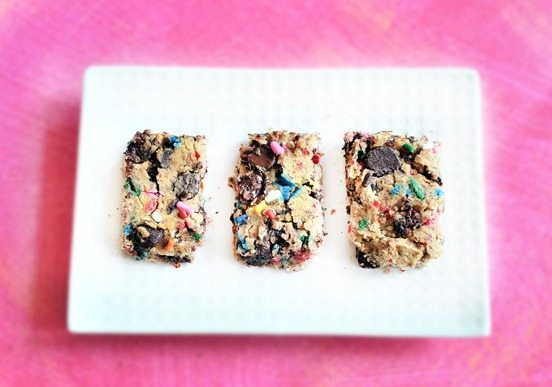 We used the recipe for my White Bean Blondies, then we threw in 2 tablespoons of sprinkles (pre-baking). We also subbed a combination of applesauce and oil for the peanut butter, because snacks at my friend's school must be peanut-free. Here's the modified recipe:
Funfetti Blondies
(makes 15-20 squares)
1 1/2 cups chickpeas or white beans (1 can, drained and rinsed) (250g after draining)
3/4 tsp baking powder
1/8 tsp baking soda
level 1/4 tsp salt
3/4 cup brown sugar or coconut sugar or xylitol
2 tsp vanilla extract
1/4 cup ground flax or quick oats (20g)
1/4 cup peanut butter (or Earth Balance or veg or coconut oil)
1/2 cup chocolate chips
2-4 tbsp sprinkles, plus more for the tops if desired
Preheat oven to 350 degrees. Blend all ingredients (except chips) until very smooth in a food processor (not a blender). Mix in chips, and scoop into a greased (or tinfoil-lined) 8×8 pan. Optional: for "prettiness" you can stick some chocolate chips on top of the batter as well. Bake for around 30 minutes. They'll look a little undercooked when you take them out, but they firm up as they cool, and you don't want them to get too hard.
—> View Funfetti Blondies Nutrition Info <—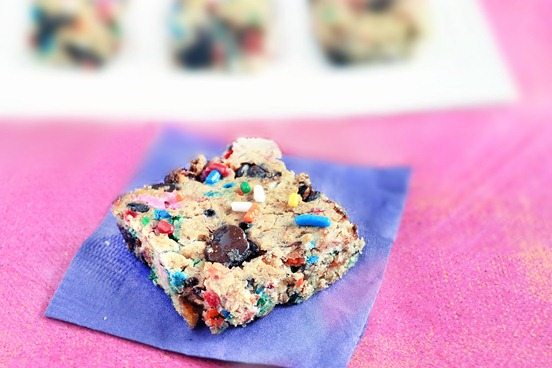 What are your favorite vacation spots?
I want to plan a vacation for this summer, and have no idea where to go. I'm leaning towards NYC, since it's one of my favorite places in the world and I usually go there every summer. But maybe I should try something different. California, Portland, Boston… all are in the running!