Blogging Tips
I've put off this post in the past because there are blogs way more successful than mine and I'm embarrassed to even pretend to be in the same league.
However, a common email I receive asks for tips on how write a successful blog. And since I've been able to turn my blog from just a hobby into my dream job, I guess I do have some qualifications to write such a post.
There's no way I can sum up all my blogging tips in a single post; I've been blogging a long time! So how about a series on blogging tips? Obviously I'm not an expert in technology (Far from it!), but I can offer tips learned from experience. In many cases, they'll be tips of things not to do, based on mistakes I've made. Hopefully if I offer up my own mistakes, I can spare y'all the frustration of repeating them.
Part One: What makes a successful blog?
Truthfully, there is only ONE criterion for determining whether a blog is successful or not: Do you enjoy blogging? Are you excited to create new posts, to connect with others, to publish for the world to see?
If the answer to these questions is yes, then (in my opinion, at least) your blog is a success! It doesn't matter if you only have five readers or if you publish ten posts in a row about nothing but your love for Boston terriers. If your blog makes you happy, it is successful. Period.
On the other hand, if you have a huge readership and yet blogging feels like a chore, I'd argue your blog is not successful. What good is having a popular blog if you don't even enjoy writing it? That's like those poor, rich businesspeople who hate their jobs… yes they make a lot of money, and yes they're successful by society's standards. But are they having fun in life?
Blogging should be Fun
Based on the above criterion, my own blog is wildly successful. I have fun with it every day. Dreaming up recipes, experimenting in the kitchen, photographing my creations, writing blog posts, and connecting with readers…
I cannot imagine anything that could be more fun, especially when so many of the aforementioned kitchen experiments involve chocolate!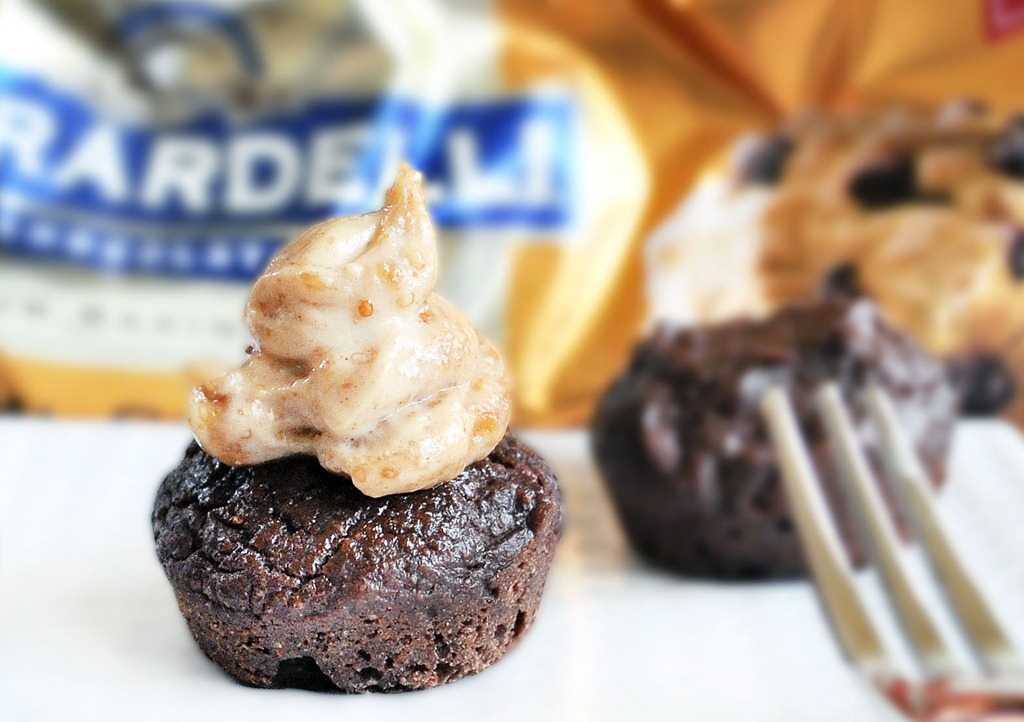 Such as my peanut butter stuffed brownies.
When I started my blog, it was a lot of fun.
I had about three daily readers and barely received any comments. Yet, I loved my baby blog because it was mine. I imagined it being an online scrapbook, where I could write whatever I wanted (no one was reading anyway!). With no readers, there's no pressure. You can blog when you want and about what you want.
How to make your blog successful:
First, ask yourself if you're having fun with your blog. If the answer is yes, you really don't need to change a thing! If the answer is no, here are some ideas that might be helpful:
Look over your old posts. Was there a time when you did have fun with your blog? Are there any particular posts you were especially excited to publish?
Look at the blogs you love most. What about these blogs makes you smile?
Are there any aspects of the blogging process you enjoy more than others? And any aspects of blogging you hate? For example, maybe you really like the writing process but hate taking photos. Or maybe photography is your thing, but you're not one for words.
Change your blogging style so that it suits YOU.  If you love pictures but hate writing, who says you can't do photo-only posts? Or, on the other hand, who says a good post needs a photo? What's awesome about blogging is that you are your own boss ;).
(It might be helpful for you to make an actual list on paper, jotting down notes on what you like and dislike about your blog, about other blogs, and about the blogging process.)
Questions of the Day:
Do you enjoy blogging?
And what are your favorite aspects of blogging (or reading blogs)?
Connecting with people who are like you? Learning about new foods and trying out recipes? Taking photos? Looking back on your old posts?
By the way, if you want a laugh, check out my very first post.
🙂