Soft, chewy, irresistible chocolate chip cookies, with a surprise gooey center!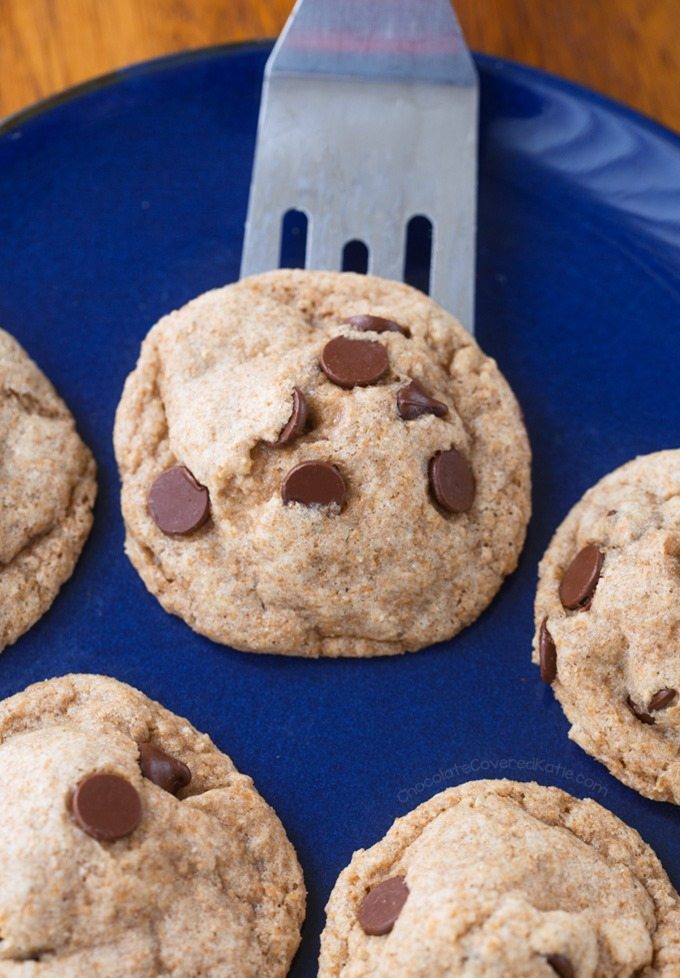 How do you make homemade chocolate chip cookies even better than they already are?
Some might say it can't be done, but adding one secret ingredient to the center of each chocolate chip cookie before baking will turn ordinary chocolate chip cookies into something extraordinary.

Just look at the incredible gooey centers!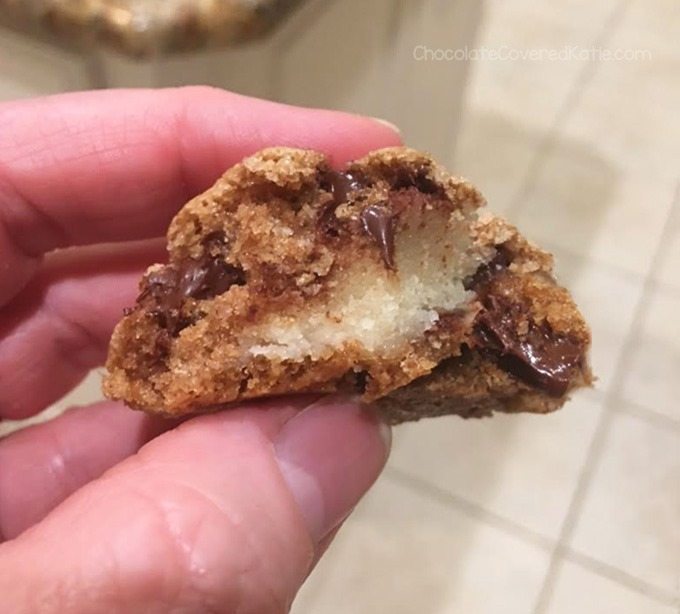 You wish you had some right now, don't you?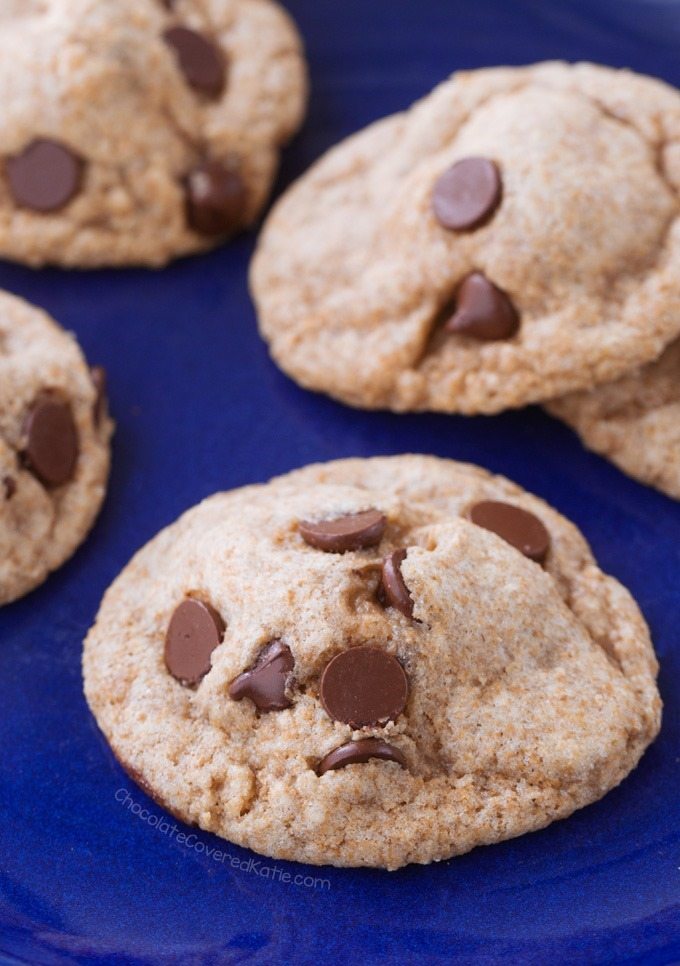 These cookies can be all yours in under an hour – all you need is a few basic chocolate chip cookie ingredients and that one special ingredient for the centers:
The secret is that, right before baking, you open up each cookie dough ball and press a ball of Odense Almond Paste into the center before rolling it back up and baking in the oven. The result is that they will look like your average chocolate chip cookies on the outside… but take one bite, and you are greeted with a surprise gooey almond filling that compliments the melty chocolate and soft cookie so well that these might just become your newest favorite chocolate chip cookies!
Using actual almond paste instead of just almond extract in recipes yields results with a wonderfully rich flavor and soft texture. In the past, I'd only ever used almond paste for traditional Italian Pignoli Cookies at Christmastime, but the paste is good for recipes all year round, not just during the holidays. Use it anywhere you want that classic marzipan or almond paste flavor– in cakes, bars, cookies, muffins, or mixed with melted chocolate and then re-hardened for the most amazing chocolates, reminiscent to those famous Ritter chocolate marzipan bars.
You can find Odense almond paste in the baking section of most mainstream supermarket chains nationwide, as well as at Whole Foods, gourmet markets, and even at Walmart or Target.



Gooey Middle Chocolate Chip Cookies
Adapted from Chocolate Chip Marshmallow Cookies
Gooey Middle Chocolate Chip Cookies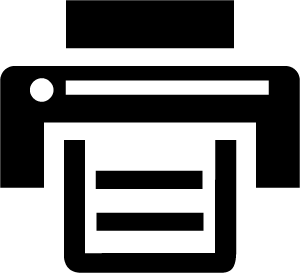 Print This Recipe
[mrp_rating_result show_count="false" show_rich_snippets="false"]
Ingredients
2 cups spelt, white, or oat flour
1 cup unrefined sugar
1 tsp baking soda
1/2 tsp salt
2/3 cup chocolate chips
1/4 cup milk of choice
1/4 cup veg or melted coconut oil
1/2 tsp pure vanilla extract
1/4 tsp pure almond extract (can be omitted)
1 package Odense Almond Paste (7oz)
Instructions
Preheat oven to 325 F. Combine first five ingredients in a mixing bowl, then stir in all remaining ingredients except almond paste to form a dough. Only if needed, add no more than 2 tbsp extra milk of choice – I needed just 1 tbsp extra. It will be dry at first, so keep stirring until a cookie-dough texture is reached. Roll into balls. Then roll the almond paste into balls as well—one ball per cookie. Cut cookie ball in half with a knife, smush a ball of almond paste in the middle, then roll the cookie ball back up. (Note: If your dough is too soft to roll for some reason, refrigerate or freeze until it is firm enough to roll into balls.) Place cookie balls on a greased baking tray, and press down if flatter cookies are desired. Bake 10 minutes – they will look underdone when they come out of the oven, which is what you want. Let them sit 10 minutes, during which time they firm up.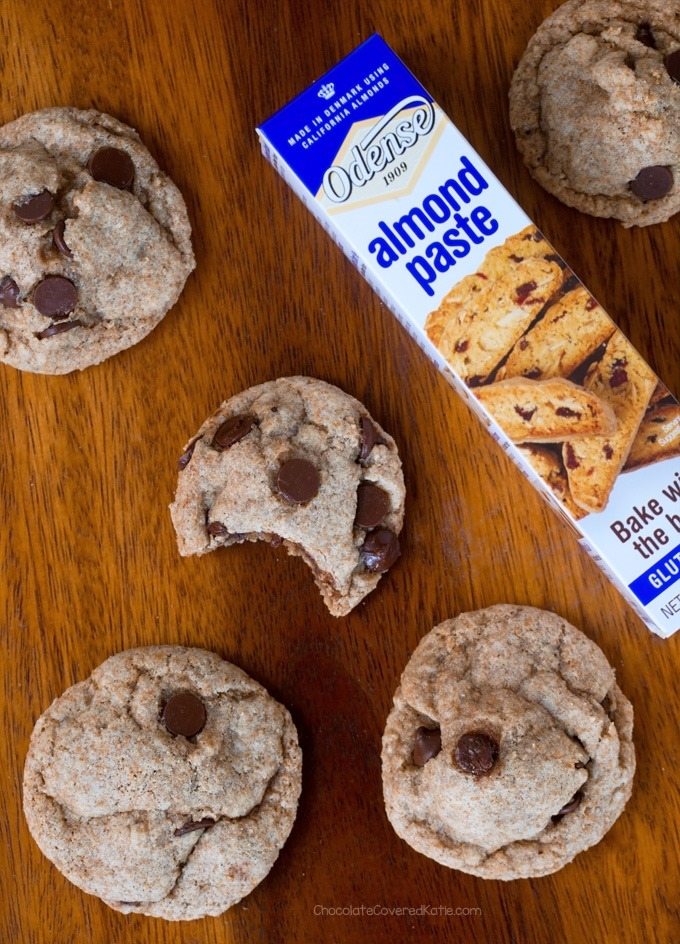 Almond Paste Giveaway Opportunity:
To be entered to win six boxes of almond paste—a retail value of $39.24—simply leave a comment below mentioning one way you might use the almond paste if you win, whether it be in muffins,  candies, cakes, or even to make these chocolate chip cookies! Thank you to Odense for sponsoring this giveaway and post, and if you do try these gooey chocolate chip cookies, I hope you love them as much as I do!
Be sure to check back, as a new winner will be selected each week for the entire month of April.
Link Of The Day: