These whimsical unicorn cheesecake bars are like something straight from a fairytale.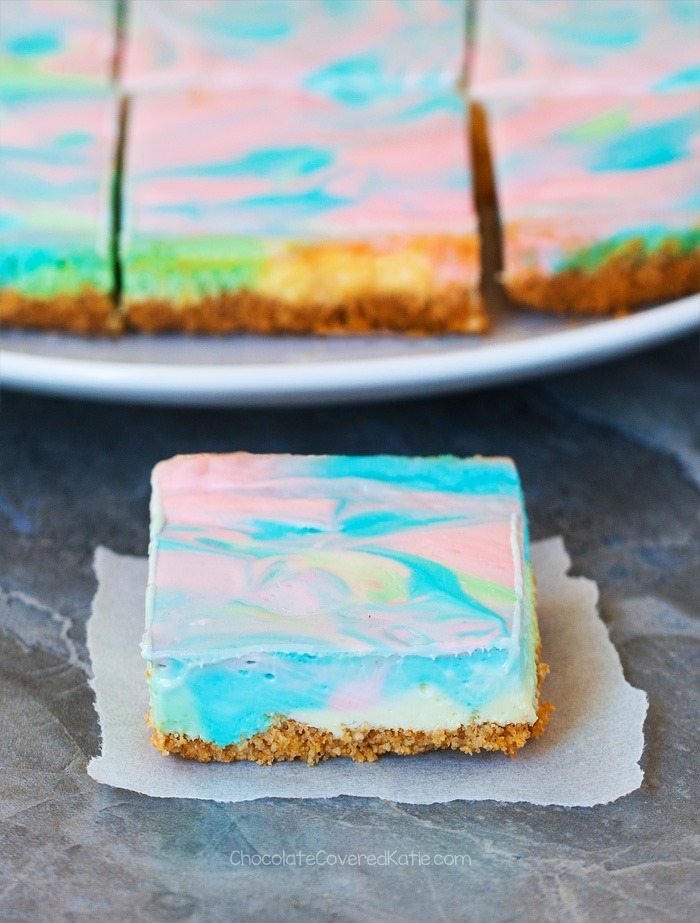 Looking for that perfect Easter dessert?

The sweet & creamy pastel cheesecake bars, based on the popular Rainbow Unicorn Dip, would be right at home on any Easter menu!
They're also a great choice for a fancy tea party or fairytale-themed birthday, or for no reason at all other than that rainbow food is so much more exciting than non-rainbow food… not to mention it is more Instagrammable!
Is "instagrammable" a word?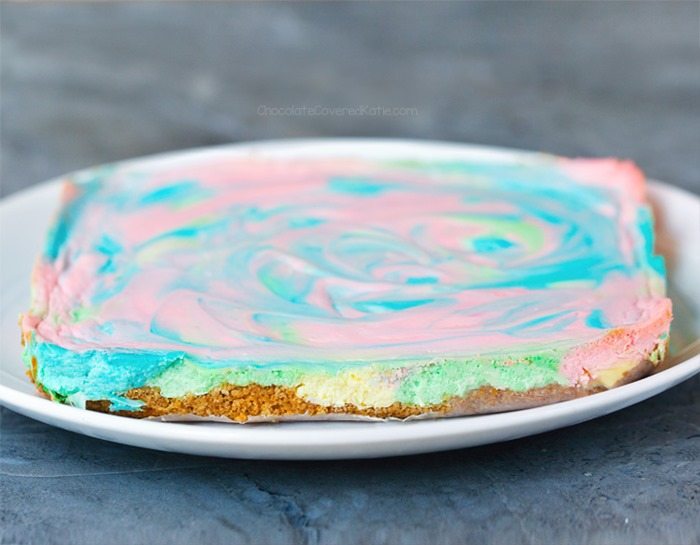 Merriam Webster's is telling me it is not.
Anyways… the most magical thing about these rainbow cheesecake bars is that they need ZERO food coloring.
Who needs food coloring when nature supplies you with all of the ingredients necessary for the brilliant blue, green, yellow, and pink hues of these brightly colored cheesecake squares?

More Cheesecake Bar Recipes:
Chocolate Mousse Cheesecake Bars – (Reader Favorite)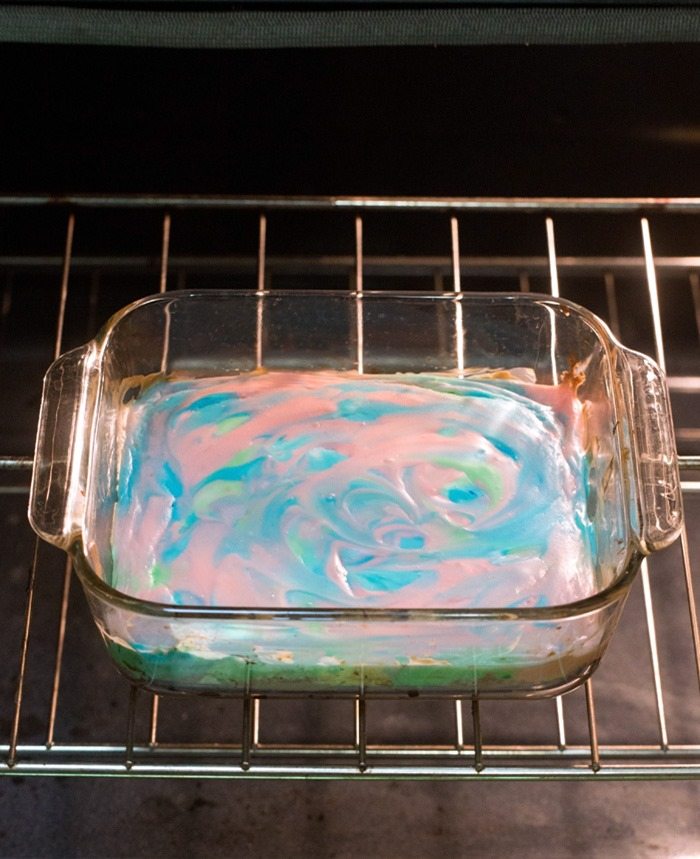 The bars are much easier to make than it might appear!
You simply whip up the cheesecake filling as you would for any normal cheesecake, then separate it into four dishes, making each dish a different color. Swirl all of the colors together in a pan, and place it in the oven.
So easy a caveman unicorn could do it.


Rainbow Unicorn Cheesecake Bars
*Want to make a full rainbow cheesecake? Use this recipe: Healthy Cheesecake Of Dreams
Rainbow Unicorn Cheesecake Bars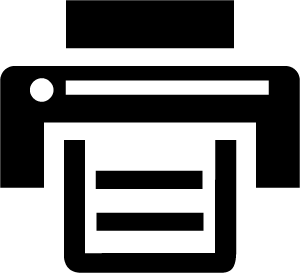 Print This Recipe
[mrp_rating_result show_count="false" show_rich_snippets="false"]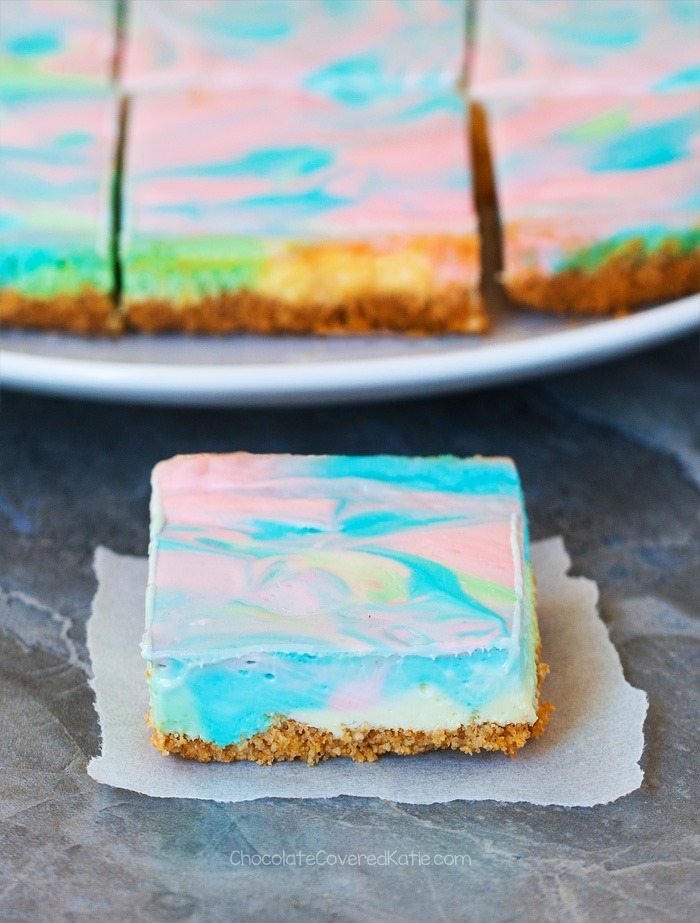 Ingredients
12 oz cream cheese, such as Trader Joes nondairy
1 cup plain yogurt of choice, such as coconutmilk yogurt
1/2 tsp pure vanilla
1/4 cup sugar or maple syrup, honey, or xylitol for sugar-free
pinch uncut stevia OR 1 additional tbsp sugar
2 tsp cornstarch or arrowroot, optional for firmer bars
natural food coloring (see below)
crust of choice, optional (I list one option in the instructions below)
Instructions
*You can either use a few drops of your favorite food coloring or use a tiny pinch turmeric for yellow, beet or acai powder for pink, and blue and green spirulina.
Preheat the oven to 350 F. Fill any large baking pan around halfway with water, and place on oven's lower rack. Line an 8-inch pan with parchment. Bring cream cheese to room temp, then beat all ingredients except colorings in a blender or with a hand blender, just until smooth – don't overbeat, which would introduce air bubbles that might burst in the oven and cause cracking. If a crust is desired, use your favorite OR finely crush 6 full graham cracker sheets with a little oil and spread the crumbs into the lined pan. Divide the filling among 4 little bowls, dye each a different color, then drop spoonfuls of alternating colors into the pan (see step-by-step photos). Gently swirl the spoonfuls in the pan together with a spoon. Bake 25 minutes, then don't open the oven but turn the heat off and let sit in the closed oven an additional 8 minutes – this helps the bars cool slowly so they're less likely to crack. Take out the still-undercooked bars and let cool at room temp 1 hour (this also helps the bars cool gradually), then cover and refrigerate overnight, during which time they firm up considerably. Slice into bars, wiping the knife between cuts. Store leftovers in the fridge, or they can even be frozen.
Link Of The Day: