The healthiest drink in the world?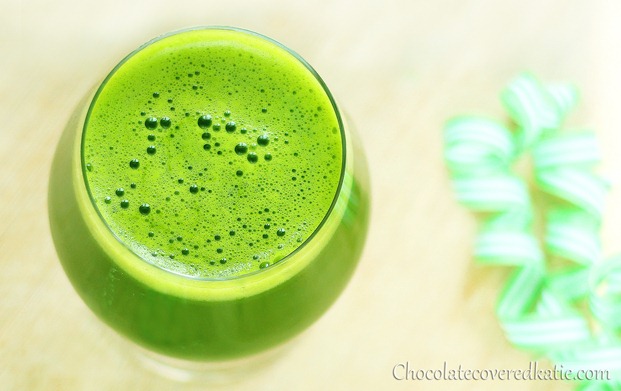 Lemonade stands will never be the same.
I don't think I ever sold lemonade as a kid. I ran a cookie stand and a hot chocolate stand, and my friend and I once sold flowers we picked from her mom's garden. (Not a good idea; nobody bought flowers, and her mom yelled at us for ruining the flower beds.)
Sorry to say, I missed out on selling lemonade. But I didn't miss out on drinking it: my favorite was when lemonade tasted really sour, not the super-sweet pink stuff my sister loved because it was her favorite color. I always wished they'd made blue lemonade.
With its vibrant green hue, this crazy-healthy recipe comes close: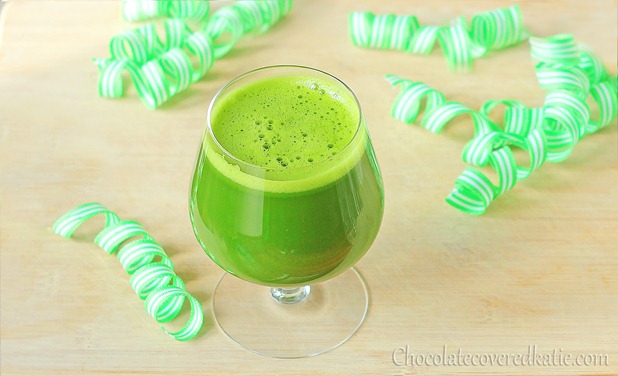 The best part about blender recipes is that, unlike with baked goods, you can keep adding ingredients if you're not happy with the initial result. I kept playing with this recipe, tasting along the way, and suddenly the flavors just popped. It's surprisingly delicious!
Green Lemonade
(no added sugar)
Recipe inspired by my drink at Peacefood Cafe
1 to 2 very large apples (200-400g)
1 to 2 cups kale (or another green, or omit) (40g)
1 to 2 stalks celery, broken into a few pieces, and bottoms cut off (80g)
1/3 cup lemon juice
3/4 cup water
optional: a small piece of fresh ginger (or more, for a spicier juice)
Core the apples (no need to take off the skin), and combine all ingredients in a super-high-powered blender like a Vita-Mix. Blend until completely pulverized. I like it thick, so I never bother with this next step: Unless you prefer a ton of pulp like I do, you should pour the blended mixture through the finest strainer you own. Discard pulp or use for a different recipe. (Google "juice pulp recipes" if you need ideas.) Use one apple for a more tart drink and two apples for a sweeter drink.
View Green Lemonade Nutrition Facts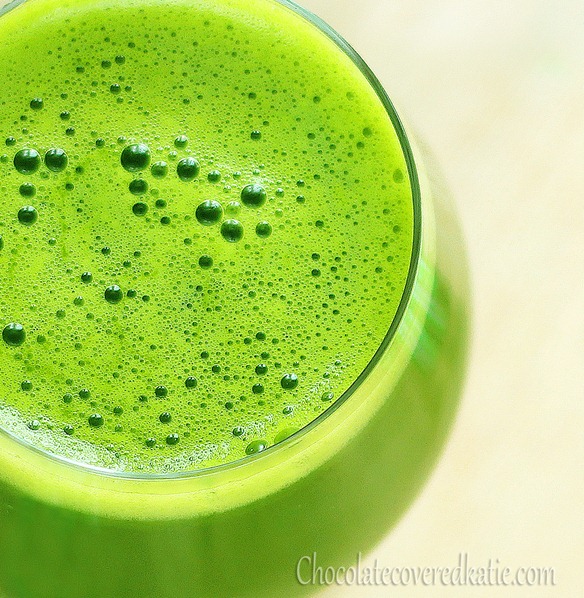 Question of the Day:
Did you ever sell lemonade as a kid?
Sadly I don't see very many kids selling lemonade anymore. Now they're always out there selling Kool Aid… for $5 a glass!
Link of the Day: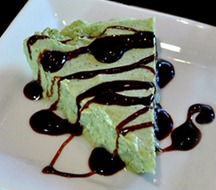 It's also green, thanks to a secret healthy ingredient. No, not spinach or avocado!