Email time again
Recently, a sweet reader asked:
Hi Katie! I just found your blog and read through your whole FAQ Page! Thanks for the source of procrastination from my homework!  And it was so well-written and thorough too. I really enjoyed reading it. But I noticed you wrote that you don't run ever day, only like 5 times week. I was wondering if you feel guilty on days off? I always feel like I should be doing something on my rest days, even though I've heard that it's better for your body to not run every single day and you'll actually get faster if you give yourself rest days. I was wondering what you thought about this? Do you ever feel bad about not running every day?
I don't feel guilty about rest days from running, although I do sometimes have to force myself to take them (especially if it's beautiful outside!).  One of the reasons I run is to be healthy, so if I did run every day, I wouldn't feel healthy.  I feel healthy knowing I'm giving my body the rest it needs.  Plus, if I ran every single day without ever taking a break, running might start feeling like a chore (burnout) instead of something I look forward to doing.  It's like holidays: if every day were a holiday, they might start to lose their appeal.  When I force myself to take a day off from running, it only makes me that much more excited for the next day, when I can get back out there!
I run because I love it.  If you loved to paint, for example, but missed it one day because you didn't have time or didn't feel like doing it, would you feel guilty for not painting that day?  Of course not.  You'd feel sad, maybe, but not guilty. And some people might not agree with me (everyone's entitled to his/her own opinion!), but I wholeheartedly believe that rest days are crucial for achieving top performance and staving off injury.
If you over-train, you put yourself at high risk for injuries that could end up sidelining you for much more than a rest day (as I almost found out the hard way).
With rest, your muscles and energy stores get a chance to repair and rebuild, helping you to become faster and stronger. So take those rest days, girl!  And feel good about yourself, knowing that you're truly taking care of your body.
Molly's a fan of rest days too!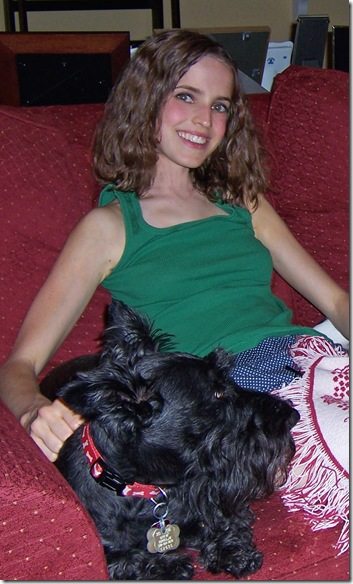 (She might like rest a little too much) 😉