The first time a reader asked me about half calorie rice, I'd never heard of it before.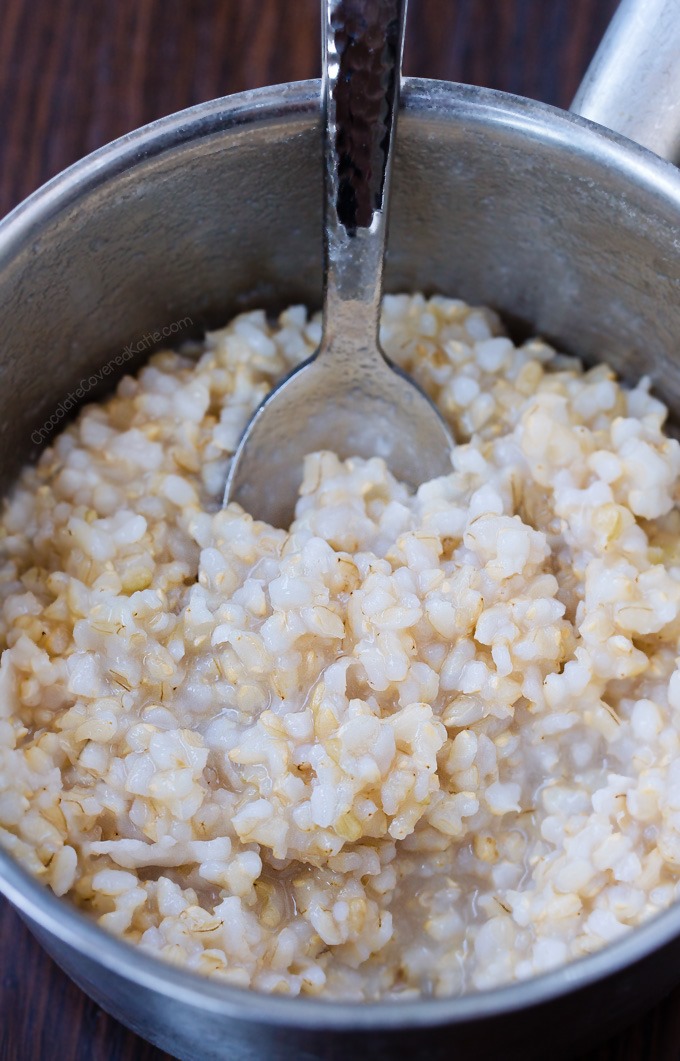 But so many of you have been emailing or leaving comments asking for my thoughts on the half calorie rice trend that I figured it was best to just write a post on it.
(Because I know someone is going to ask… For more on why I make low-calorie recipes even though I'm not counting calories, be sure to read my Katie FAQ Page.)

What Is Half Calorie Rice?
Basically, researchers discovered that if you add a teaspoon of oil when cooking rice, it actually decreases the calories.
A study from the College of Chemical Sciences in Colombo, Sri Lanka found that cooking rice with oil and then letting it sit for 12 hours increased its resistant starch and lowered its calorie count by as much as 60 percent.
The indigestible starch formed during the cooling process prevents some of the rice from being metabolized into glucose during digestion. And reheating won't increase the calories again, so after letting the rice cool overnight you can season it and reheat as desired.
Why Half Calorie Rice?
Hopefully, if you are a regular reader of my blog, you know I believe in the importance of a balanced diet and am not a fan of weight-loss gimmicks.
Unless your diet is made up entirely of rice—and I do know some people who wouldn't mind this (Hi, Dad!)—saving calories on just one item might not really change much for you. But the results of the study have possibly bigger implications that could help fight the obesity epidemic around the world in the future.
For example, is there a way to increase the resistant starch in other foods, such as pasta or bread? And personally, the main reason I was intrigued by this study was because it completely contradicts the media's message that added fat is the enemy. (You probably know, because I talk about it all the time here on the blog, that I am a big proponent of including fat in one's diet and that my own daily diet has a higher-than-normal amount of added fat.)
If you haven't seen it yet, here's a sample of What I Eat In A Day.
So I was thrilled to see scientific evidence backing yet another possible benefit of including a little healthy fat during cooking, and I couldn't give up the opportunity to share this information, because I know so many readers of my blog are afraid of using any fat at all, thanks to being bombarded with negative messages all over the media.
(FYI, Adding a little fat to vegetables such as tomatoes or kale has also been proven to help one's body absorb more of the nutrients in the vegetables, because carotenoids are fat-soluble… Seriously, food science is fascinating.)
On an entirely unrelated note, I was shocked at how soft and fluffy the rice turned out with this particular cooking method. Even if you are not counting calories, you might never go back to cooking your rice any other way.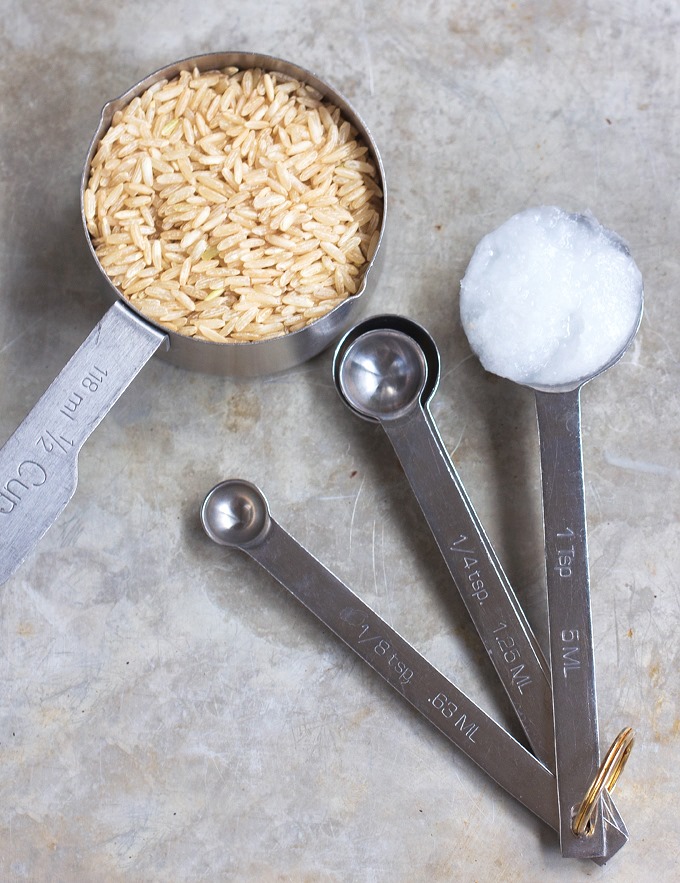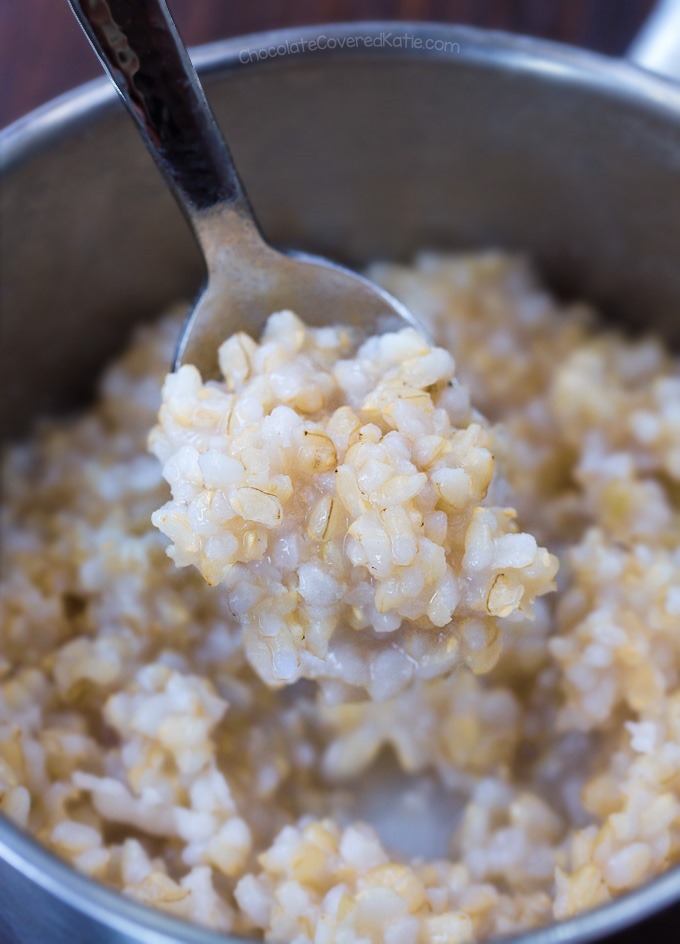 Questions & Answers
Does the same idea work for other grains, such as quinoa or oats?
You can definitely use a different grain instead of the rice. Quinoa and barley both cook up nice and fluffy using this method.
I'd guess the lower-calorie property would still apply, but because I'm not a scientist and couldn't find any sources mentioning testing a different grain, I can't say that for sure.
Does it work with other oils instead of coconut oil?
Same answer as the above. Using a different oil or a buttery spread will still yield the same delicious results, taste-wise.
Doesn't adding oil add calories?
The change in starch cancels out more calories than are added in from the oil.
Is it really half the calories?
The studies found that this cooking method reduces the number of calories by 10 to 12 percent in high starch rices and has the potential to reduce the calories further in lower starch rice, up to 60 percent, depending on the type of rice used. (They currently have not tested every type of rice, so this is an estimate.)
Wait!!! Does this mean I can eat twice the amount of rice???!
Okay, this last question wasn't from a reader. It was from my dad when I told him about the study, because he loves rice more than anyone else I've ever met.
So to answer the question… No, Dad, no more rice! 😂


Half Calorie Rice – Is It For Real?
How to make half calorie rice the easy way.
Ingredients
1 2/3

cup

water

1

tsp

coconut oil

1/2

cup

uncooked rice

(80g)
Instructions
Cooking times are based on long or short grain brown rice. In a small pot, bring the water to a boil. Once boiling, lower to a simmer and add the oil. Then throw in the rice and cover the pot. Leave covered on simmer for 40 minutes without ever lifting the lid. Then—still never lifting the lid—turn off the heat but let the rice sit covered for an additional 20 minutes. Still not opening the lid (yes, seriously… don't lift the lid even to check on it), place the pot in the fridge for at least 12 hours. The next day you should have beautifully fluffy rice that is apparently lower-calorie… but, more importantly, that tastes delicious!! You can add a little salt and any seasonings you wish, and you can reheat the rice if desired.
Ways To Use Half Calorie Rice: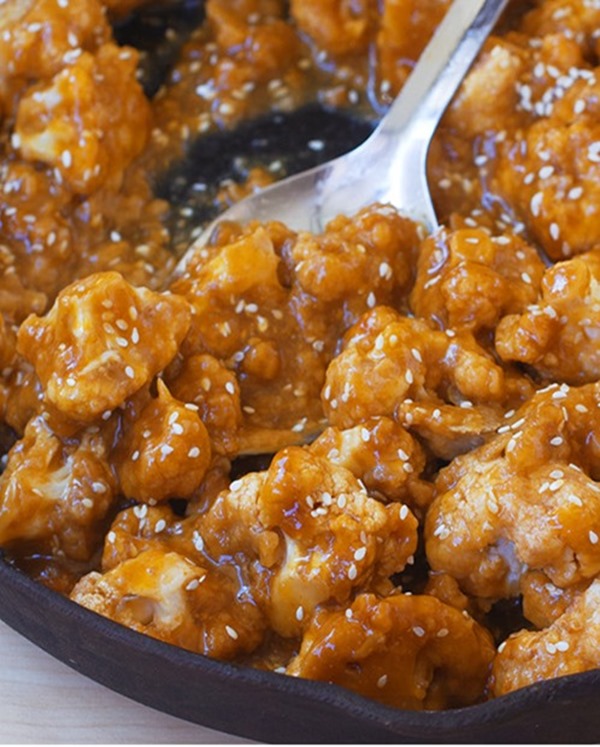 1. Serve with my favorite Sticky Sesame Cauliflower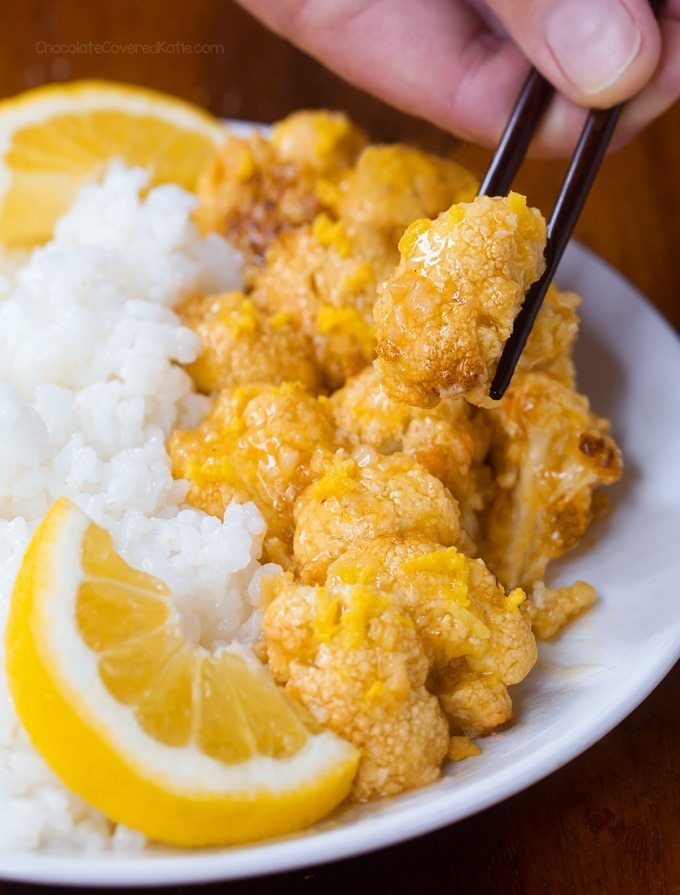 2. Or this recipe for Crispy Lemon Cauliflower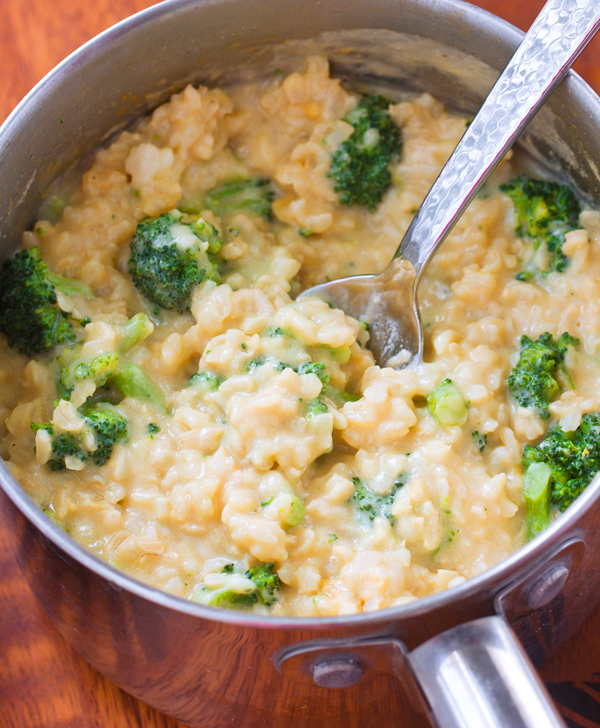 3. Make Cheesy Rice & Broccoli, from the Hello Breakfast ebook
Links / Sources: