This recipe tastes similar to a Wendy's vanilla Frosty.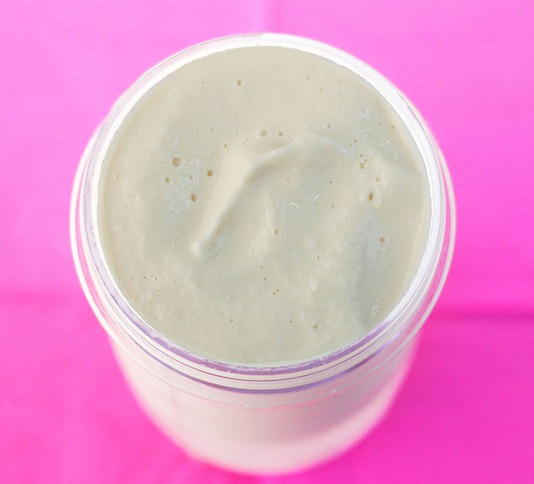 It's like one of those thick vanilla milkshakes you'd find at a fast-food restaurant… but without all the empty calories and sugar to make you feel sluggish. The recipe actually came about by accident: I was working on a Tiramisu ice cream, and when I stopped to sample the unfinished mixture at one point, I discovered it tasted astoundingly like a real vanilla milkshake. Then, when my roommate came home from work and tried it, she proclaimed:
Holy crickets, it's like a Wendy's vanilla frosty!
Except, she didn't really say "holy crickets" because, honestly, who talks like that? Holy crickets is just the PG version of her comment. In any case, I scrapped all plans for Tiramisu ice cream, and we poured ourselves ice-cold vanilla frosties instead.
Vanilla Frosty Recipe
(yields about 3 cups)
2 cups milk of choice (480g)
1 cup Morinu silken firm tofu (or 1 cup soaked cashews for a soy-free option. For other substitution options on this recipe, see nutrition link below.) (240g)
1/2 tbsp lemon juice, or more if you actually want a lemon-flavored frosty
just under 1/2 tsp salt
1 tsp pure vanilla extract
2 tbsp xylitol or sugar of choice (23g)
1/16 tsp pure stevia, or 2 extra tbsp sugar
don't add any ice cubes, as this will dilute the flavor
In advance: Freeze the 2 cups of milk in ice cube trays or little dixie cups. (It might be a good idea to freeze multiple servings at once, so in the future you won't have to wait before proceeding with the rest of the frosty recipe.) Pop the frozen milk into a blender or food processor with all other ingredients, and blend until desired consistency is reached. If your blender isn't super-strong, you might have to thaw the milk a little before blending.
A note about the milk: Silk almondmilk works well in this recipe, and I'm sure many other types of milk will be good as well, but I can only vouch for the Silk because I haven't tried the recipe with any others. I'd probably steer clear of the less-thick milks like ricemilk… then again, who knows: maybe it'll work fine!
View Vanilla Frosty Nutrition Facts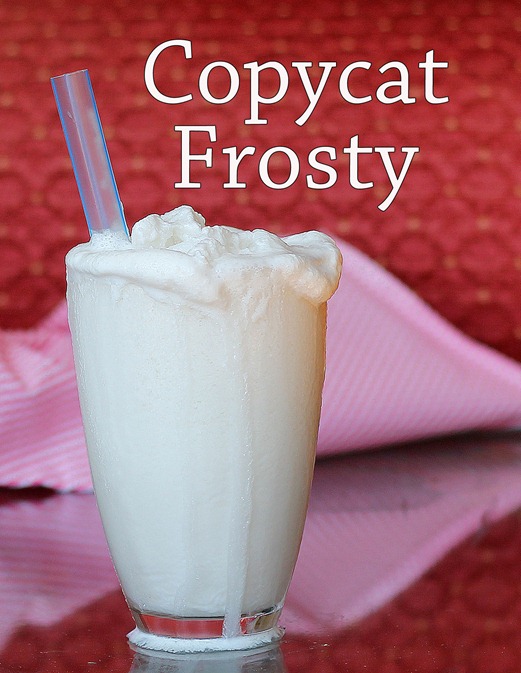 And an aerial view, to show the thick frosty texture.
Have you ever had a Wendy's Frosty?
After sports practices in middle school, my team used to go to Wendy's. I wasn't big on their strange square burgers, but I always looked forward to a broccoli baked potato and a Wendy's chocolate frosty. Even before going vegetarian, I was a veggie lover! And a chocolate lover… I didn't even know frosties came in other flavors until my roommate mentioned it yesterday.
Link of the Day: