The sprinkles made me do it.
Sprinkles can be very convincing.
Yesterday, one of my friends threw an impromptu party, and we were all supposed to bring a dish to share. Since a lot of people came straight from work, there ended up being an overwhelming number of packaged hummus containers, spinach dips, and pre-cut veggie trays. However, one dish stood out from all the others:
A giant bowl of buttery vanilla cake batter.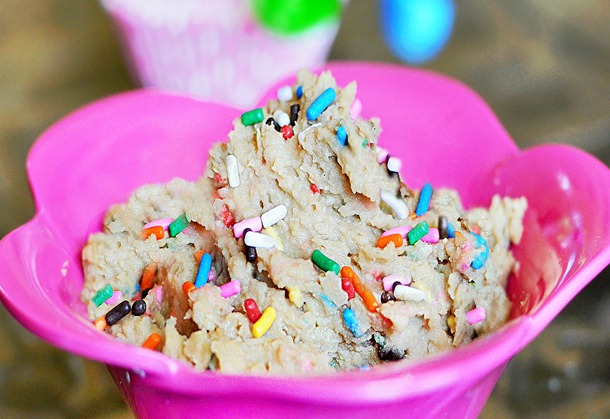 Cake batter healthy enough that you can eat it with a spoon.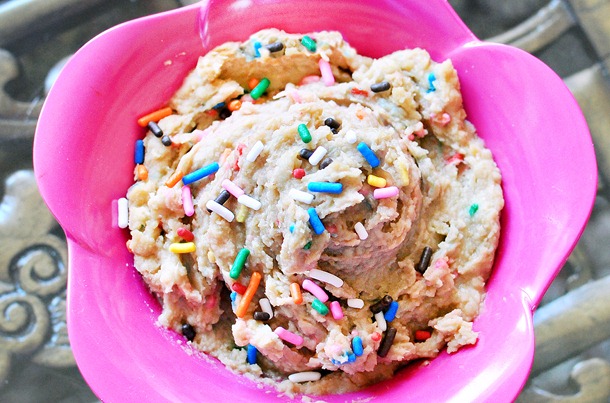 Cake Batter Cookie Dough Dip
(can be gluten-free)
Recipe found here: Recipes with Beans.
1 1/2 cups chickpeas or white beans (1 can) (250g after draining)
3 tbsp cashew butter or a butter-type spread like Earth Balance (See nutrition link below, for all substitution notes on this recipe) (43g)
1 tbsp applesauce (or omit and increase cashew butter to 1/4c) (15g)
2 1/2 tsp pure vanilla extract
1/8 tsp baking soda (to everyone who's been asking: this is for flavor)
heaping 1/8 tsp salt
3/4 cup xylitol or sugar (or coconut sugar or evaporated cane juice) (160g)
1/4 tsp butter extract (adds a cake-batter flavor, but you can omit) (It is vegan.)
1/4 cup quick oats (20g) (or ground flax or rolled oats, or even 1/4c cake mix)
optional: sprinkles!
Drain and rinse beans very well. Blend all ingredients in a food processor (not a blender) until very, very smooth. (If you must use a blender, please read my notes in the "nutrition info" link below, before attempting.) Dip apple slices or crackers or pretzels, spread on a banana or toast or pancakes or cookies, or eat with a spoon!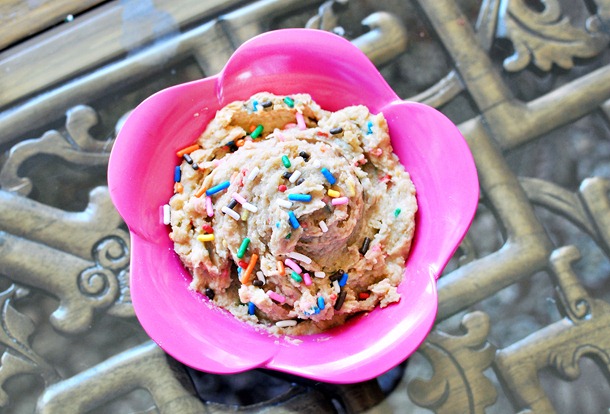 What's your favorite party dip?
Spinach-artichoke dip? Seven Layer Dip? Or something sweet, like pumpkin or cookie dough dip? Here in Texas, queso is really popular. And of course guacamole.
Link of the Day: