A sweet, creamy, and delicious cake batter milkshake that is secretly healthy!!!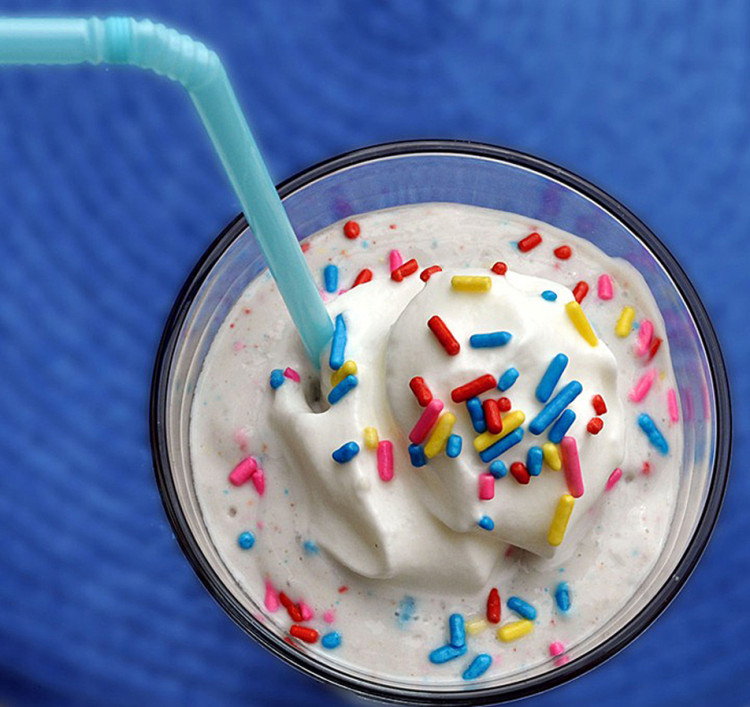 If the above photo didn't get your attention, I wash my hands of you.
Today, it's all about the cake batter.
Cake Batter Milkshake
1 frozen, large banana, as ripe as possible
1/2 tsp pure vanilla extract
2 tbsp melted coconut butter (you might be able to sub unrefined, melted coconut oil but it won't be as buttery)
1/2 to 2/3 cup milk of choice (For an extremely rich, ice-cream-like shake, try full-fat canned coconut milk. Use more or less milk, depending on desired thickness.)
If you prefer smoothies in a bowl, reduce milk or add a pinch of xantham and guar gums, just like with the Mint-Chocolate Chip Milkshake.
Optional: 2-3 tsp butter-type spread (such as Earth Balance), melted, for a more cake-like flavor. (Or you can either add 1 tbsp macadamia or cashew butter, or very scant 1/8 tsp butter extract, which is oddly vegan. I emailed Wilton.)
Optional: handfuls of sprinkles
Blend everything together in your Vita-Mix or blender. Add some sprinkles, pre-blending, and throw some more on top! (No, the sprinkles aren't raw. See note, further down in this post.)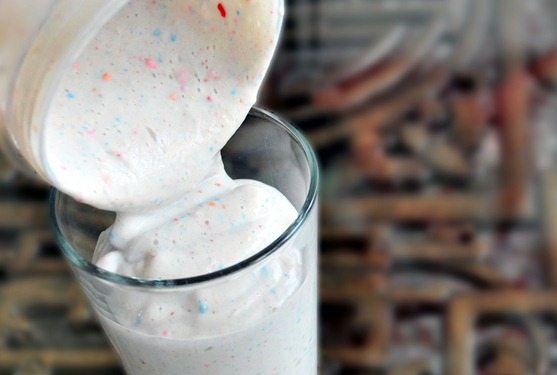 This tastes delicious to me… but I've never had cake batter ice cream. So if you make this…
Please let me know:
Did I succeed in making it taste like a true cake batter shake? Tell me the truth; if I didn't, I'll be happy to keep tweaking the recipe. Edible experiments are always fun! Other ideas I tossed around while thinking up the recipe include:
1. Adding a few drops of coconut extract.
2. Making it un-raw and adding batter from my Single-Lady Cupcake.
3. Adding baking powder, or flour, for a cake-y taste.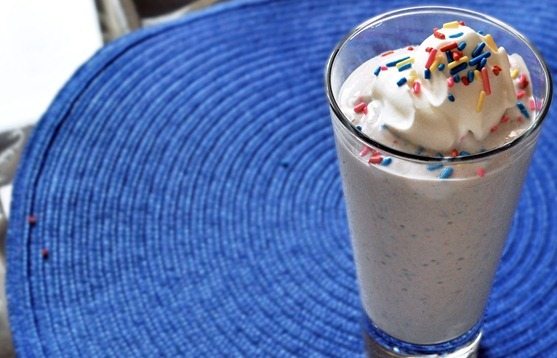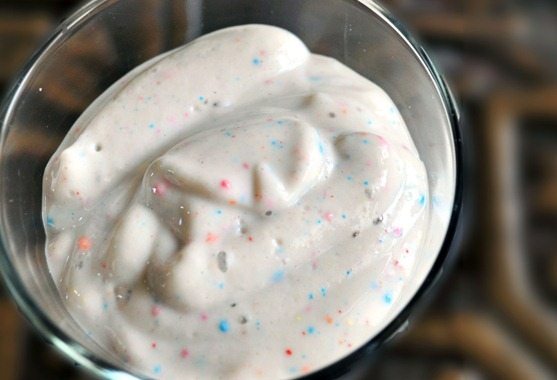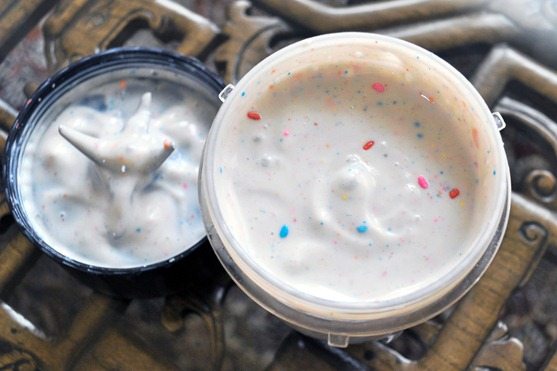 Now I'm thinking of other ideas to try:
Cake batter oatmeal, raw ice cream… or even Healthy Funfetti Cake.
This isn't the last of the cake-batter experiments!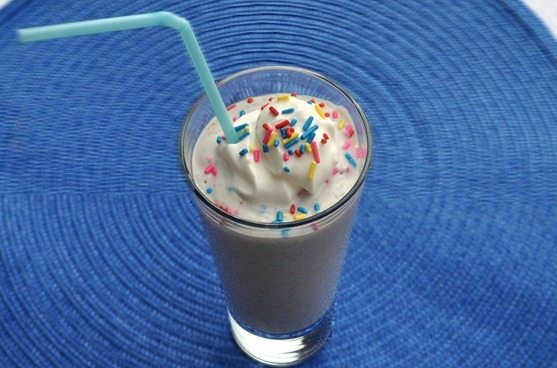 A word about the sprinkles:
I'd planned to find a raw substitute. And, when I asked on Twitter, some of you suggested dried fruit or veggies.
But it would've looked more like a crunchy granola shake than one of cake batter. Plus, I'm not a raw-foodist, and I truly believe that a small shake of sprinkles once in a blue moon will not hurt anyone. (They even make organic sprinkles now.) However, you can easily forgo the sprinkles if you make this shake. I included them more for decoration than anything else. (Same goes for the soyatoo.)
Be sure to check out my new recipe tab: Healthy Milkshake Recipes.