Healthy cookie dough ice cream? That means you can eat twice as much, right?
Right???!!!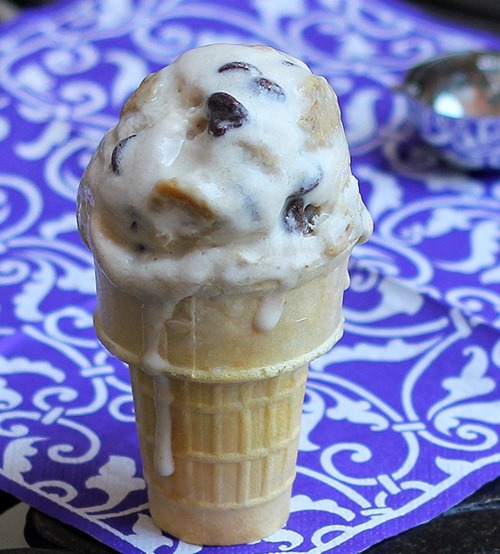 Is there anyone in this world who doesn't love cookie dough ice cream? Melty vanilla ice cream with bite-sized pieces of soft, unbaked cookie dough packed into each creamy scoop. What's not to love?!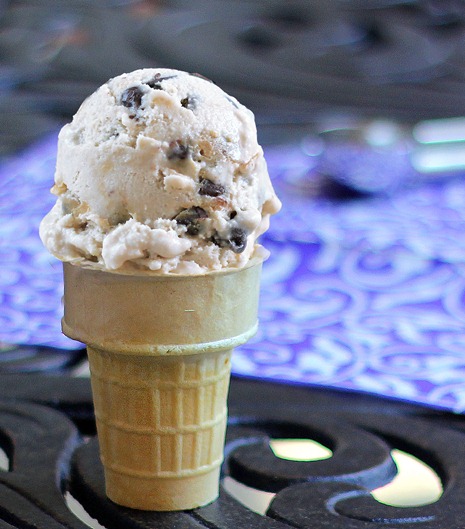 At least, that's what I was thinking yesterday as I devoured this cone.
And then went back for seconds.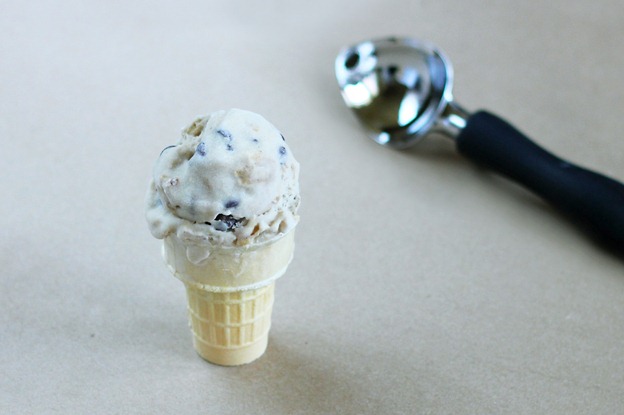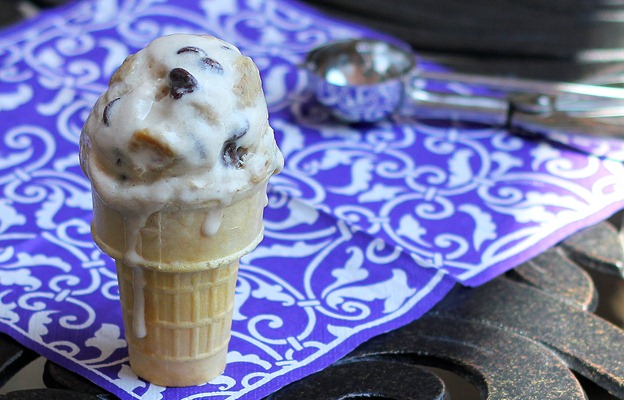 Healthy Cookie Dough Ice Cream
(can be gluten-free)
Recipe found here: Healthy Ice Cream Recipes.
1 1/2 cups creamer (such as Silk) or canned full-fat coconut milk (see nutrition link below, for notes on a lower-calorie substitution)
1/2 cup milk of choice (or omit and increase the creamer or coconut milk to 2 cups)
1/4 cup brown sugar or coconut brown sugar (Agave or pure maple syrup will also work. I haven't tried xylitol in this recipe.) (40g)
1 packet nunaturals stevia, or 1 extra tbsp of the sugar or agave listed above
1/8 tsp salt (don't omit)
1/8 tsp baking soda (This is for flavor and can be omitted if desired)
1 and 1/2 tsp pure vanilla extract
chocolate chips
Mix all ingredients (except chips) in a dish. Transfer to your ice cream maker. (I have a Cuisinart, and it took 15 minutes to turn the liquid into ice cream.) Mix in chips. Eat now, or freeze for 20 minutes if a firmer texture is desired. (Note: homemade ice cream has its best texture if eaten the same day it's made.) If you don't have an ice-cream maker, freeze mixture and then re-blend in a Vita-mix or Blend-tec. Or you can use a different ice cream recipe as the base and still make the following cookie dough recipe:
For the cookie dough:
(Alternatively to the recipe below, you could also use my recipe for Cookie Dough Truffles.)
1/3 cup plus 1/4 cup oat flour (70g) (You can probably sub a different flour; I've just not tried it and therefore can't vouch for the results.)
1/8 tsp salt
1/4 tsp baking soda (for flavor)
2 tbsp brown sugar or coconut brown sugar (You can use xylitol; you'll just lose that extra "cookie dough" flavor from the brown sugar) (20g)
1 tbsp plus 2 tsp xylitol or white sugar (21g)
1/2 tsp pure vanilla extract
2 tbsp plus 2 tsp milk of choice, or more if needed (40g)
optional: 1 tbsp vegan butter or oil (vegetable or coconut oil) (14g)
Mix your dry ingredients very well, then add in wet and mix. Squish into a giant ball, then break off pieces and stir into the already-made ice cream base.