Yes, healthy pop tarts.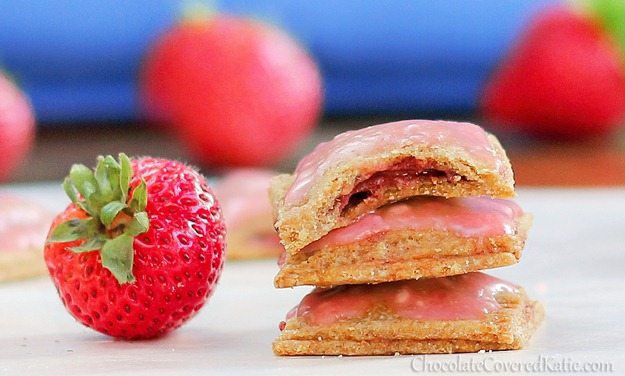 Pop tarts without the corn syrup.
Without the food dyes, without the trans fats. Healthy pop tarts with real fruit, with whole grains, with ingredients you can pronounce.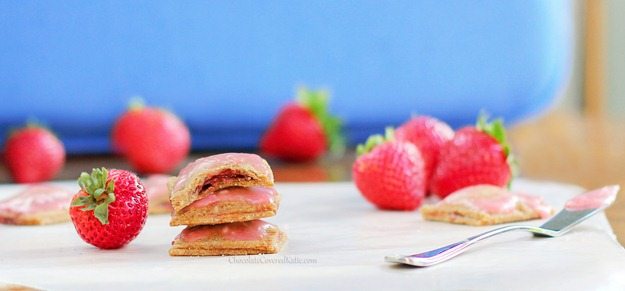 And you can turn this healthy pop tarts recipe into many different flavors

.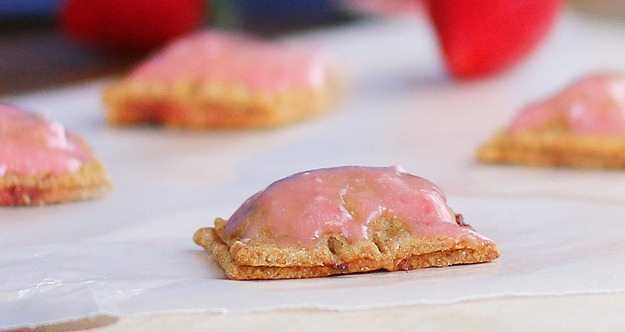 Healthy Pop Tarts
(or you can make regular-sized pop tarts)
1/2 cup plus 3 tbsp spelt flour (Or all-purpose flour, or a mix of the two. Whole-wheat pastry flour will work; it'll just be less soft, and you'll need to add a tiny bit more oil. For notes on gluten-free options, see nutrition link below.) (100g)
*tiny* bit over 1/4 tsp salt
1 1/2 tbsp agave or pure maple syrup (or honey, but not for strict vegans) (21g)
3/4 of a packet nunaturals stevia, or omit and add one extra tbsp of the above liquid sweetener
3/4 tsp pure vanilla extract
2 tbsp vegetable or coconut oil (21g)
1 tbsp more oil, or milk of choice (omit if using the extra liquid sweetener in place of the stevia) (15g)
Combine dry ingredients and stir. In a separate bowl, combine all wet ingredients, then mix wet into dry and stir. Pour crumbly dough into a gallon-sized plastic bag and smush into a ball. Still in the bag, roll dough into a very, very thin square. (For step-by-step photos, see nutrition link below.) Chill at least 20 minutes, or your pop tarts will be crispy. Meanwhile, grease a baking pan, and make up whatever filling/s you desire. (I've provided a few ideas below, and feel free to make different flavors within the same batch of dough.)
Preheat oven to 350. Cut open the bag and slice the dough into rectangles. If you've rolled it thinly enough and use all the dough, you should be able to get 34-38 rectangles. (Cut much bigger rectangles if you want regular-sized pop tarts, as opposed to minis.) Put a little filling—about 3/4 teaspoon—on half the rectangles, then place remaining rectangles on top. Cinch down with a fork or your fingers, and it's okay if some of the filling comes out. Bake 14-18 minutes, depending on how crispy you want the crust. Once cooled, spread on glaze (recipe at the bottom of this post), and store in a plastic container for soft pop tarts or a glass container for crispy ones.
Also see above nutrition link for step-by-step "pop tart making" photos.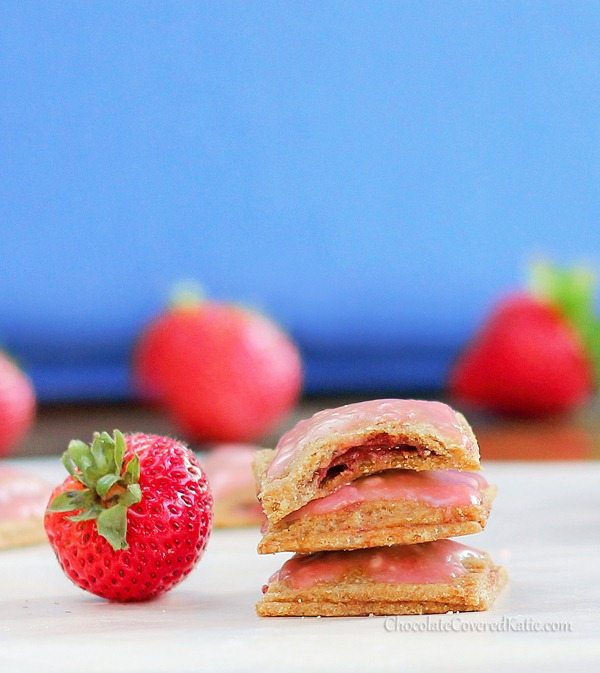 For the healthy pop tarts glaze:
Microwave (or heat on the stove) 1 small strawberry for 20 seconds, then mash very well until it's like soup. Add 1/2 cup (60g) powdered sugar or Sugar-Free Powdered Sugar and stir stir stir. It'll seem extremely thick at first, but if you just keep stirring, it'll turn into icing.
And yes, it does work with the sugar-free powdered sugar (recipe linked above, in blue). You probably won't use all of the icing for the healthy pop tarts, but this was easier than telling you to microwave 1/8th of a strawberry!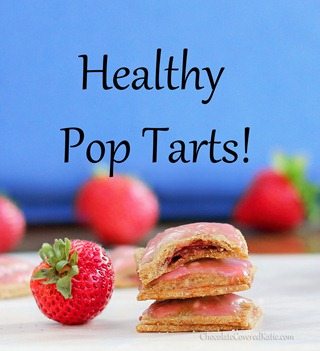 Other Flavor Ideas
Very Berry Healthy Pop Tarts: (shown above) Simply mash strawberries (or other berries), microwave a few seconds, then stir in a little stevia or powdered sugar. Portion about 1 tsp on each of half the rectangles.
PB&J Healthy Pop Tarts: Spread a thin layer of your favorite jam on half of the rectangles, then add about 1 tsp peanut butter.
Apple Pie Healthy Pop Tarts: Chopped apple, cinnamon, and Sucanat or brown sugar stirred together.
Molten Lava Healthy Pop Tarts: Fill pop tarts with as many mini chocolate chips as you can!
More ideas: brown sugar & cinnamon, strawberry cream cheese, oatmeal raisin, carrot cake, Nutella…

What would be YOUR dream pop tart flavor?
I really like the cookie dough idea people mentioned in my previous post. You will be seeing cookie dough pop tarts in the near future…