Edit:
There is now a pumpkin board on the Chocolate Covered Katie Pinterest Page!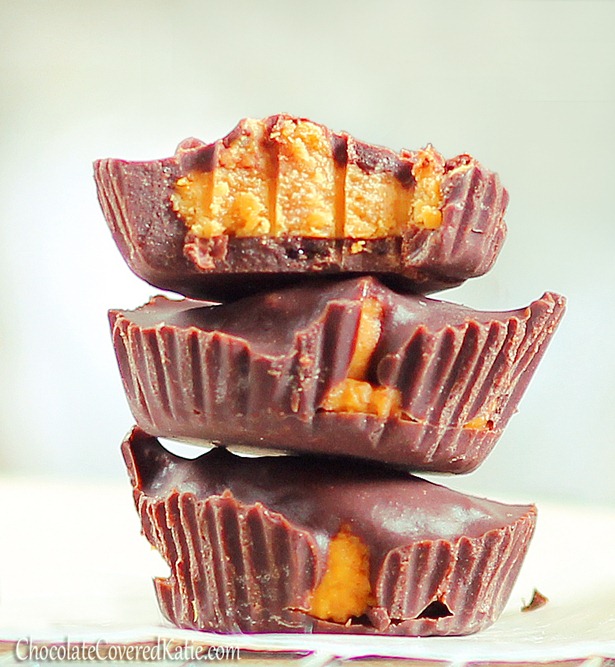 Some things in life are obvious.
Chocolate goes well with peanut butter? Obvious. Chocolate goes well with pumpkin? Obvious. Chocolate goes well with pretty much anything?
Obviously obvious.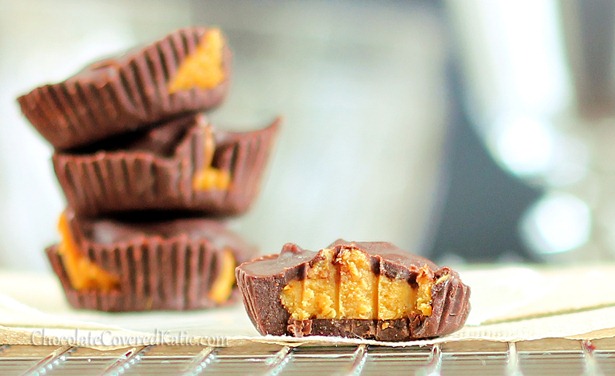 So what happens when you combine all three—pumpkin, chocolate, and peanut butter—together into one Halloween-themed Reeses cup?
The answer should be obvious.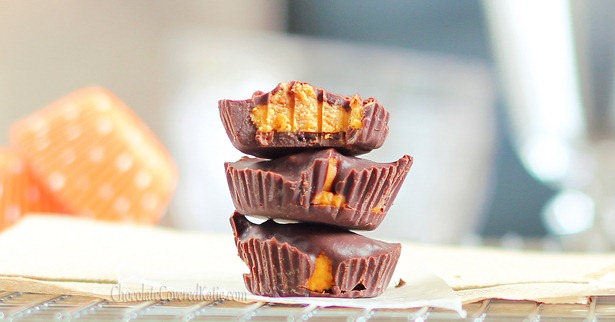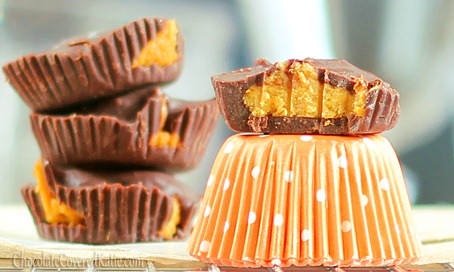 If it isn't, hopefully all of these pictures can help to clarify.
Pumpkin Pie Peanut Butter Cups
1/4 cup plus 1 tbsp cocoa powder (25g)
2 tbsp maple syrup, agave, or honey OR vanilla stevia drops to taste
1/4 cup liquid virgin coconut oil (Or omit these first three ingredients and simply melt 1/2 cup chocolate chips instead.) (50g)
2 tbsp pumpkin puree or sweet potato (30g)
2 tbsp peanut butter (You might be able to sub 2 more tbsp pumpkin for a lower-fat version, but I haven't tried it. Feel free to sub another nut butter in place of the peanut butter.) (30g)
1/8 tsp cinnamon, and optional pinch pumpkin pie spice
Stir first three ingredients together until it makes a sauce. (If using the stevia version, you might want to add a little extra oil for a thinner consistency) Fill just the very bottoms of cupcake liners, mini cupcake liners, or candy molds with chocolate, reserving the rest. Then freeze 8-10 minutes. Meanwhile, combine all other ingredients and stir to form a paste. (If you use refrigerated peanut butter, it's best to heat the nut butter a bit first, so it'll mix more easily.) Take liners from freezer and top each with filling (1 teaspoon in each of ten, if using mini cupcake liners). Cover with more chocolate, and freeze until solid. (You won't use all the chocolate, but I'm sure you can find yummy ways to use the extra…) Unless you've used the non-coconut version, it's best to keep these in the freezer.
And I obviously have a tiny obsession with homemade Reeses peanut butter cups…
Mounds Bar Reeses                       Cake Batter Reeses                     Chocolate Monkey Bites
Obviously.
What's your favorite Halloween candy?