Homemade & healthy Samoas Girl Scout Cookies!

My computer has decided to come down with the flu.
And by flu, I mean some obnoxious error message that won't let me go past the home screen to access my blog posts and pictures. Completely frustrating, and sad for me… But not at all sad for you, because it means you get to see a crazy exciting guest post today: Healthy Samoas Girl Scout Cookies.
About a year ago, I posted a recipe for Healthy Tagalongs Girl Scout Cookies, but Samoas were always my favorite… When I saw these beautiful homemade Samoas, I completely fell in love. Hopefully you will too!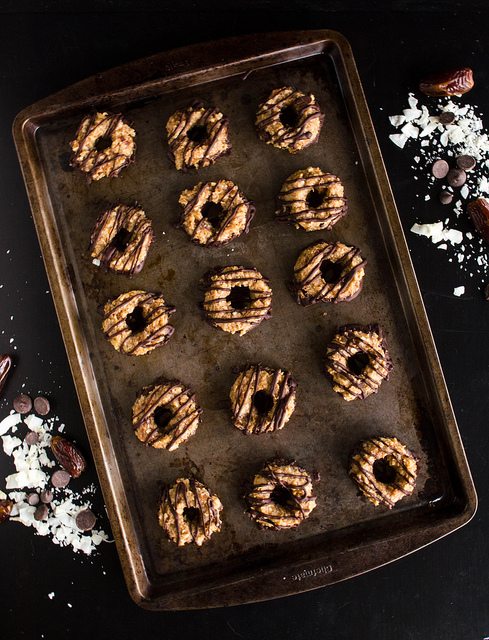 Hi everyone! I'm Melinda from over at cooking ala mel, where I – just like Katie – share mostly healthy recipes, as well as a few geeky recipes/crafts and lots of kitties sprinkled in the mix! I believe in the "everything in moderation" rule, so while I do mostly try to make recipes healthier, it won't stop me from treating myself to a butter and sugar filled treat every once in a while!  
I am so excited to be here today; I've been following Katie's blog for as long as I can remember. If I'm in a pinch for a healthy recipe at a moment's notice, I always turn here, and I've never been disappointed! You can always trust Katie's recipes to be tested and true.
Today, I'm sharing with you one of my favorite Girl Scout cookies made healthier! Samoas. Who can resist the combination of a buttery shortbread crust dipped in chocolate and covered with caramel and coconut?!But then you look at the box and see those pesky hydrogenated oils, and those little cookies seem a whole lot less friendly with all the trans fats and chemicals. I set out to make a healthier version, and they are just as tasty as the original.

I originally made these into little round cookies just like traditional Samoas, but if you value your time (and sanity), I recommend making these into bars. The dough is pretty finicky for cutting out into shapes, although it can be done if you're determined like I was. The bars, on the other hand, are super easy and just as delicious! They are best straight out of the freezer (does anybody else love eating their Girl Scout cookies frozen?).  Oh, and did I mention they're also gluten free?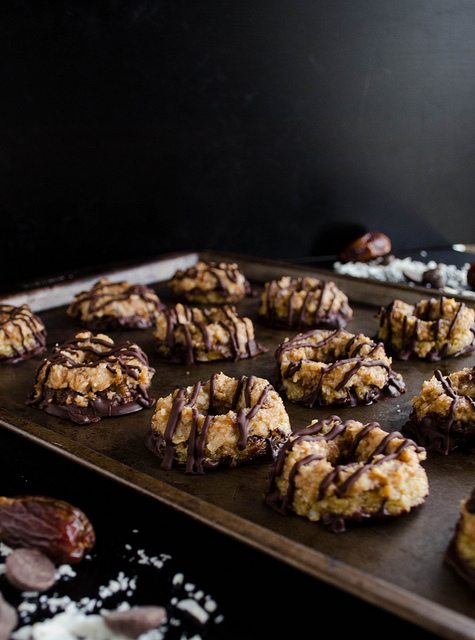 Healthy Samoas Cookies Or Bars
         2 cups walnuts
         1 cup unsweetened, shredded coconut
         1/4 cup raw honey (or agave for vegans)
         1 tsp pure vanilla extract
         1/4 tsp salt
In a food processor, pulse the walnuts and coconut together until in fine crumbs.  Add in the honey, vanilla, and sea salt, and process until a moist dough forms. Press the dough into a parchment lined 9×9″ baking pan.
         1 1/2 cups dates, soaked 10 minutes in hot water
         1/2 cup full-fat canned coconut milk
         1 tsp pure vanilla extract
         1/8 tsp salt
         1 1/2 cups unsweetened, shredded coconut
Toast the coconut at 350ºF for 5-8 minutes or until golden (be careful not to burn).  Allow it to cool while you make the "caramel" topping. Drain the soaked dates and pulse in a food processor until a paste forms. Add the coconut milk, vanilla extract, and salt, and process until smooth. Add the coconut and pulse again until just combined. Scoop out the coconut "caramel" mixture, and spread it evenly across the top of the base. Cut into squares, then transfer to the freezer for 15 minutes, or until set.
         1 1/2 cups dark chocolate chips
Melt on the stovetop, or place the chips in a microwaveable bowl, and microwave at 30-second intervals, stirring in between, until fully melted. Remove the samoas from the freezer, and dip each into the chocolate to coat the bottom.  Once dipped, transfer to a parchment-lined baking sheet and repeat the process with each cookie. When all samoas are dipped, re-melt the remaining chocolate (if it has hardened), then transfer to a small ziplock bag, using a rubber spatula.  Snip off one corner of the bag, and drizzle the chocolate over the bars. Return to the freezer for 15 minutes to set the chocolate, then transfer to an airtight container and store leftovers in the freezer.
*If you'd prefer cookies over bars, follow the above recipe but roll out the dough with a rolling pin and cut it into circles.  Use a smaller circle to cut out the centers to make a ring.  The circles may crumble slightly, so just press them back together when cutting/transferring. If you make cookies, you'll want to freeze the dough after cutting so the circles are easier to handle. Then top each individual base with the caramel mixture, freeze again, then dip and drizzle with chocolate. Enjoy the bars, and thanks for having me, Katie!  For troubleshooting or recipe substitution questions, please ask at: cooking ala mel, or visit for more healthy goodies!
Link Of The Day: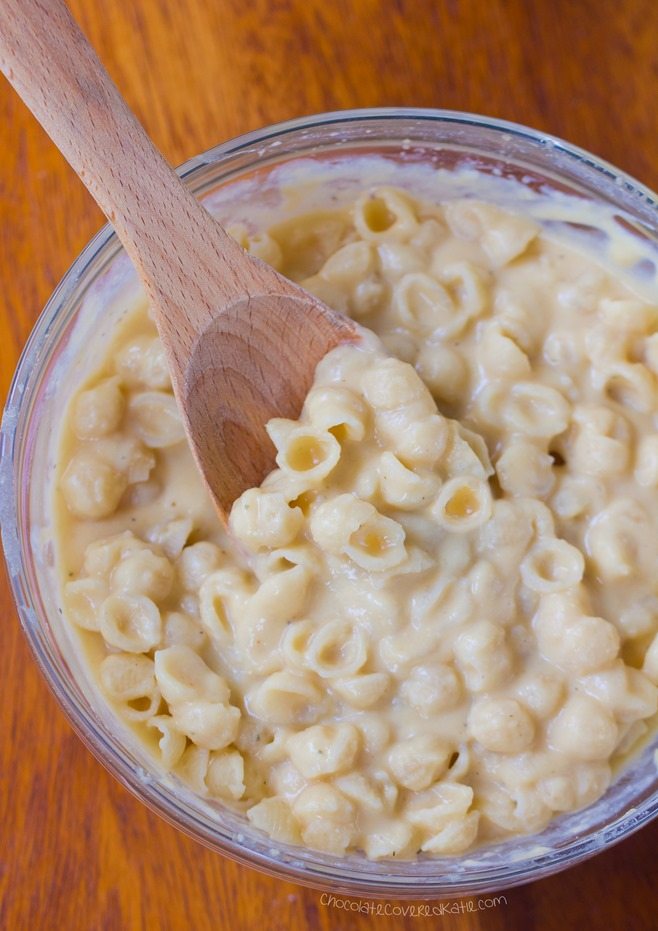 The Ultimate Vegan Cheese Sauce