Healthy hummingbird cupcakes.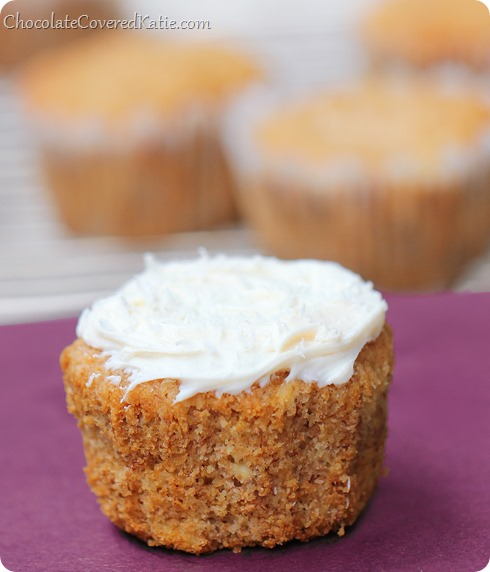 I've never been so in love with a cupcake recipe, healthy or not.
These cupcakes are moist, sweet, and absolutely irresistible with healthy cream cheese frosting. Perhaps being in love with a cupcake sounds crazy… but just try one and I promise you will completely understand!!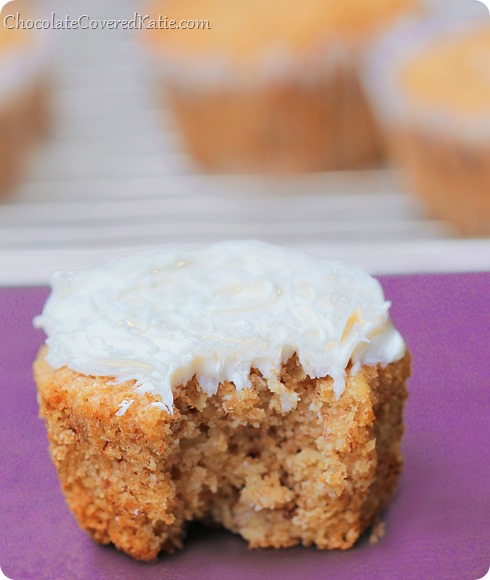 Hummingbird cake, which made its culinary debut in a 1978 issue of Southern Living Magazine, is a delicate and lightly-spiced cake bursting with the sweetness of pineapple, banana, and coconut. To this day, it is still the magazine's #1 most popular recipe of all time.
These seductive little hummingbird cupcakes perfectly capture the charm of Southern Living's famous recipe, and they're even healthy enough to eat for breakfast if you so choose.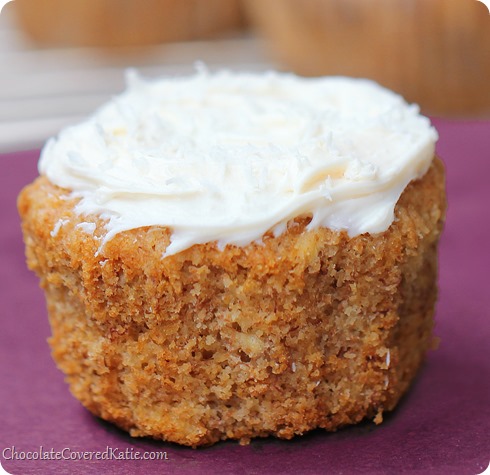 Healthy Hummingbird Cupcakes
Adapted from: Healthy Blueberry Muffins
1/2 cup crushed pineapple, drained (120g)
1/2 cup mashed banana (120g)
2 tbsp milk of choice (30g)
2 tsp pure vanilla extract
2 tsp white or apple cider vinegar
3 tbsp vegetable or coconut oil (30g)
1 cup spelt or all-purpose or Bob's gf flour (135g)
only if using the gf flour, add 1/4 tsp xanthan gum
1/2 tsp plus 1/8 tsp salt
1/2 tsp baking soda
1/2 tsp baking powder
1/2 tsp cinnamon
1/3 cup xylitol or sugar of choice (65g)
pinch stevia or 1 extra tbsp sugar of choice
1/3 cup finely-chopped pecans, optional
Hummingbird Cupcakes: Preheat oven to 350 F, and line a muffin tin with 10 liners. In a large mixing bowl, whisk together first 6 ingredients. In a separate bowl, combine all remaining ingredients and stir well. Pour wet into dry, and stir until just evenly mixed. Pour into the 10 muffin tins and bake 19-20 minutes or until muffins have domed and a toothpick comes out clean. Allow to sit 10 minutes before removing from the tins. Frost with either coconut butter or Healthy Cream Cheese Frosting, shredded coconut, and pecans.
Click for: Hummingbird Cupcakes Nutrition Facts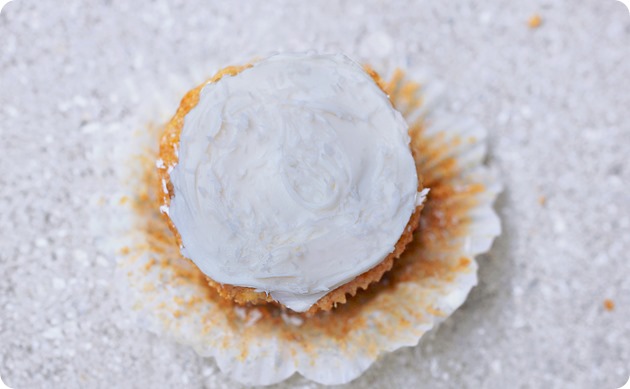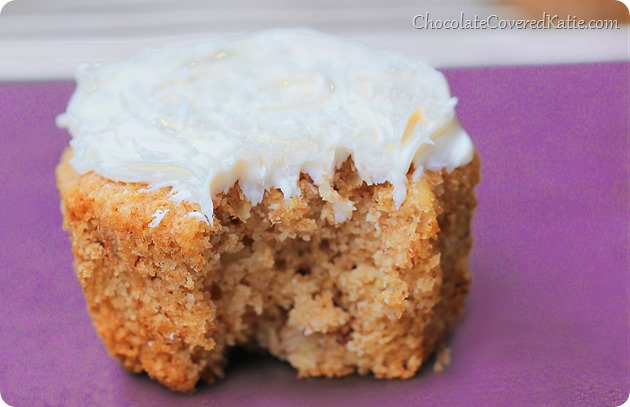 Question of the Day:
Does it feel like Spring yet where you are?
I've been attempting to trick myself into believing it's Spring by baking Eastery cupcakes and carrot cake crumble. Sadly these attempts aren't fooling anyone. Every morning, upon checking the weather forecast and seeing stars snowflakes, I'm that much closer to just dropping everything and boarding the next plane to a tropical location whose inhabitants have never heard of snow. (Seriously, how good does Fiji sound right now?)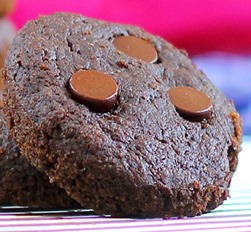 Link of the Day: Copycat  Chocolate Brownie Vitamuffins