I ate two of these healthy sugar cookies, straight from the oven!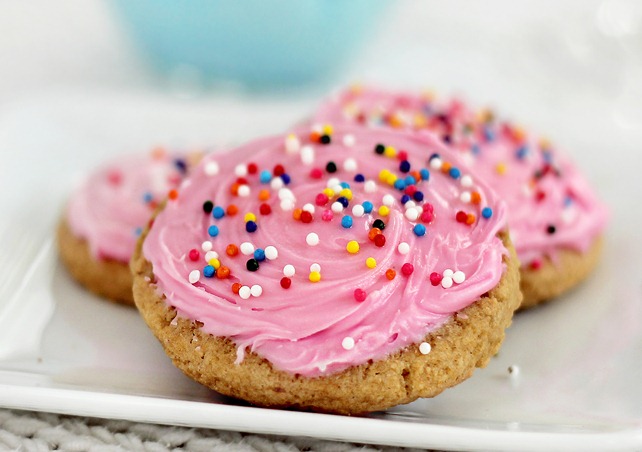 It's officially December now, which means you have a great excuse to make cookies. Why not go ahead and bake a batch of these to find out if your self-restraint is better than mine?
(As if anyone needed an excuse to bake cookies.)
The perfect sugar cookie should be soft, buttery, and so incredibly delicious it makes you want to polish off the entire batch in a single sitting.
This healthy sugar cookie recipe fulfills all of the above requirements… and yet these cookies are whole-grain, lower in sugar, and cholesterol-free at the same time.
Yes, healthy sugar cookies!
Do you bake cookies during the holidays? My grandmother loved baking Christmas cookies more than anyone else I know. Each year, she'd make at least ten different kinds of cookies. Michelle and I liked to help: she helped by rolling out the dough… and I helped by eating all the finished cookies! My grandfather nicknamed me "Cookie Monster" because, even before my head was tall enough to reach the table, I was stealing cookies off the tray.
Some things haven't changed much.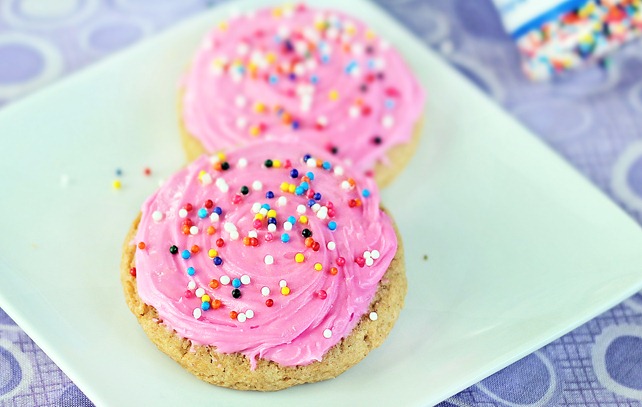 Healthy Sugar Cookies
Healthy Sugar Cookies!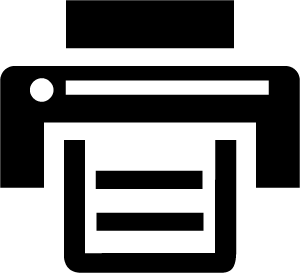 Print This Recipe
[mrp_rating_result show_count="false" show_rich_snippets="false"]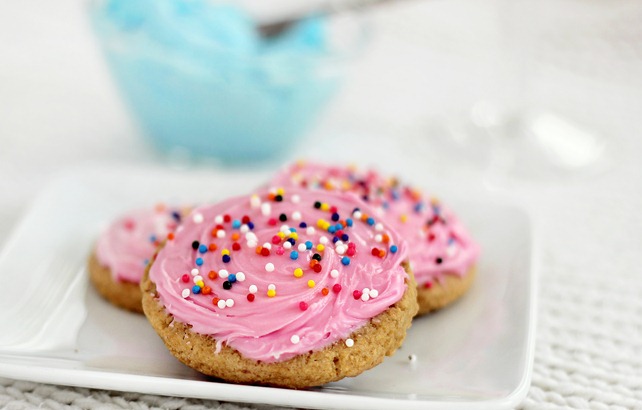 Ingredients
3/4 cup spelt,  ww pastry, or all-purpose flour (Update! Click for Grain Free Sugar Cookies.)
1/4 tsp baking powder
1/4 tsp salt (just under level)
1/4 tsp plus 1/8 tsp baking soda
1/4 cup white sugar, or sucanat, coconut sugar, or evaporated cane juice (or xylitol for a sugar-free version)
1/2 tsp pure vanilla extract
1 and 1/2 tablespoons milk of choice
1/4 cup butter-type spread, such as Earth Balance (Some readers say you can use coconut oil, but I haven't tried it. I wouldn't recommend using a low-fat buttery spread.)
Instructions
Healthy Sugar Cookies Recipe: Combine dry ingredients and mix very, very well. In a separate bowl, melt the vegan butter, then stir in vanilla and milk. Pour dry into wet and mix again. Form balls or roll out (not too thin), then use a cookie cutter to make shapes. If you want soft cookies, you'll need to get the dough very cold. (So roll the balls first, then fridge until cold.)  Cook in a 325F preheated oven for 9 minutes. They will look very underdone when you take them out, but that's ok!! Just let them cool for 5 minutes before touching. (I know it's hard!) These cookies will keep at least four days, in a lidded plastic container. As a general rule, you should store soft cookies in plastic containers and crispy cookies in glass ones.
These are the same vegan sugar cookies I decorated as baby animals and brought to the football party.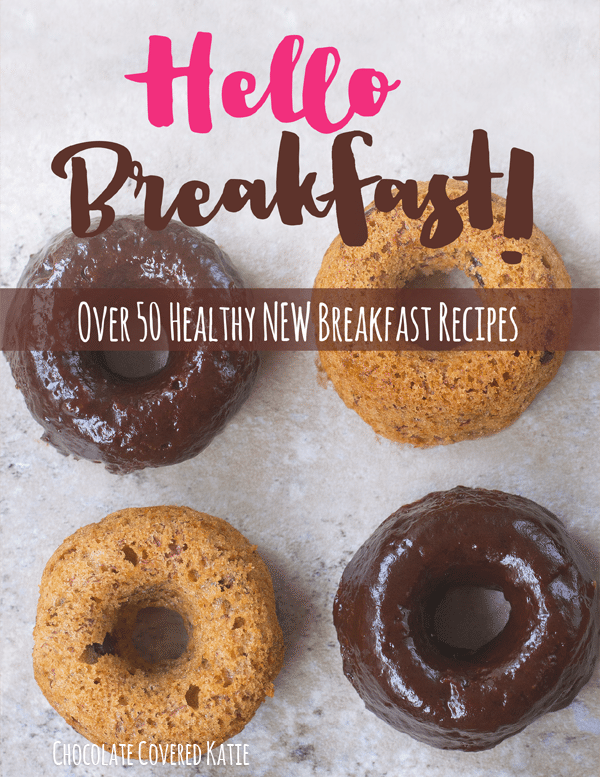 More Healthy Cookie Ideas: