Home Alone, Love Actually, Elf…
I have a giant stack of Christmas movies all ready to watch. One of my favorite parts of December is watching as many Christmas movies as I possibly can. (Another is listening to holiday music on the radio. Does anyone else think "I want a Hippopotamus for Christmas" is the funniest song ever?)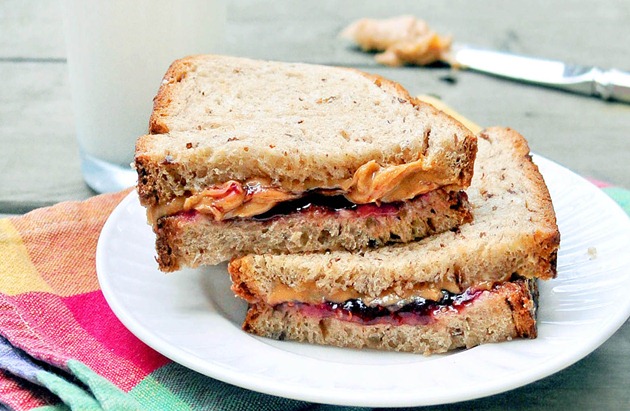 And, of course, holiday-themed food.
The last two days have been a whirlwind (which is why I didn't post yesterday or the day before). My friend Andrea drove in from Colorado, and she brought her adorable—but super-energetic—daughter, Kristin. It's still hard for me to believe that my friend has a five-year-old child!
Before their arrival, I'd made up a big batch of my favorite gingerbread butter for myself, so I could eat gingerbread cookie dough balls! The girls were hungry when they got in, and so I used some of the gingerbread butter to make Christmas PB&J sandwiches. (After a quick photoshoot, I cut Kristin's sandwich with a giant gingerbread cookie cutter!)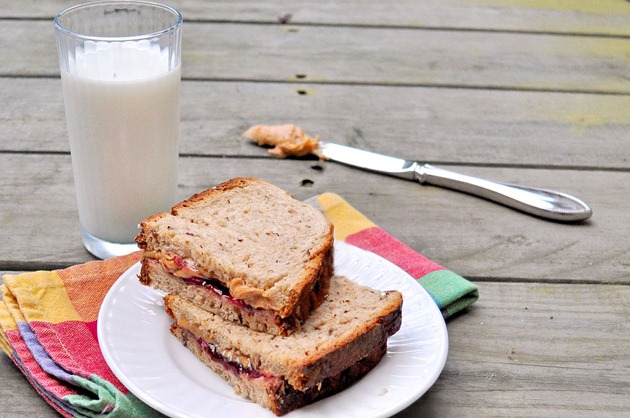 I've posted the gingerbread butter recipe before, when I did my post on cookie dough balls. Here it is again, so you don't have to click on any links:
Gingerbread Butter
6 tbsp peanut butter (or other nut butter)
1 1/2 tbsp molasses (I used blackstrap, but regular is fine)
heaping 1/2 tsp cinnamon
scant 1/8 tsp each ginger and nutmeg
Optional: cloves, sugar (I didn't use either)
Mix together the peanut butter and molasses, using a blender or fork. (I just used a fork to mix.) Add the spices and mix again.
See cookie dough post for Nutrition Facts.
Cookie Dough Balls: If you add enough of the spices to the Gingerbread Butter, the dough is dry enough to roll into cookie balls. However, gingerbread butter is also delicious on a spoon, mixed in oatmeal, or as a sandwich with apple slices or grilled strawberries or banana. Or thin it out with a little almond milk, and make a pancake topping!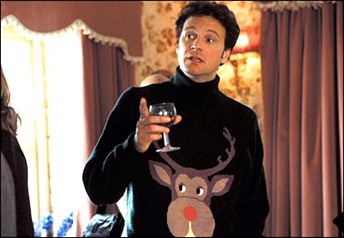 What are you looking forward to this holiday season?
Watching holiday movies? Baking cookies? Wearing ugly Christmas sweaters à la Colin Firth?