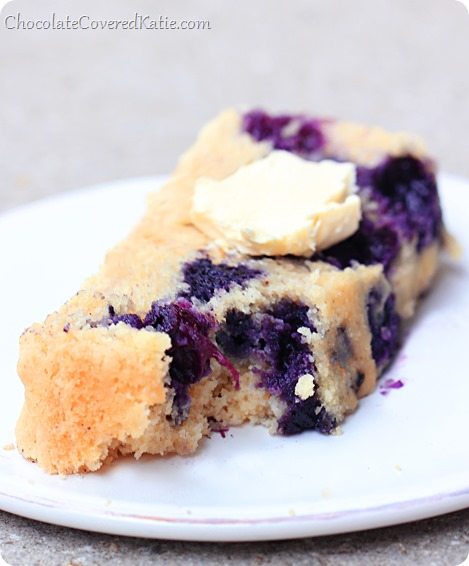 With a light texture somewhere between a cake and a muffin…
Whole grain, and with very little oil or sugar, this blueberry cake bread is decadent enough for dessert yet healthy enough for breakfast.  Eat it plain, or try topping it with your favorite nut butter, Earth Balance, or Coconut Butter.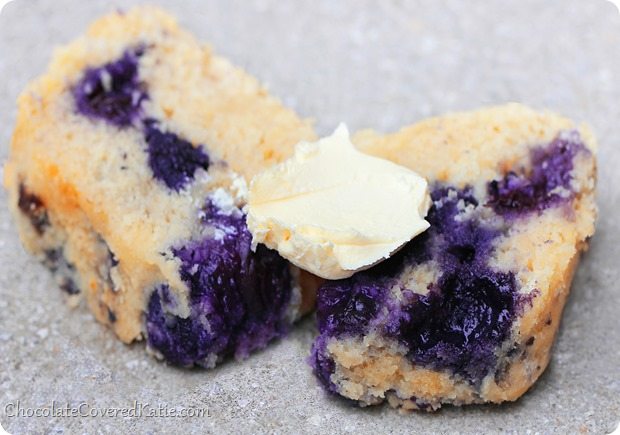 Blueberry Muffin Bread
Inspired by: Healthy Blueberry Muffins
2 cups spelt, all-purpose, or Bob's gf flour (250g)
1/2 tsp plus 1/8 tsp salt
2 tsp baking powder
1/2 tsp cinnamon, optional
If using gf flour, add 1 tsp guar gum
1/2 cup xylitol or sugar of choice (100g)
pinch stevia or 2 extra tbsp sugar
1 cup milk of choice (240g)
1 tbsp white or apple cider vinegar (15g)
2 tsp pure vanilla extract
3 tbsp coconut or vegetable oil (30g)
1 1/2 cups blueberries (200g)
Preheat the oven to 350 F, and grease a 9×5 loaf pan. In a large measuring bowl, stir together the first 7 ingredients (plus guar gum, if using). In a separate measuring bowl, whisk together all liquid ingredients except the blueberries. Pour wet into dry, stir until just evenly combined, then add the blueberries and VERY gently stir them in only until evenly mixed. Do not over-stir, as this would break the blueberries and you'd end up with purple bread. Pour into the loaf pan and bake 45 minutes on the middle rack. Do not open the door, but turn off the oven and let the bread sit inside the oven for another 30 minutes. For troubleshooting with this (or any) recipe, see my Recipe FAQ page at the top of the blog. Makes 10 big, fat slices.
View Nutrition Facts & Calories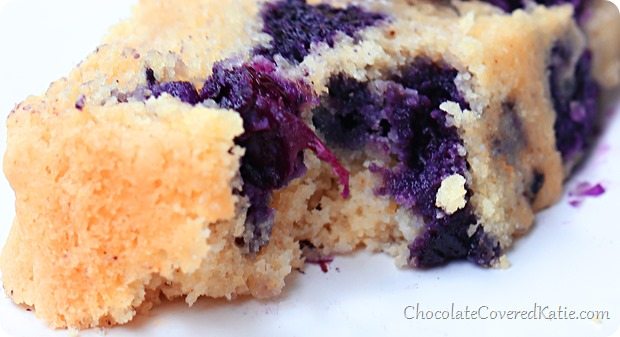 Question of the Day:
Are you a fan of blueberries?
Normally when I buy a container of fresh blueberries, they are gone within a day… or maybe within an hour. They never even make it into a recipe!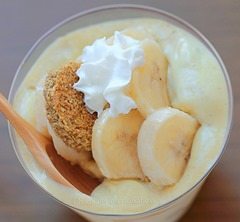 Link of the Day: Banana Pudding Recipe