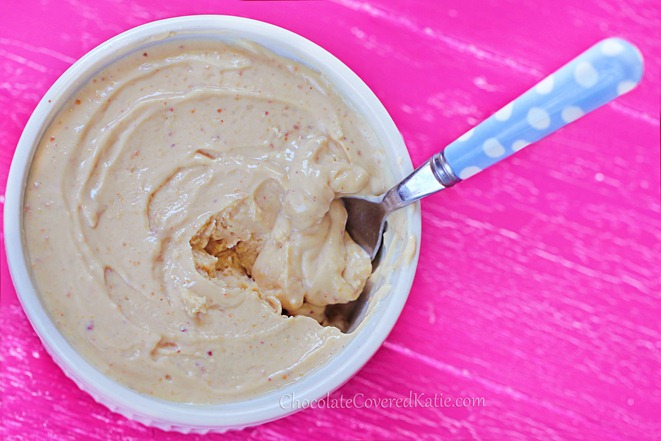 This frozen peanut butter dessert is exactly what I need right now.
Here is some advice I wish I'd taken: If you ever get braces, and if they ever give you that permanent metal bar behind your front teeth after the braces come off, and if that metal bar ever happens to break sometime in the next eight years…
Get it fixed immediately. Otherwise, you'll be out hundreds of extra dollars and one very sore mouth.
I'm learning this the hard way. When I finally did drag myself to the orthodontist, it was a much bigger issue than simply fixing a broken metal bar.
The orthodontist gave me an Invisalign-like guard to wear 24/7 for the next two months. It's completely unnoticeable, but it is painful as it shifts the teeth back into place. And when the teeth shift back? Then I will still have to pay for a new metal bar.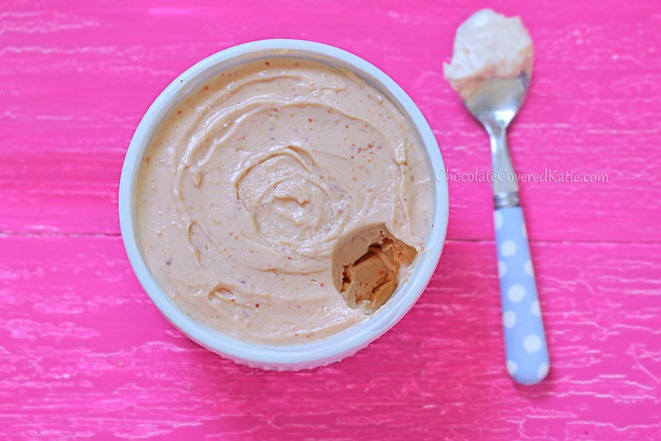 So it's not been a fun past few days… except for all the frozen-yogurt eating!

The retainer is not unbearably painful, but it's uncomfortable enough that frozen yogurt is very welcome.
Frozen yogurt, and smoothies, Chocolate Protein Milkshakes, and oatmeal… how I miss crunchy apples, or even chocolate bars.
I am going to eat them with a vengeance when this soreness subsides.
Really, though, what I hate most about the retainer isn't the discomfort; it's the fact I don't have free rein to snack whenever I want. I'm accustomed to grabbing something to eat every time I walk through the kitchen or while I'm cooking, but the retainer inhibits that.
It's also apparently made me a very grouchy person. I've sure complained a lot in this post! Time for more frozen yogurt to shut me up.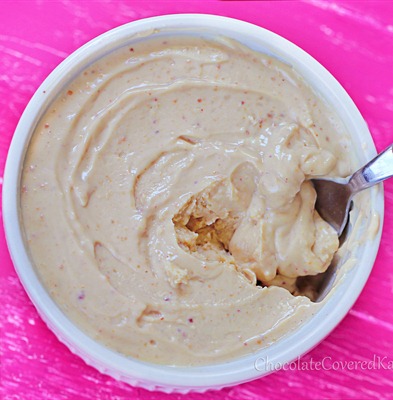 PB Froyo
2 cups plain or vanilla yogurt (such as So Delicious) (440g)
1/2 cup milk of choice (120g)
1/2 cup peanut butter (or almond butter or allergy-friendly alternative) (120g)
1 1/2 tsp pure vanilla extract (omit if using vanilla yogurt) (6g)
1/4 tsp salt
pure stevia extract to taste, or 1/3 cup sugar of choice (more if using an unsweetened yogurt)
optional: homemade peanut butter chips
Blend all ingredients except optional chips (or stir very well by hand) until completely smooth. If you have an ice cream maker, transfer mixture to the machine and churn according to manufacturer's directions. My Cuisinart took 9 minutes. Add chips if desired. Eat immediately as soft-serve, or freeze in an airtight container for a half hour if you want a firmer texture. (If you don't have an ice cream machine: simply transfer the blended mixture to an airtight container, freeze, and stir well every half hour for 2-3 hours. The texture won't be as creamy, but it still works.)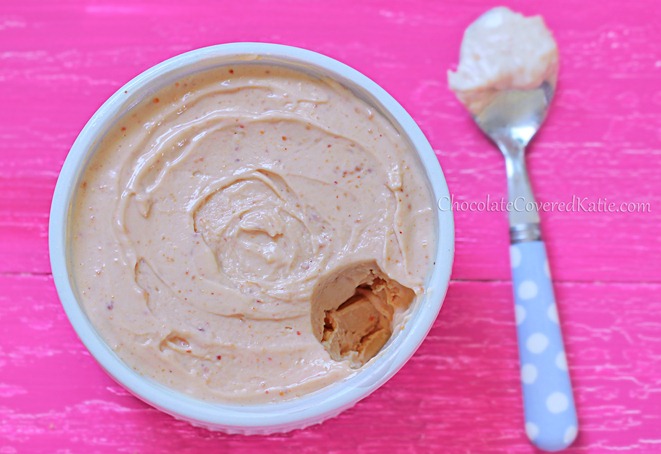 And to everyone who asked earlier this week about the bangs… here is a picture of me with bangs and braces:
Then and now.  See? I told you I still look crazy similar to how I looked back then. I kind of miss the bangs.
But definitely NOT the braces!!