Do you know someone who "hates" vegetables?
I've always had a sneaky suspicion that people who claim they "don't like vegetables" simply don't know how to properly cook them. Honestly, would you like vegetables if your veggie repertoire consisted of canned peas, overcooked broccoli, and ketchup?
But, if given my dinner from last night, I'm betting there'd be quite a few converts to the dark veggie-lover's side!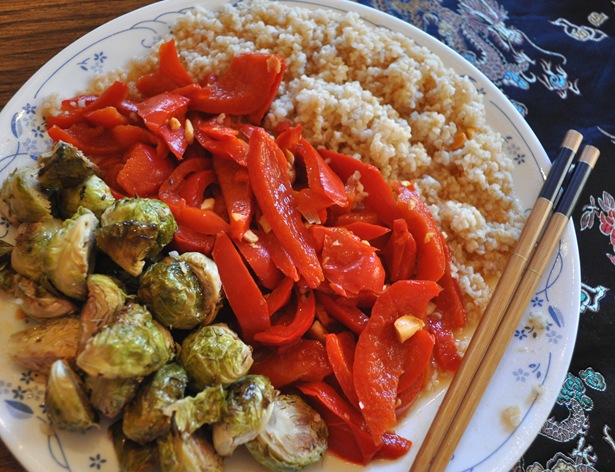 Veg 1 is my peppers, cooked using the healthy sauté method.
For this particular batch of peppers, I cooked up a big batch the day before, ensuring lots of leftovers. Plus, anything with garlic seems to get more flavorful as time goes by. I've learned the hard way to not let chopped garlic sit in the fridge—even if it's covered! Suddenly, everything in your fridge will take on the garlic-y flavor. That's not a bad thing as far as savory foods are concerned… but who wants a chocolate-chip muffin with essence of garlic?? Eep.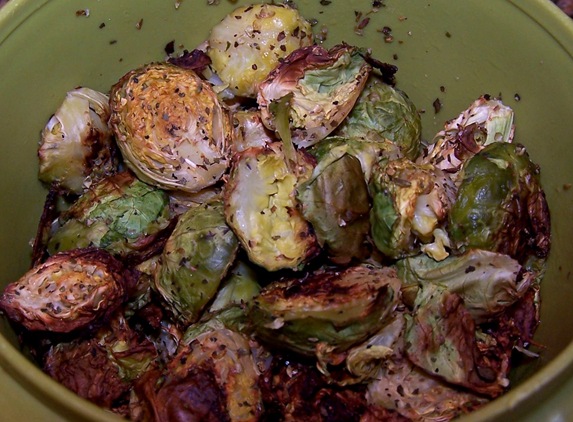 Delicious veggie #2: Candy! Well, not really, but they're so sweet and melty that they could be candy.
Roast Veggie "Candy"
Spices (I use oregano and rosemary)
raw veggies (I love brussels sprouts for this recipe)
unrefined coconut oil
optional, but highly recommended: cinnamon
Roast your veggies, with the first two spices, at 400 degrees (un-preheated) until they're soft. For my sprouts, it takes around 30-40 minutes. I like to roast 'em dry and put the coconut oil on right before eating them. But you can coat them in coconut oil first if you'd rather; it's your call. Also right before eating, sprinkle with the cinnamon.
They're good warm, but I especially like these veggies straight from the fridge; that way the coconut oil hardens around the sprouts… kinda like a truffle. Candy for dinner! (Be sure to buy unrefined coconut oil. The refined stuff doesn't have that yummy "coconutty" taste.)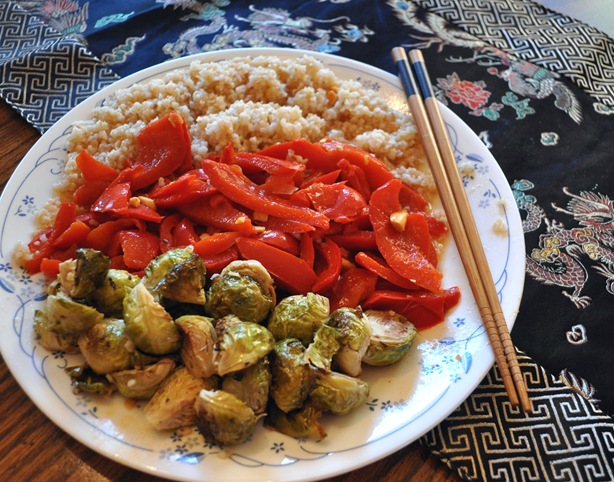 With the red peppers and candy, I also had my favorite-ever pilaf.
Buttery, grain goodness. It was the perfect winter's-day meal. Never mind that the temperature was in the mid-80s lol. Comfort food is always in season. Oh yeah, as is candy.
So, do you know a veggie-hater?
Or maybe you were a veggie-hater as a kid?
In high school, I had a friend tell me that he could never be a vegan… because the only vegetables he liked were raw onions. He said he ate them like apples. 😕