Mmmmm Florida…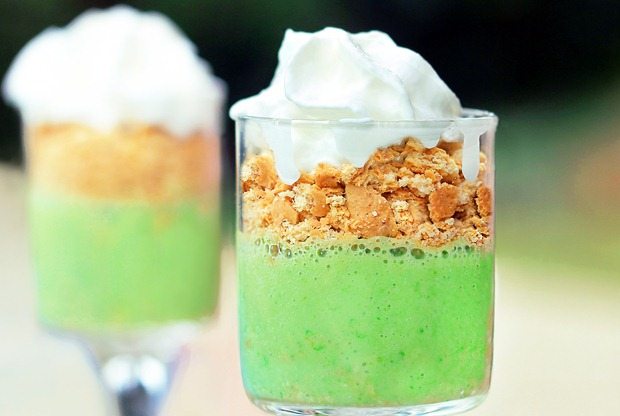 Soft, sandy beaches.
Cool ocean breezes.
Sunshine. Sunshine. Sunshine…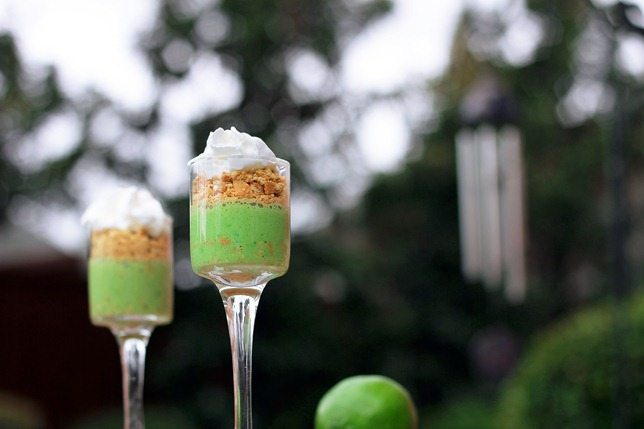 And key lime pie.
I often think I should move to Florida. Some of my happiest childhood memories are from visiting my grandparents' home in West Palm Beach. On those vacations, we did everything you'd typically associate with Florida living: splashed in the pool, drank freshly-squeezed orange juice (from freshly-picked oranges!), played in the sand and baked in the sun, chased after the lizards that crawled up Grandma and Grandpa's porch screen…
And ate key lime pie.
Actually, I never ate key lime pie in Florida. (Even as a little kid, I had zero interest in the non-chocolate desserts!) But any mention of key lime pie reminds me of a particular restaurant at which we often dined during our Floridian visits. The restaurant was famous for this pie, and therefore someone at our table almost always ordered it. (Me? I went for the chocolate mousse. Every time.)
I figured it'd be fun to create a key-lime-pie—themed dessert for St. Patrick's Day this year, since my blog is lacking in the lemon & lime department. (There's a reason it's not called Citrus-Covered Katie…) I was originally going for a pudding; however the results were a bit thinner than traditional pudding, so I'm calling it Key Lime Cream: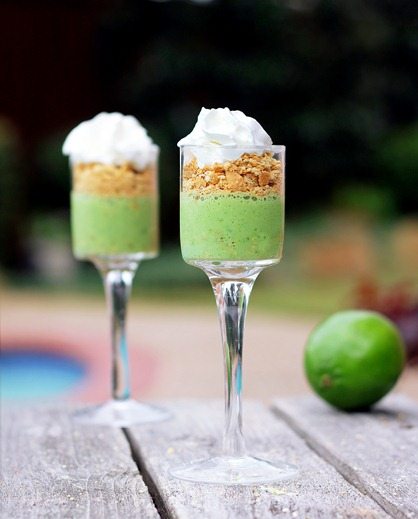 Key Lime Pie Cream
(Good for St. Patrick's Day!)
Categorized here: Pudding and Dip Recipes.
2 cups milk of choice (for a richer result, try using canned coconut milk as some or all of your milk)
1/4 cup whole-wheat pastry flour (Anyone want to try a gf flour and tell me how it goes?)
3 tablespoons evaporated cane juice (or regular sugar)
2 nunatural stevia packets (or 2 more tablespoons sugar)
1/4 tsp salt
1/2 cup Mori-Nu silk-firm tofu (If you don't like tofu, don't worry… this is such a small amount that I promise you can't taste it!)
1 1/2 tsp pure vanilla extract
1 1/2 to 2 tsp pure lemon extract
1/3 cup lime juice (key lime or regular lime)
for the green: I was brave and used a few handfuls of spinach… and it paid off! I couldn't taste the spinach at all!! But if you're not brave, you can use a few drops food coloring instead.
Blend the tofu with 1 T of the milk. (If you don't have a blender, you can try soft tofu… but I haven't personally tried it in this recipe. I used a Magic Bullet short cup as my blender.) In a small saucepan, combine all ingredients except extracts and optional spinach, and bring to a boil, stirring occasionally. Lower the heat and continue to cook until desired thickness is reached. Then remove from heat and add the vanilla and lemon extracts. Chill in the fridge. When it's cold, blend everything with the spinach. (Once again, you can skip this blending step if you must… but the texture is better if you don't. And if you want a thicker pudding, maybe add more tofu? Let me know how it goes if you do!)
See the following for: Calories + Nutrition Facts.
I know people will ask about substitutions: I can only vouch for the results if you follow the recipe, and I can't tell you if a substitution will work, because I've only tried it as written. But please feel free to experiment with substitutions, and be sure to report back so others can read about your results!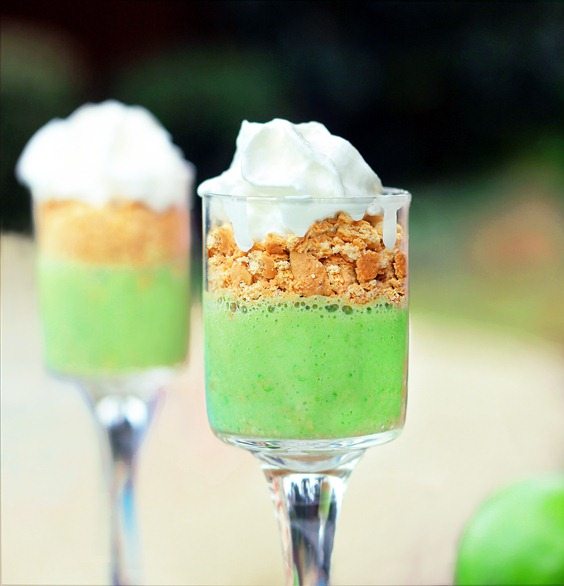 If desired, serve in mini glasses with: S'mores Graham Crackers.
And pretend that you are in Florida.
Unless you're lucky enough to actually be there!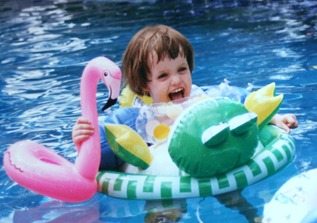 Question of the Day:
Have you ever been to Florida?
I went at least once a year when my grandparents lived in the sunshine state. We even decorated a palm tree one year with Christmas lights. I really miss those days…
Final note: winner of the $100 Shopping Spree Giveaway.