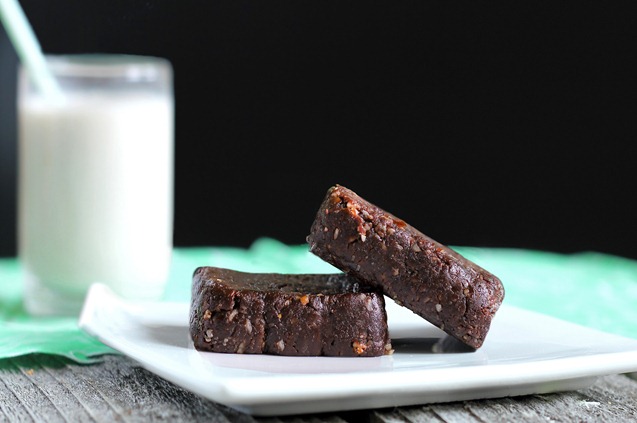 I've always wondered…
What if I added cocoa powder to my peppermint toothpaste?
Mint-chocolate toothpaste?
Or black teeth?! 😕
Or maybe toothpaste so yummy it'd be difficult to not eat in mass quantities, straight from the tube. Perhaps it's a very good thing my toothpaste is just plain peppermint and I keep the cocoa where it belongs: in the kitchen! Yesterday, I used it to make brownies: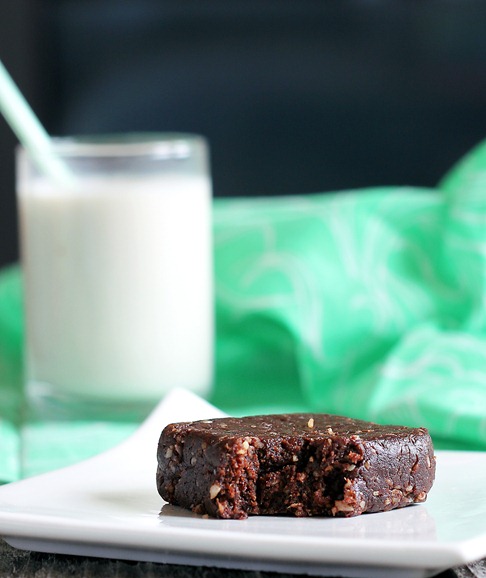 I made this secretly-healthy recipe: Thin Mint Brownies.
Mmmmmm they were good!! Much better than chocolate toothpaste. Oh yes. For your convenience, here's the recipe again:
Raw Thin Mint Brownies
1 cup walnuts (120g)
1 and 1/3 cups pitted dates (230 grams) (I highly recommend Sunmaid, because they're softer.)
1 tsp vanilla extract
5 tablespoons cocoa powder
A few drops pure peppermint extract (depending on how minty you want them… Start with less; you can always add more.)
Optional: for even more chocolate flavor, add chocolate chips. Or add cacao nibs.
Optional: tiny dash of salt (I always add this and recommend it.)
Raw Brownies Recipe: Combine all ingredients, using a food processor. (No need to blend the dates first; I just blend everything all at once. But if you use a Magic Bullet, you might want to do it in batches. I've not tried this in a regular blender and therefore can't vouch for it.)Form into brownies or balls or bars… or even cookie-cuttered shapes!
Edit: by popular demand, I've added Thin Mint Brownies Nutrition Information.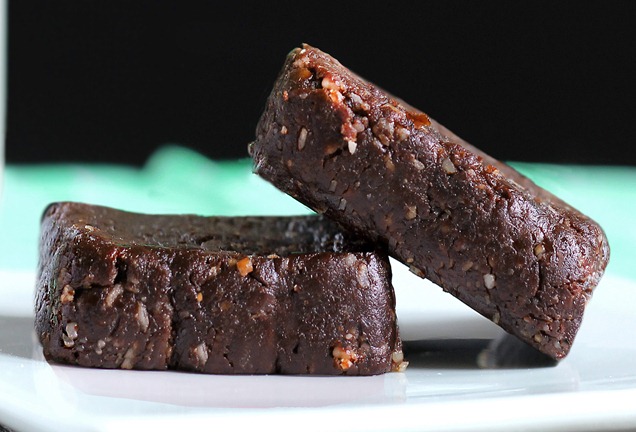 Also, I think my photography has improved a ton from last year's photos.
After publishing that post, more than one person told me the brownies looked like… well, something not very appetizing. And I had to agree; the original photos didn't do justice to how absolutely delicious these brownies taste! Even though it was a very overcast day yesterday, hopefully I managed to do a better job this time. Sure couldn't have done worse!
Do you have a favorite toothpaste?
Weird question, I know. But I really do love my toothpaste. (No, not to eat. Don't worry.) I use Jason's Powersmile, and it is scary-powerful. Your mouth feels like it's on fire… in a good way, if that makes sense. Cavities and bad breath would be terrified to stick around in the presence of this toothpaste.