With these easy chocolate chip microwave cookies, you can enjoy delicious gooey homemade chocolate chip cookies without ever turning on the oven!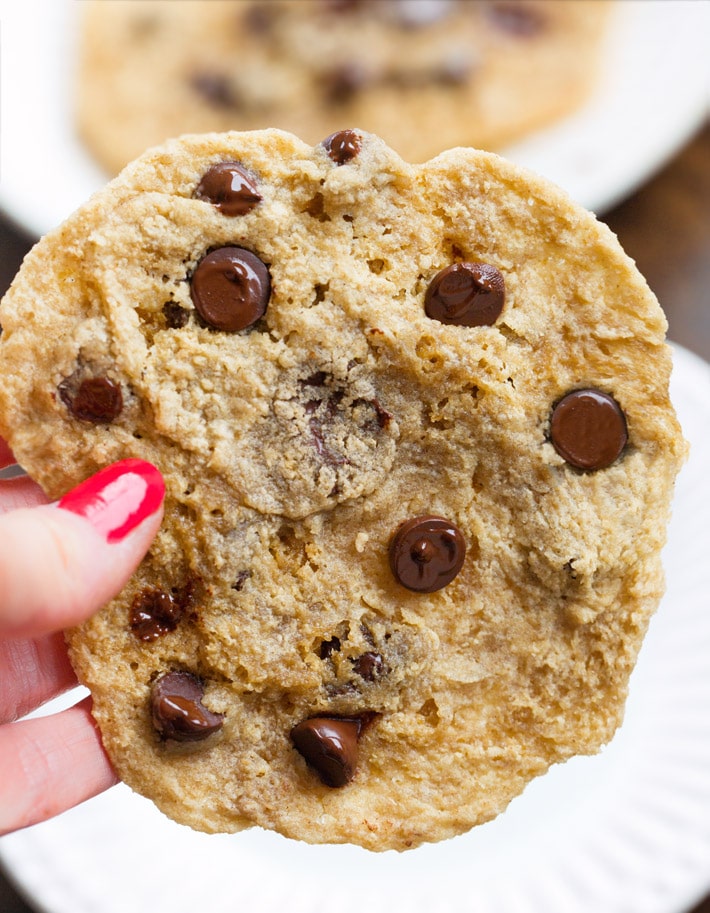 Why make cookies in the microwave?
Sometimes you want a chocolate chip cookie without the wait.
This entire microwave cookie recipe takes under 2 minutes from start to finish!
The recipe also yields a small batch of cookies, which means less temptation to eat all of the leftovers or snack on giant spoonfuls of unbaked cookie dough.
If you're anything like me, self control is nonexistent when it comes to chocolate chip cookies. So whether you're counting calories or simply not wanting to consume a lot of extra sugar, the small yield is great help in satisfying your cookie craving while letting you stick to a reasonable serving size.
Also be sure to try these Black Bean Brownies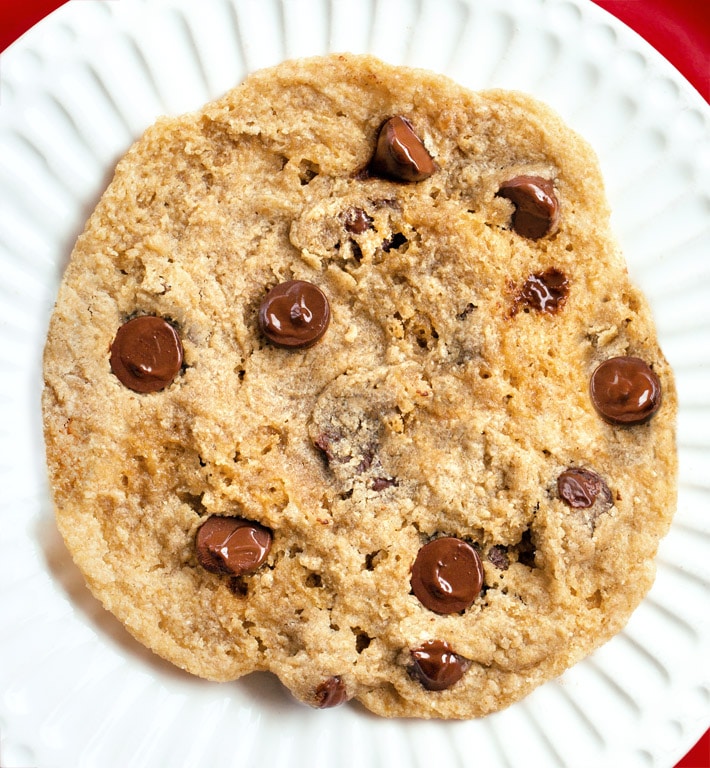 How to make microwave chocolate chip cookies
There are three options with this recipe:
Option one is to use the microwave. The microwave cookies have a soft and chewy texture, almost like chocolate lace cookies, and they bake in an instant.
For readers who don't have access to a microwave or choose not to use one, you can also eat the raw dough, because it has no eggs. Feel free to roll into balls or just eat the cookie dough out of the bowl.
Or you can make these cookies in a toaster oven. Preheat the oven to 325 degrees Fahrenheit, bake 7 minutes, let cool, and enjoy.
Microwave cookie ingredients
The recipe calls for the following chocolate chip cookie ingredients: flour, sugar, baking soda, salt, milk of choice, oil, chocolate chips, and pure vanilla extract.
Mini or regular chocolate chips can be used, as can finely chopped milk or dark chocolate. Or sub peanut butter chips for half or all of the chocolate chips.
I've had success with all purpose white flour, spelt flour, or oat flour. If you experiment with a different flour, be sure to report back with results!
For oil free chocolate chip cookies, an equal amount of softened peanut butter or almond butter makes a great alternative.
If you prefer keto microwave cookies: Use this recipe for Keto Cookies.
Flatten each cookie dough ball on a microwave safe plate, and cook 1 minute (baking time may vary depending on your microwave wattage). Let cool completely before handling.
Baking tips & tricks
Be sure to refrigerate the cookie dough until it's no longer too sticky to easily roll into balls with your hands or a cookie scoop.
I once tried skipping the chilling step and baking the super-sticky dough immediately after mixing. The cookies technically worked, and they tasted great, but they spread a lot and were super thin.
Line the entire plate with parchment paper, or grease the plate very well. These cookies spread while cooking, and lining the plate ensures they won't stick.
I like to press a few additional chocolate chips into each cookie dough ball right before microwaving or baking, because it makes the finished microwave cookies look prettier. Plus, there's no such thing as too much chocolate!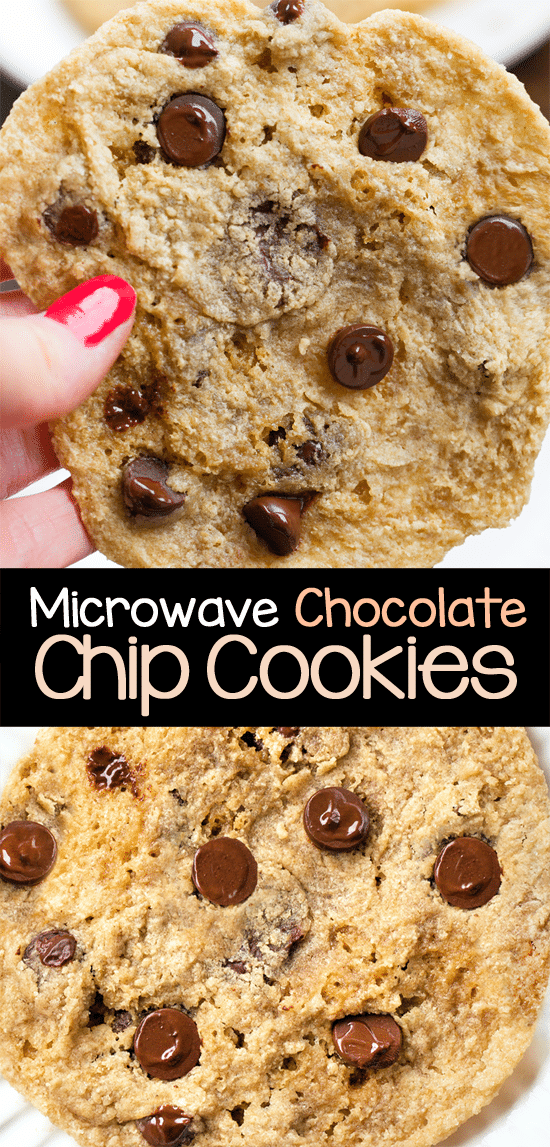 Microwave Cookies
With these easy chocolate chip microwave cookies, you get delicious homemade chocolate chip cookies without ever turning on the oven!
Ingredients
1/4

cup

white, spelt, or oat flour

(a keto option is listed above in this post)

1/8

tsp

baking soda

1/16

tsp

salt

2

tbsp

sugar, unrefined if desired

1

– 3 tbsp

chocolate chips

1/2

tbsp

milk of choice

1/16

tsp

pure vanilla extract

1/2

tbsp

oil or softened nut butter
Instructions
Microwave Cookies Recipe: Combine dry ingredients in a bowl. Add wet, and stir to form a sticky dough. Either refrigerate overnight or freeze just until firm enough to form balls. (See baking tips and tricks above.) You can either keep them in the freezer and eat the unbaked cookie dough balls whenever you wish, or "bake" in the microwave or toasted oven. If using the microwave: put each cookie on its own parchment-lined or well-greased plate so they won't run together. Press in a few more chips if desired for presentation. Microwave each cookie for about 40 seconds. Cooking time will vary depending on your microwave's wattage. The cookie will look underdone, so let it cool for 10-15 minutes, during which time it will firm up. If using a toaster oven: Preheat oven to 325F, place 2 cookies on a greased oven tray, and bake 7 minutes. Let cool completely before handling.

You can also store uneaten cookie dough balls in the freezer for another day. Let frozen dough balls thaw before cooking. These cookies are very soft and thin, almost like chewy lace cookies!

View Nutrition Facts
More Chocolate Chip Cookie Recipes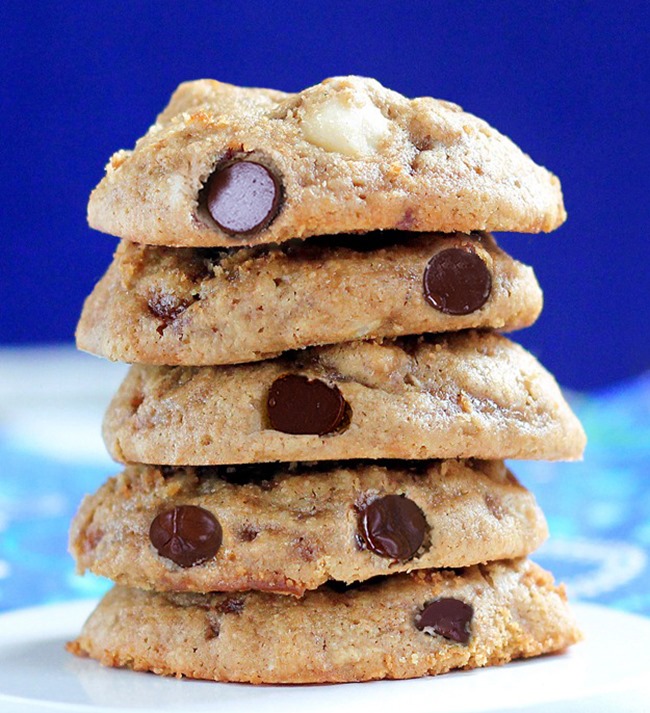 Healthy Chocolate Chip Cookies