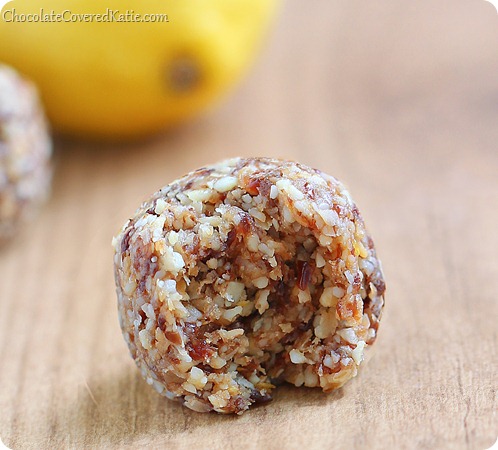 Easy to make.
Easy to store.
Easy to eat.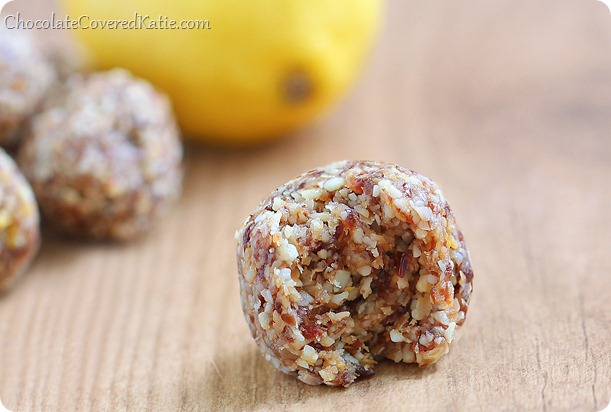 Lemon might be the most underrated dessert flavor of all time. I'm sorry to say I've neglected it on this blog, having posted only a handful of lemon recipes (my favorite of which is the Healthy Lemon Squares recipe) in over six years of blogging.  But making these lemon cookie dough bites has reminded me of the delights of lemon desserts, and hopefully I can do the flavor justice in the future.
What about the rest of you?
Are you a fan of lemon desserts?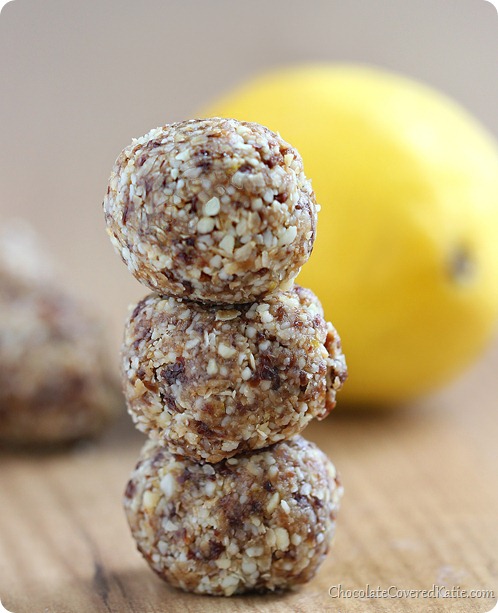 Lemon Cookie Dough Bites
(makes 14)
1/2 cup raisins (80g)
1/2 cup cashews or macadamia nuts (80g)
6 tbsp quick oats or gluten-free quick oats (30g)
1/8 tsp salt
1/4 tsp pure vanilla extract
6-in by 2-in lemon zest slice
Process the oats in a food processor, then add all other ingredients and process very well. Process until no big pieces of lemon zest remain. It should form fine crumbles. If it's too crumbly to form a dough, you can add up to 2 tsp water and process again. Transfer the crumbles into a plastic bag and smush into a ball. Break off pieces and roll into mini balls (or shape into bars if you'd prefer). Store at room temperature for a few days, or refrigerate or freeze a few weeks. (Note: I did not have success making this recipe in a blender, but you can try if you must.)
Click for: Lemon Bites Nutrition Facts
Link Of The Day:

95 Single Serving Dessert Recipes