Roses are red.
Mint-chocolate fudge pops are green.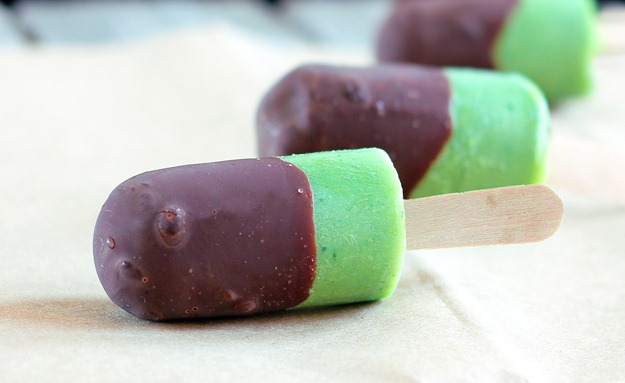 That doesn't rhyme.
But really, who cares?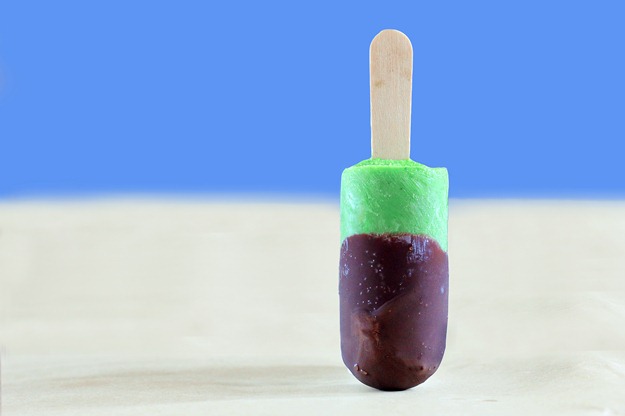 It's too early for poetry anyway.
But not too early for fudge pops.
No, never.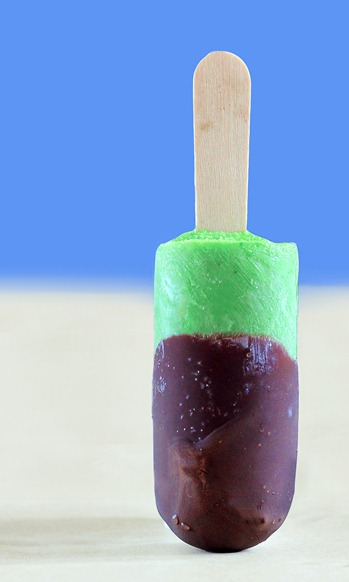 Mint-Chocolate Fudgsicles
Just 5 ingredients…
with a secret healthy ingredient!
1 cup plain or vanilla yogurt of choice, or 1 cup full-fat canned coconut milk (I used Silk soy yogurt, and Wholesoy works too. I'm sure many other brands work, but I've only tried these pops with the two brands mentioned.)
1/16 to 1/4 tsp pure peppermint extract (or more), depending on desired mint strength
1/4 tsp pure vanilla extract
1-3 stevia packets or 1-3 tbsp sugar or liquid sweetener of choice (Sweetener amount will depend on your choice of yogurt, as well as your personal taste preferences. Remember that the pops will be less sweet once frozen.)
scant 1/16 tsp salt
optional: packed 1/2 cup spinach (20g), or food coloring as desired (The pictured pops have spinach, not food coloring. You cannot taste it at all!)
optional: handful of chocolate chips or mini chips
If using spinach, blend all ingredients until completely smooth. (If not using spinach, combine all ingredients in a large bowl or pyrex measuring cup.) Pour into popsicle molds, or paper cups with spoons as the sticks. Freeze completely, then pop out and enjoy.
My chocolate chips all wanted desperately to sink to the bottom: To avoid this, you can fill the pops 1/2-way up first and freeze. Then fill the rest of the way. Or…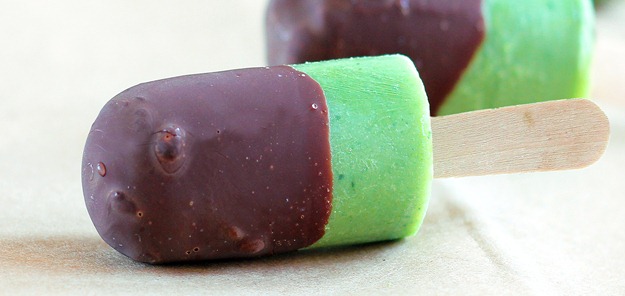 I just gave up and covered them in chocolate!
The chocolate coating is this recipe: Hot Chocolate Butter.
Question of the Day:
What flavor popsicles should I make next?
There's still half a big container of Silk yogurt in my fridge, begging to be used. At first, I was thinking pumpkin pie. But really, who wants to see pumpkin popsicles in the middle of June? So maybe chocolate-chip cookie dough? Or a fruit-based flavor… Strawberry Shortcake Popsicles? Or Piña Colada?
Link of the Day: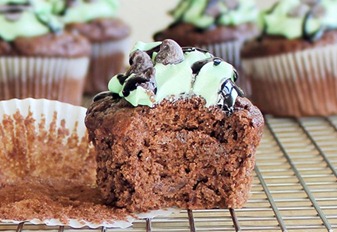 ……………………Mint-Chocolate Cupcakes