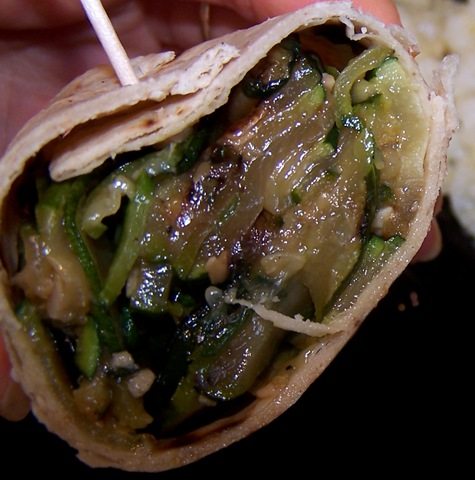 Tortilla stuffed with No-Name Zucchini.
Mondo Zucchini Burritos
(Makes 2 burritos)
4 medium zucchini, sliced into coins
high-quality olive oil (Be sure to store olive oil in a dark container. It loses health benefits when exposed to light)
3-4 tsp minced garlic
salt and pepper to taste (I like about 1/2 tsp salt, but you can use less if you normally don't use much salt)
optional beans or other veggies
2 warm tortillas
Heat a pan over high heat for about a minute before putting anything in.  Then add the oil, quickly followed by the garlic and then the zucchini and salt (and pepper, if using). Try not to stir too often, and do not add any water. Once the zucchini has turned translucent (as shown in the photos), remove from the pan and place in the middle of the tortillas. Roll up and devour!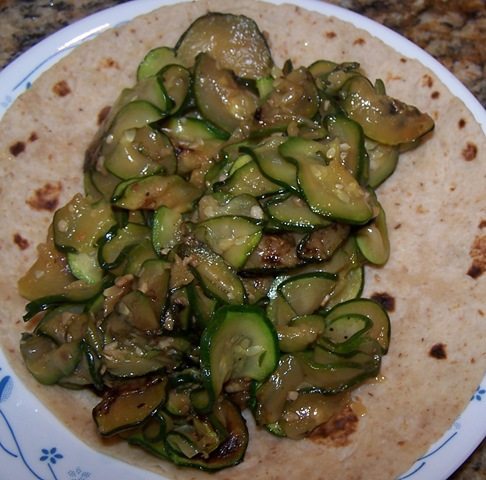 Unfortunately, the zucchini decided to pull a Heidi Montag (who claims she doesn't like hugs) and escape the embrace of poor Mr. well-meaning tortilla wrap.  Mid-bite, they tumbled out of the warm, bready blanket.  Oh the sting of rejection…
Starting tomorrow, the zucchini bunch will be attending couples' therapy. Maybe, if they're lucky, they'll get Queen Latifah.