Miss Rhode Island: That's a tough one. I would have to say April 25th. Because it's not too hot, not too cold, all you need is a light jacket.
Vegan Thursdays
Where we sit around and eat foods such as: Girl-Scout Cookie Bites
Remember I told you the inspiration for Vegan Thursdays came from one of my omnivorous friends? Well, yesterday she had her first "all-vegan" day. So—without further ado—here's Jessica, to tell about her first vegan Thursday:
Hi everyone, I'm Jessica, a real life friend of Katie's. I'm not a vegan, or even a vegetarian, and I don't have a blog. But I was inspired by Katie and by reading a few books about veganism, such as The Kind Diet and Skinny B*tch, to try and cut back on animal products because I hear from so many different sources that it's much better for your health to limit your meat consumption, and I also feel so much better, physically, and less bloated, when I don't eat so much dairy. Also, I'm an animal lover, with two dogs and a cat at home, who gets so upset when I hear about animal abuse, so it's never sat well with me that I contribute to their suffering through paying for meat that is produced by the sick practice of factory farming. If you've ever watched the movie Meet your Meat, you know how horribly the animals we eat are treated. But I've grown up as a meat eater. It's the only way of life I've known, so it'd be too hard for me to completely change my life all at one time. That's why I decided on this New Year's, to try and start slowly, having one vegan day per week. I know that may not sound like very much to some of you seasoned vegans, but to me even this little step is going to be tough, because like I said, I don't have much practice with veganism. It's going to be tough, but it's also going to be fun. Yesterday was my first Vegan Thursday (the first day I've ever not eaten any animal products), and it was awesome! I didn't miss or crave animal products once!
I think it really helped to have planned in advance. Plus Katie brought me over homemade Fudge Babies!
The only thing better than a yummy vegan dessert is having a wonderful friend to share it with. Just in case you're interested, I sent my food log from yesterday to Katie so she could share it with everyone in case other people want to get some ideas. I know that for me it's always helpful to see what others eat, because it gives me ideas of things I can incorporate into my own plan. And especially as someone who doesn't know much about the vegan lifestyle, that's really helpful!
Jessica's Vegan Thursday Food Log:

Breakfast: I kept things simple at breakfast and just had peanut butter and jelly on toast. It helped to have an experienced vegan go shopping with me and show me how to tell which bread was vegan. I know I could've had cereal, but I have to admit that I'm kind of afraid of soymilk. Please don't hate me!
Lunch: I wasn't any more adventurous for lunch. When I got back from class, I was so hungry, so I had some potato chips. Yay, if chips are vegan, I can be a vegan :). Then I made myself a salad with Romaine, carrots, chopped bell peppers, grapes, and slivered almonds. I also had an Amy's Mexican Tamale Pie that I'd picked up at the store. I really liked it!
Dinner: I don't usually cook much, but since today was a special day, I wanted to make at least one real vegan recipe. And Fall's Favorite Curry sounded so easy: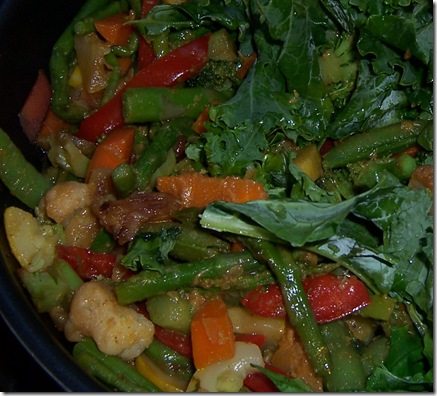 I made my Fall's Favorite Curry with coconut milk, and I used veggies such as potatoes, green beans, carrots, and kale. It was my first time to try kale, and I really liked it. I felt healthy eating it, too. The curry was so good that I can't even tell you! I had it over rice, and I had a glass of orange juice too. It hit the spot, especially on such a cold night.
And the fudge babies for dessert!