Is it a cookie?  Is it a pancake?
Who cares!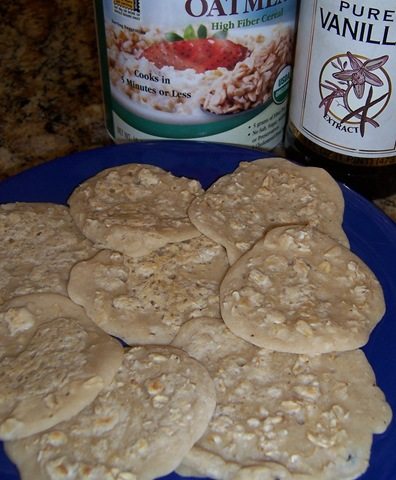 Oatmeal Cookie Crepe Cakes
(Makes 8 cookie-sized cakes)
20g white whole wheat flour (about 1/6 cup)
20g oats (about 1/6 cup)
1/4 tsp vanilla extract and 3 drops almond extract
sugar or stevia (if desired)
a bit over 1/16 tsp salt
¼ tsp ener-g egg replacer (egg replacer for about 1/4 of an egg)
¼ tsp baking powder
1/4 cup water or non-dairy milk (or maybe even juice, if you wish)
Mix all the dry ingredients.  (This can be done days in advance.)  Put liquid ingredients into dry, then stir.  Cook on medium-low, flipping 1/2-way through. Optional ingredients: raisins and cinnamon, chocolate chips, berries… or anything else you can dream up!
As calculated by Allie, the entire recipe has 130 calories and 2 grams of fat.