These super healthy protein bars taste like a chewy no-bake oatmeal cookie, covered in smooth dark chocolate!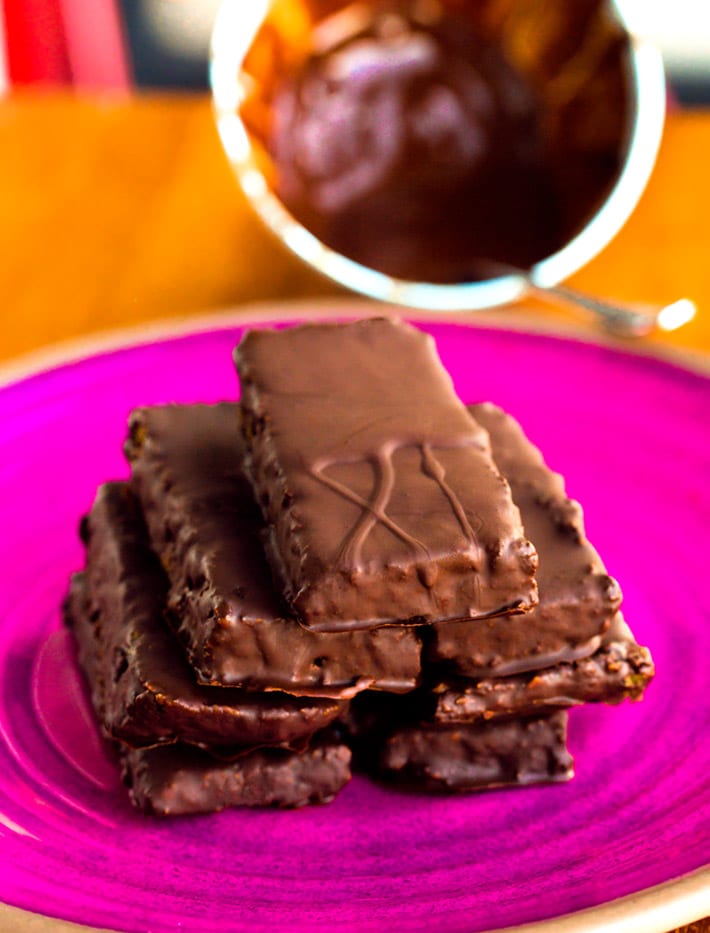 If you're looking for a new favorite protein bar recipe, this could be the one.
With just 6 ingredients, the oatmeal bars are easy to make at home, and they give you endless flavor options for customization.
Chocolate brownie? Mocha coconut? Peanut butter cookie dough? Almond butter chocolate chip? Have fun turning this base protein bar recipe into any flavor you wish!
Also try these Overnight Oats – 15 recipes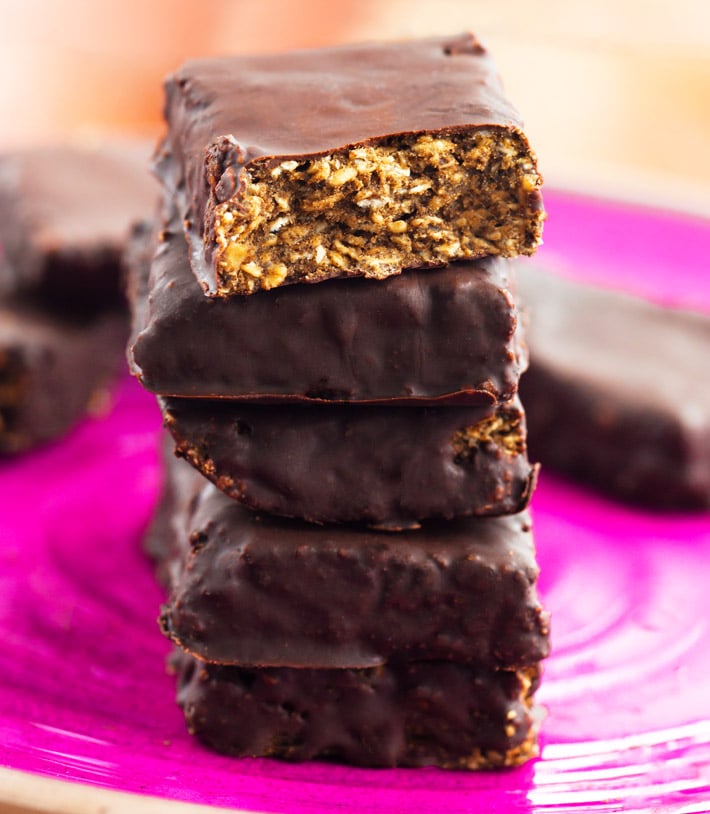 To make the bars, simply stir all of the ingredients except the chocolate together in a mixing bowl.
Transfer to an 8-inch pan that's been lined with parchment paper or wax paper, then place a second sheet of the paper on top to spread the mixture into the pan until it evenly fits into the bottom of the pan.
Melt the chocolate, either in the microwave or on the stove. (If you've never melted chocolate before, it's a good idea to google how to melt chocolate so it doesn't burn.)
I like to stir in 2-3 teaspoons of oil (such as sunflower, vegetable, or coconut) for a much smoother sauce that is easier to coat the bars, but this is not required.
Either spread the melted chocolate on top of the pan and refrigerate or freeze until the oatmeal mixture is firm, then cut into bars, OR freeze the filled pan before adding the chocolate topping, cut into bars once firm, and then dip each bar into the chocolate and chill until the coating is set.
Trending Now: Chia Pudding Recipe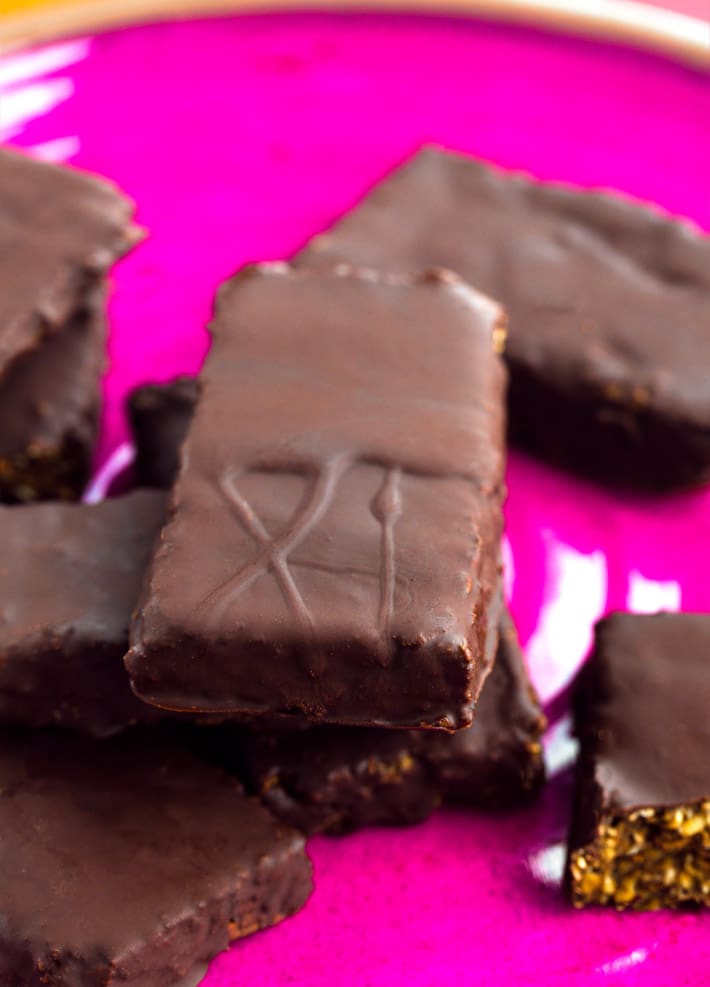 Feel free to use your favorite protein powder or try the recipe out a few times with different protein powders to see which one you like best.
The bars can be made with peanut butter, almond butter, sunflower butter, coconut butter, or even regular butter or a vegan butter spread for a nut free protein bar.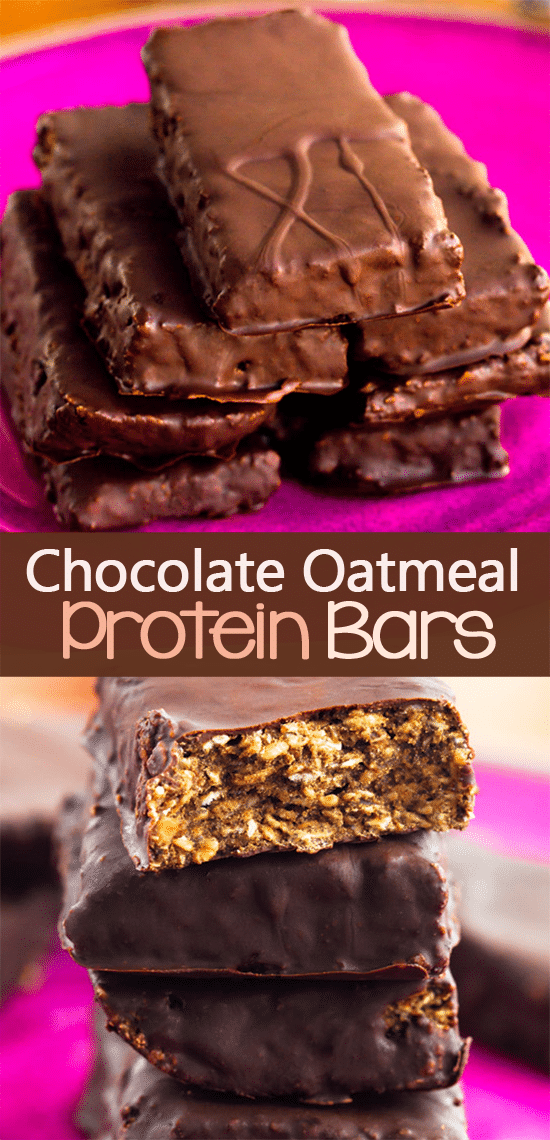 The bars were inspired by this Protein Bar Recipe.
Chocolate Oatmeal Protein Bars
These no bake chocolate oatmeal protein bars are a healthy snack the whole family can enjoy.
Ingredients
1

1/2

cup quick or rolled oats

(for low carb, try these Keto Protein Bars)

1/4

tsp

salt

1/2

cup

butter, peanut butter, or allergy friendly sub

1/2

cup

pure maple syrup, honey, or agave

2/3

cup

protein powder of choice – have fun with different flavors

(70g)

4

oz

melted chocolate chips or bars
Instructions
Stir first 5 ingredients well. Transfer the mixture to an 8-inch pan lined with parchment or wax paper. Place a second sheet of paper on top and use it to smush down and spread the mixture until it fills the bottom of the pan evenly. Carefully melt the chocolate. (I like to stir 2-3 tsp oil into the melted chocolate for a smoother sauce that's easier to coat, but it's not required.) 

You can either spread the melted chocolate on top of the pan, refrigerate or freeze until firm, then cut into bars OR freeze the pan before adding chocolate, cut into bars once firm, then dip each bar in the coating and chill to set. 

View Nutrition Bars
More No Bake Chocolate Recipes