These no bake Oreo cookies are even better than an Oreo…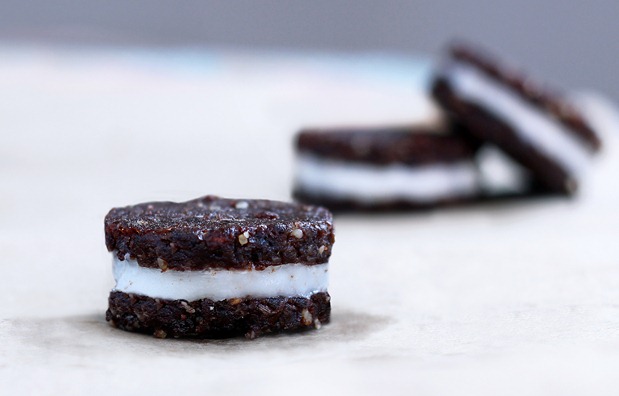 Homemade Oreo cookies?!
Ah, your eyes are playing tricks on you. What you really see is even better than an Oreo. These sandwich cookies look like Oreos, but they're softer and chewier… imagine a cross between an Oreo and a candy bar.
That sounds fun, right?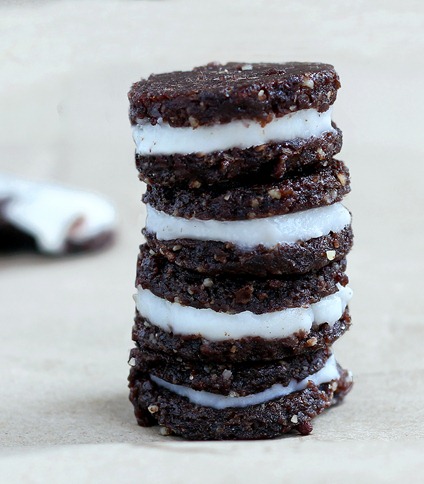 Even more fun:
You don't need an oven. These cookies are no-bake. 🙂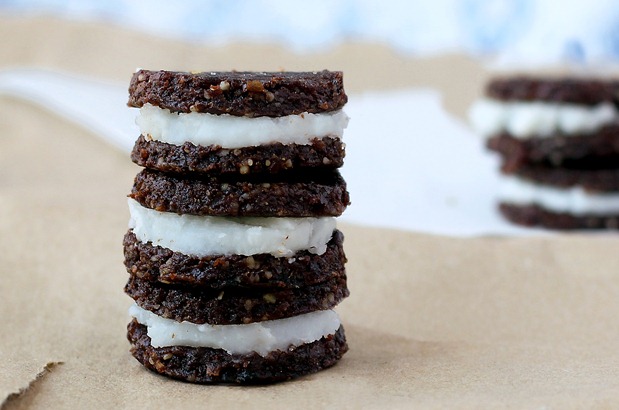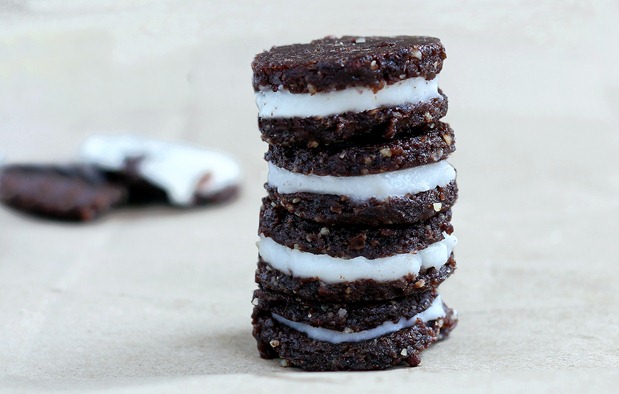 No Bake Oreo Cookies
Makes 30-34 sandwich cookies
1 cup walnuts (see nutrition link below, for substitutions) (120g)
1 and 1/3 cup pitted dates (I highly recommend Sunmaid, which are softer) (200g)
1 tsp pure vanilla extract
1/8 tsp plus 1/16 tsp salt
3 tbsp regular cocoa powder (or Dutch-processed for more of a "cookie" taste)
coconut butter or raw cashew butter (see nutrition link below, for substitutions)
optional: sweetener of choice, if a sweeter filling is desired
Combine first 5 ingredients in a food processor, and process until the dates are completely broken up. (I used a Cuisinart. For best texture results, don't use a blender.) Transfer the dough to a ziploc-type bag, seal, and smush it into one tight ball. Then roll out onto a sheet of wax or parchment paper, and use cookie cutters to make circles (or other shapes!). Fridge or freeze the circles for a few minutes, so they're firmer and therefore easier to frost. Once firm, spread the filling on 1/2 the circles and then top with remaining circles.
These are best stored in the fridge or freezer, as coconut butter melts at room temperature. (P.S. coconut butter really doesn't have a coconutty flavor, if you were worried about that. Its flavor is more like shortbread. However, feel free to use one of the other options if you'd prefer.)
When was the last time you had an Oreo?
I don't like hard cookies, so I was never really big on Oreos. But I love the cookies 'n cream flavor. Cookies 'n cream ice cream, cookies 'n cream cupcakes, cookies 'n cream lip balm… yes, they do make such a thing!
Do you remember the game where two people twist the Oreo, and the person with the cream side will supposedly have good luck? In elementary school, I think we played that game every single day at lunch. It never got old.
Link Of The Day:
Side note: As I wrote earlier, today's recipe isn't supposed to be an exact copycat for Oreos. I'm still working on that… I have the cookie part down, but I'm stuck for filling ideas since I'm trying not to use coconut butter or tofu (since so many people ask for substitutions when I make recipes with those ingredients. Y'all are a tough bunch to please! 😉